Vim allows users to create specific templates for files ending with certain extensions.
General steps to create a template:
step 1: Create a template in ~/.vim/templates/ directory.A template is a skeleton content that can be fit into all the files ending with a certain specific extension.
step 2: Add commands to ~/.vimrc file that directs vim to populate the new file with contents of the specified template.
For example:

  :autocmd BufNewFile  *.c 0r ~/vim/skeleton.c 

Explanation:
– autocmd stands for Auto command.
– BufNewFile is an event that denotes opening of a new file in the buffer.
– *.c denotes all the files with extensions `.c`.
– 0r denotes read a file and insert its content on top of the new file with extension `.c`. This is followed by a path to the skeleton file.
Steps to create a c++ template:
Step 1: Open the terminal.
Step 2: Change directory to ~/.vim/templates/.

$ cd ~/.vim/templates/

Note: If templates subdirectory is not available then create one in .vim folder.

$ mkdir templates && cd templates

Step 3: Open template file.

$ sudo vim skeleton.cpp

Example:


Step 4: Add skeleton/template. Save and close.
Example: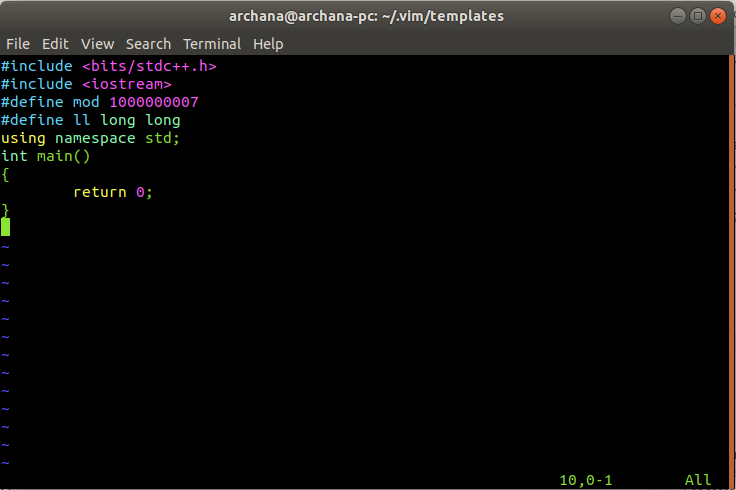 Step 5: Open ~/.vimrc file.

$ sudo vim  ~/.vimrc

Step 6: Add the following line to it.

:autocmd BufNewFile *.cpp 0r ~/.vim/templates/skeleton.cpp

Example: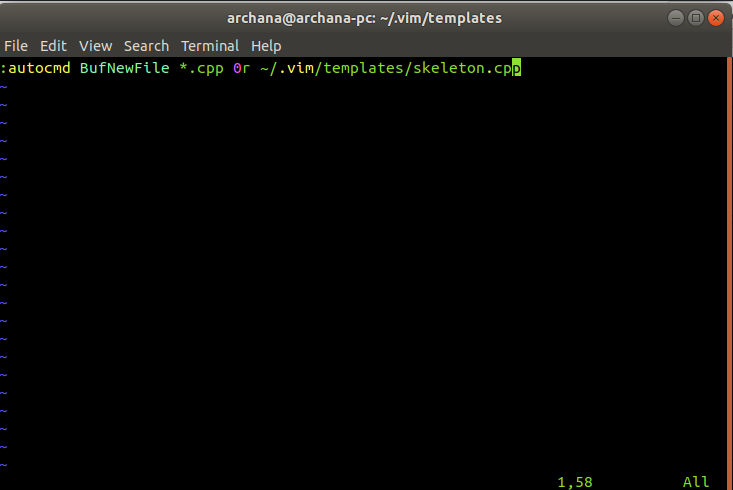 Step 7: Save and close.
Opening a new cpp file
Example: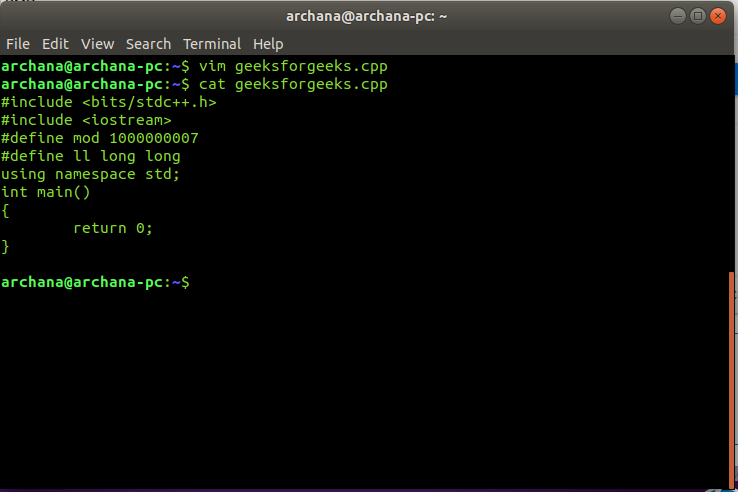 Rated as one of the most sought after skills in the industry, own the basics of coding with our C++ STL Course and master the very concepts by intense problem-solving.
My Personal Notes
arrow_drop_up
---
---
If you like GeeksforGeeks and would like to contribute, you can also write an article using contribute.geeksforgeeks.org or mail your article to contribute@geeksforgeeks.org. See your article appearing on the GeeksforGeeks main page and help other Geeks.
Please Improve this article if you find anything incorrect by clicking on the "Improve Article" button below.