Crack GATE CSE 2023 With GeeksForGeeks Live Course
If you're one of the 77,257 students who have appeared for the GATE CSE Exam this year and couldn't make the list due to a lack of proper preparation or appearing for the GATE exam for the first time and feeling under-confident, GeeksforGeeks got you covered as we've brought GATE CSE 2023 Live Course right on your screen.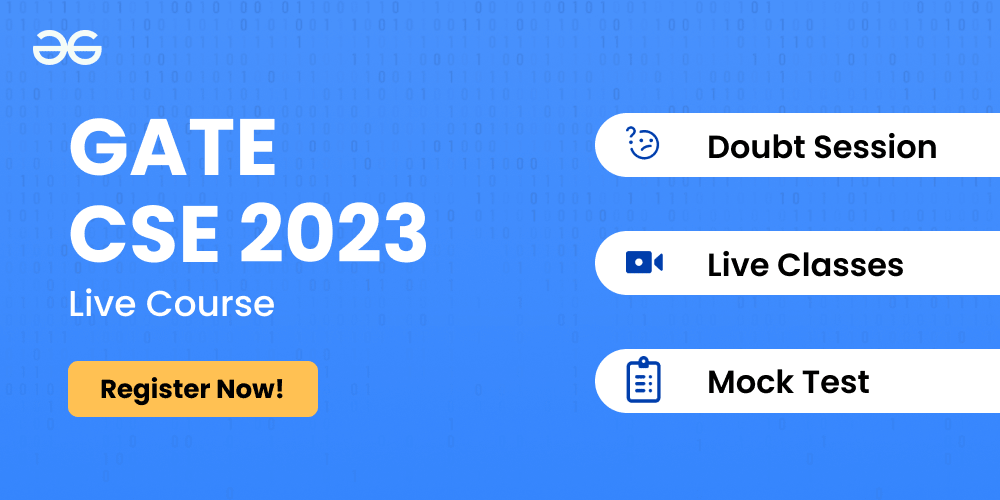 In this course, you'll be able to prepare for the GATE CSE exam at your own pace – from anywhere at any time and get a clear understanding of the exam strategy and core concept of the GATE syllabus to excel and secure a good rank in the exam. Now you must be wondering that all of these will cost you a fortune. Well, GFG is all about learning at an affordable fee so we're charging a minimum fee that won't cost you an arm and a leg.
Course Overview
In this GATE CSE 2023 LIVE Course, you can prepare for the GATE exam by getting access to online LIVE classes, e-study materials, online doubt solving sessions, quizzes, assignments, and PYQ solutions with real-time guidance, recorded lectures, and much more.
The course consists of Strategy, Tips & Tricks, Problem-solving, and Core Concept building covering the entire GATE Syllabus. To ease your preparation, you can watch our premium recorded classes, online or offline from the comfort of your PC or tablet right from your home or anywhere in the world.
Our expert mentors are stalwarts in the industry and are always ready to solve your queries in the Live Concept Booster and Problem-Solving classes that will be scheduled for every weekend i.e. Friday, Saturday & Sunday from 06:00 PM onwards, which means you can take your college classes and still can prepare for GATE exam without missing a class. The new batch is starting from Apr 29, 2022.
What You'll Be Getting in GATE CSE 2023 LIVE Course?
Our subject matter experts have designed this LIVE course with the thought of easing the mammoth process of covering the entire GATE syllabus for you. Our expert mentors have created the strategies and modules in such a way that you'll be able to generate maximum results in a minimum time frame without losing confidence.
Weekly Study Schedules & Strategy
Concept Builder Modules
Recorded Lectures
Live Online Classes & e-Study Materials
Mock Test Series, Problem Solving Quizzes
GATE Refresher Modules covering PYQ solutions
Live Doubt Solving Sessions
Score Boosting Guidance
Additional benefits you'll be getting out of the GATE CSE 2023 LIVE Course are as follows:
Prepare with the help of Track based learning. You can accurately track your progress and assess it based on your learning.
Attempts quizzes and progresses through theory-based learning. We've many e-study materials for you to progress your learning.
Our assessment tests are designed to help you attempt previous years' mock exam papers and improve your problem-solving skills.
Course Content
The course content that will be provided in this GATE CSE 2023 LIVE Course is as follows:
Programming and Data Structures
Algorithms
General Aptitude
Who are the Course Instructors?
Our course mentors are IIT alumni and have cleared the GATE exam with good AIR scores and have teaching experience for over 10+ years. The instructors are placed in major product-based companies which makes them highly qualified when it comes to teaching you the complexity of the subjects in a detailed manner. So, you're in good hands when it comes to preparing for your upcoming GATE CSE Exam.
Final Thoughts
If you're serious about clearing your GATE CSE Exam 2023 with flying colors and bag good ranking, GeeksforGeeks' GATE CSE 2023 Live Course is your one-stop GATE preparation destination for you. To register for this online LIVE course, all you need to do is sign up and fill in the details.
My Personal Notes
arrow_drop_up