Computer Graphics |Cathode Ray Oscilloscope| Cathode ray tube (video display technology)
Computer Graphics has become a common element in today's modern world. Be it in user interfaces, or data visualization, motion pictures, etc, computer graphics play an important role. The primary output device in a graphics system is a video monitor. Although many technologies exist, the operation of most video monitors is based on the standard Cathode Ray Tube (CRT) design. A cathode-ray tube is a central technology used in a device called a Cathode Ray Oscilloscope which is the scientific name of the type of television your parents or grandparents used to watch.
Cathode Ray Tubes (CRT) –
A cathode ray tube (CRT) is a specialized vacuum tube in which images are produced when an electron beam strikes a phosphorescent surface.It modulates, accelerates, and deflects electron beam(s) onto the screen to create the images. Most desktop computer displays make use of CRT for image displaying purposes.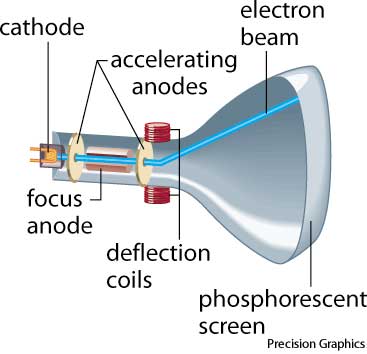 Image source – physics.usyd

Cathode Ray Oscilloscope Circuitry