Complete Interview Preparation With Doubt Assistance – INR 90 Lakh Cashback Pool Offer!!
Indeed, if you're preparing for an interview or looking out for doing the same, you must have known that finding out the relevant & worthwhile approaches for effective interview preparation is not an easy job. There come numerous concerns in front of the candidates such as what subjects to cover or what companies to target or many more. But wait… what if you'll get a well-designed interview preparation course with the finest doubt assistance facility and that too within a much affordable price? Yes, GeeksforGeeks is coming with its most-awaited course – Complete Interview Preparation With Doubt Assistance that will help you to get excel in your interview preparation. By all means, the course consists of pretty much everything you could ask for to get into your dream job!!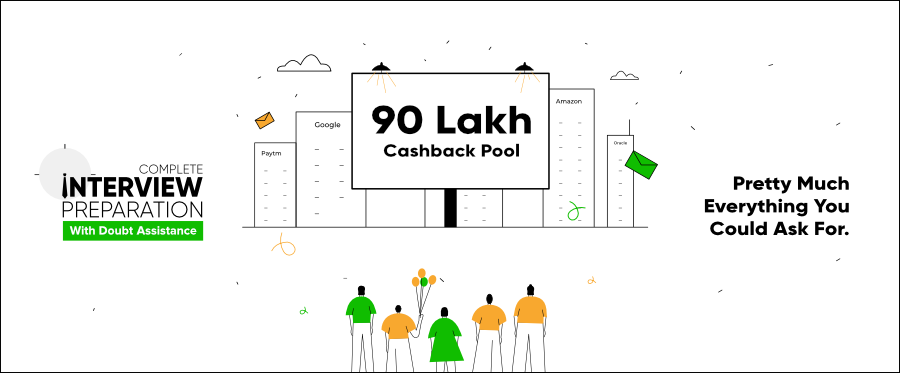 The Complete Interview Preparation With Doubt Assistance course is specifically designed for the students and working professionals to help them out in landing their dream job. Here, you'll get premium lectures, theory notes, practice tracks, and various other resources required for placement preparation. And the best part is that you'll be provided with dedicated TAs to solve any doubt that you'll face in the preparation journey. No, it doesn't end here…there is a Cashback Pool Offer of INR 90 Lakh also on the course!! Is there anything else you'll need?
*First 3000 users will receive an INR 3000 GeeksforGeeks Voucher upon successful enrollment.*
Why You Should Opt for this Course?
The GeeksforGeeks Complete Interview Preparation With Doubt Assistance course is a one-stop solution for all the candidates (whether it be students or working professionals) to cover all the important concepts and topics required for the interviews of Product-Based Companies, Service-Based Companies or even the Startup ventures. The course will guide you about the interview pattern of IT giants and prepare you accordingly to achieve your career goals.
Meanwhile, here you can start your interview preparation from the basics to the advanced level and can command over every subject required for the interviews such as Programming Languages, Data Structures, DBMS, and various others. Also, as the placement preparation requires some extensive research process and smart learning as not every subject holds the same weightage so this particular course is extensively curated to do the same.
Course Features
The Complete Interview Preparation With Doubt Assistance course is not only about offering you the quality lectures, practice tests, etc. but there are numerous other enriching features also that will surely help you to nail your placement preparation. Now, let's discuss all the prominent and worthwhile features of the Complete Interview Preparation With Doubt Assistance Course:
You'll be provided with 200+ algorithmic coding problems.
You'll get dedicated TAs for the doubt assistance.
Track-based learning & Weekly assessment tests.
Premium Lecture videos recorded by Sandeep Jain (CEO & Founder, GeeksforGeeks) and other industry experts.
You'll get Subject-wise Theoretical content & Objective Questions compiled by subject experts.
Lifetime access to the Course will be provided.
You'll get Course Completion Certificate & access to the GeeksforGeeks Jobs portal.
Various Internship Opportunities at GeeksforGeeks will also be provided.
How Can You Register for the Course?
Now, you must be curious to know that how can you register for this exemplary course. Okay, firstly you need to know that the first 3000 users to enroll in this course will receive an INR 3000 GeeksforGeeks Voucher upon successful enrollment. Hence, you're strongly recommended to do the registration at the earliest to avail of the ravishing benefit. Moreover, the voucher will be provided to you in the course enrollment confirmation mail and you can use this cashback to enroll in any other courses at GeeksforGeeks.
You're required to complete the signup process for the successful enrollment in the course. You can click on the below-provided registration link and then press the 'Sign Up Now' button. Here, you'll get a registration form where you need to fill a few basic details such as name, contact number, etc. and after submitting the form, you'll be required to pay accordingly through the payment link.
Note: For any queries regarding the payment process, you can directly contact us at geeks.classes@geeksforgeeks.org
Course Details
Though we have already discussed the features of Complete Interview Preparation With Doubt Assistance course in detail, now let's take a look at the topic or subjects that will be covered in the course to boost your placement preparation:
Programming Languages – C++ & Java
Concepts of Object-Oriented Programming (OOPs)
Data Structures & Algorithms – Basics to Advanced Level
Object-Oriented Analysis and Design Concepts with Case Studies
CS Subjects – Operating System, DBMS, Computer Networks, etc.
Aptitude and Reasoning
Furthermore, you'll also be provided with frequently asked Subject Wise Interview Questions that will help you to get familiar with the interview questions & environment to get better results.
As mentioned above that GeeksforGeeks is offering a huge cashback offer of INR 90 Lakh on this course – one of the primary reasons behind which is to make this worthwhile course affordable for all the geeks who want to make it big in their upcoming interviews. Also, the course is designed by experts in such a way that it covers the entire topics or areas of placement preparation optimally and concisely that makes it the most recommended interview preparation course for all the candidates
So, this is all about the GeeksforGeeks Complete Interview Preparation With Doubt Assistance Course. Moreover, as the course comes with lifetime validity you can complete the courses at your convenience & pace. Now, what are you waiting for? Register for the course as soon as possible to grab the best deal and start to prepare for the upcoming interview of various IT giants to get your dream job!!
My Personal Notes
arrow_drop_up