Complete Interview Preparation With Doubt Assistance – Get Your Every Question Answered!
If you've ever faced an interview (or college students can better relate this with a viva test situation or any other examination) – you probably would have found that there come at least one or two questions from those topics in which you had doubts from the very beginning. (Quite a Relatable situation, right…??)
Though we discussed it in a light manner – it is one of the major stumbling blocks between an individual and his dream job. However, make it clear in your mind, that having doubts while learning is not a problem – in fact, it is something obvious. It shows your interest and curiosity towards the topic or subject. Many reports say that the more time and efforts you put in solving your doubts – the longer you remind the solutions or the correct approach.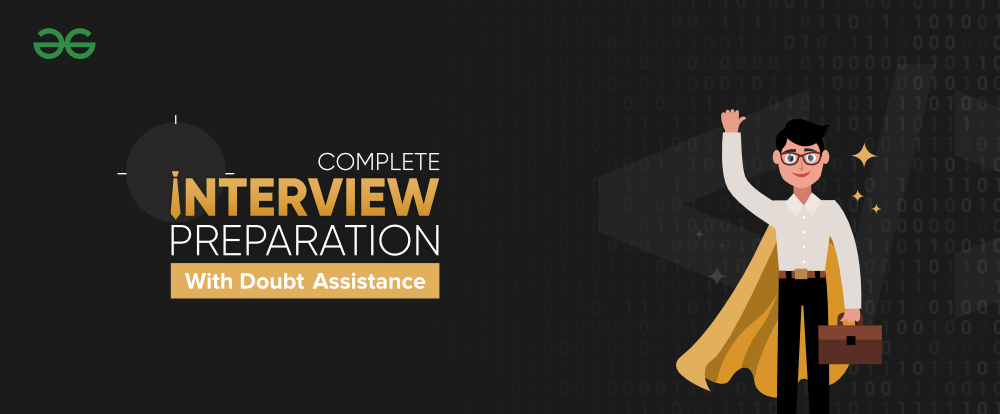 But the problem is that we don't actually bother to clear our doubts at the same time when it arises in our mind – or at least not many of us. If we look at the reasons behind it, it can be due to:
Not having genuine interest and concern towards the topic
Finding it difficult to frame the question
Fear of appearing dumb in front of others,
or any other.
And most importantly, the students who overcome all these above-mentioned barriers and actually want to ask doubts to get their concepts more cleared and boost their learning – somehow not able to do so either because of the lack of quality resources and mentorship or because of the abruptly high and unreasonable price of courses.
Contentedly, GeeksforGeeks is trying to solve this significant problem of every student and with a similar concern, we're providing you with an enriching course – Complete Interview Preparation With Doubt Assistance, where you will get almost every resource that you require for the placement preparation along with the finest doubt assistance facility and that too in a very much affordable price.
In simple words, this Complete Interview Preparation With Doubt Assistance course consists of pretty much everything you could ask for to get into your dream job!!
Let's get to know about the course in detail:
What is Complete Interview Preparation With Doubt Assistance…??
This course is particularly designed for the Pre-final / Final year Students and Working Professionals to help them out in landing their dream job. You'll be provided with premium lectures, theory notes, practice tracks, assessment tests, and various other resources required for placement preparation. And above all that, in this course, you'll be provided with dedicated TAs to solve any doubt that you'll face in the preparation journey.
Some of the worthwhile features of the Complete Interview Preparation With Doubt Assistance course are provided below:
Dedicated TAs for Doubt Assistance
200+ Algorithmic Coding Problems
Track-based Learning + Weekly Assessment Tests
Premium Lecture Videos by Mr. Sandeep Jain (CEO & Founder, GeeksforGeeks) and other industry experts
Subject-wise Theoretical content + Objective Questions designed by subject experts.
Lifetime access to the Course + Course Completion Certificate
Access to the GeeksforGeeks Jobs portal + Internship Opportunities at GeeksforGeeks
Why you should opt for this course? – You need to understand that when you're preparing for placements than you are required to follow a smart learning approach as some subjects hold more weightage than others – hence, you can't consider all the subjects and topics as of equal importance. Meanwhile, this course is extensively curated to do the same. Moreover, whether you want to get into any product-based company like Amazon, Microsoft, Adobe, etc or any leading startup such as Ola, Swiggy, Zomato, etc or any service-based company like TCS, Infosys, Cognizant, etc – the Complete Interview Preparation With Doubt Assistance course covers all the subjects and areas that are required to crack the interviews of these companies. So, what else you need…??
The course is being provided to you at a discounted price of INR 8999/- only. You can easily register yourself for the Complete Interview Preparation With Doubt Assistance course by clicking on the 'Sign Up Now' button. Here, you'll get a registration form where you are required to provide basic details such as name, contact number, etc. and after submitting the form, you need to pay accordingly through the payment link.
Course Content
Now, let's get to know what subjects and topics will be covered in this course:
Understanding of Programming Languages (C++ & Java)
Object-Oriented Programming (OOPs) Concepts
Data Structures & Algorithms – Basics to Advanced Level
Object-Oriented Analysis and Design Concepts with Case Studies
CS Subjects – Operating System, DBMS, Computer Networks, etc.
Aptitude and Reasoning
In addition, you'll also be provided with mostly asked Subject Wise Interview Questions that will help you to get familiar with the interview questions of the tech companies.
This Complete Interview Preparation With Doubt Assistance course is going to compress your 4 years of learning into an extensive course of 6 months. And, as mentioned above, apart from the quality content and resources – you will get dedicated TAs also who will resolve all your queries to make you closer to your dream job. Let us tell you this as well that the Complete Interview Preparation With Doubt Assistance course is actually has a worth of INR 14,999 but just to make it affordable for each and every student, we're providing this course with a heavily discounted price of INR 8999. Hence, if you're looking forward to nailing your next interview and get into your dream company – then you should definitely opt for this enriching course…!!
Frequently Asked Questions (FAQs)
Q-1: I am from a non-CS background will this course be suitable for me?
Ans: Yes, if you are preparing for the IT sector companies whether it be a product-based company, service-based company, or even a startup – the course is suitable and strongly recommended to you.
Q-2: What is the duration of the course?
Ans: This course comprises more than 150+ hours of video lectures. A dedicated geek can complete the course in 3-4 months of duration.
Q-3: What is the validity of this course?
Ans: The Course Content, Videos & Practice Content comes with lifetime validity. And the doubt assistance is available for a complete 1 year.
Q-4: Does this program offer a placement guarantee?
Ans: The program is designed to prepare students for placement. You can apply for the Jobs using GeeksforGeeks Job Portal but there is no placement guarantee with this course. You will get access to "Get Hired Premium".
Q-5: Will I get any certification after the completion of the course?
Ans: Yes, you'll get a Course Completion Certificate trusted by top universities and companies. Moreover, Internship Opportunities at GeeksforGeeks and access to the GeeksforGeeks Jobs portal will also be provided after course completion.
My Personal Notes
arrow_drop_up