Coder's Journey featuring Suryakant Tibrewal (Software Engineer at Microsoft)
Coder's journey covers the experience of programming experts across the globe. With coder's journey, GeeksforGeeks aims to deliver practical guidance to all young programmers and assist them in launching their dream careers.
Suryakant is an Engineering Graduate from IIT(ISM) Dhanbad and is currently working as a Software Engineer at Microsoft. He has also worked as a Deep Learning Intern at Continual Engine. He is a competitive programmer and a Machine Learning enthusiast. Suryakant has also been a Campus Ambassador for GeeksforGeeks. Apart from programming, Suryakant likes to travel a lot and has a keen interest in Photography. He believes that "Consistency is what transforms Average into Excellence".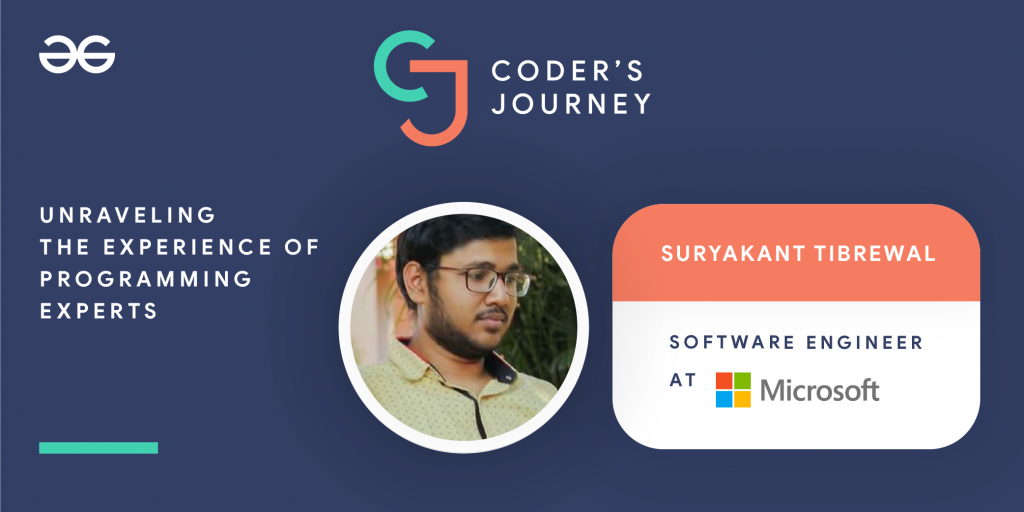 When and How did "being a programmer" strike you as a perfect career choice?
I have started my journey as a programmer during the summers of the first year. It was like a three months long vacation and I had nothing to do. So I started calling some of my seniors and asked them what to do. Some of them suggested me to just enjoy the vacations and chill and some of them suggested making my hands dirty with a bit of coding. So I decided to move on with the later one. I was completely new to coding, so I started with learning the basics of C/C++ as most of you guys must have started at this point of time. Once you enter this it's like a marsh, NO COMING BACK! (Yeah, if you develop interest). I started linking the path of competitive coding and did it regularly. There are hell lot of platforms for the same you just need to Google it once, that's it. Apart from it, If you do not belong to a CS background you need to focus on core CS subjects like Data structures, OOP, Operating System, Computer Networking, DBMS. And also you have to do some projects in a CS background to grab a shining offer from a growing company.
You worked as a GeeksforGeeks Campus Ambassador. How did that experience help you in your journey?
I had been a GFG campus ambassador for a year and during that year, I developed my communication skills and made some good connections that guided me for a great career path. Also received some cool swags.
What was your biggest failure and what did you learn from it?
My biggest failure was during my 3rd year when companies used to visit our campus. I was shortlisted for three of the tech giants on Day zero i.e Goldman Sachs, Microsoft, Flipkart. But unfortunately, I was not able to make it to anyone. I was rejected by all of them, the reason being not prepared for the interview. I had a strong grasp of the algorithm, DS, and how to solve algorithmic questions, but was not prepared well for the interview. So it's not just you have to be strong at these things but also you should be prepared for an interview. How to explain the questions to the interviewer is the key point. Practice how to write code on paper and all that stuff matters a lot.
How did you bag an offer at Microsoft? Could you share some tips for the same?
The key aspect to bag an offer during campus placement is your projects and of course coding skills. You should have a good understanding of the coding questions so that you are able to qualify the coding rounds. Projects that I did during my internship at Continual Engine helped me to get the offer at Microsoft. In a personal interview, the main focus of the interviewer is on your problem-solving skills and your past work experience. So my strong understanding of the projects helped me a lot during the interview, and I was able to qualify the interview. And boom, what's next, party!!!
What are some of your greatest achievements and what are your future goals?
Some of my greatest achievements are bagging a Software Engineer opportunity at Microsoft, 2nd Rank in Ramanujan Ganit Spardha at State Level, Second Best Campus Geek Project in Progeek Cup 2.0 organized by GeeksForGeeks.
My goal is to maximize my strength and keep myself interested, engaged, and relevant.
Suryakant can be reached at LinkedIn
We at GeeksforGeeks have always pushed ourselves to provide quality computer science education to all aspiring students. We will publish your experience as an article that will be shared across our users. In case you are interested, please fill this form.
Let the top geeks inspire other students!!
My Personal Notes
arrow_drop_up