C program to draw the Olympics Logo using graphics
In this article, we will discuss how to design the Olympics Logo using Graphics.
Approach:
Draw five circles according to positions in the logo using the function circle().
To achieve the outline effect, draw 5 smaller circles over it.
There is a black circle as well in the logo and to prevent it from blending in, change the background color.
Color all the circles and the background to their respective colors using functions setfillstyle() and floodfill().
Below is the implementation of the above approach:
C
// C program for the above approach
#include <conio.h>
#include <graphics.h>
#include <stdio.h>
// Driver Code
void main()
{
int gd = DETECT, gm;
// Initialize of gdriver
initgraph(&gd, &gm, "C:\\turboc3\\bgi");
// Create Background color as Grey
setfillstyle(SOLID_FILL, DARKGRAY);
floodfill(50, 50, 15);
// Create two circles in each
// another & color Blue
setfillstyle(SOLID_FILL, BLUE);
circle(300, 300, 100);
circle(300, 300, 90);
floodfill(202, 300, 15);
// Create two circles in each
// another & color Yellow
setfillstyle(SOLID_FILL, YELLOW);
circle(400, 400, 100);
circle(400, 400, 90);
floodfill(322, 350, 15);
floodfill(302, 400, 15);
// Create two circles in each
// another & color Black
setfillstyle(SOLID_FILL, BLACK);
circle(520, 300, 100);
circle(520, 300, 90);
floodfill(442, 350, 15);
floodfill(422, 300, 15);
// Create two circles in each
// another & color Green
setfillstyle(SOLID_FILL, GREEN);
circle(620, 400, 100);
circle(620, 400, 90);
floodfill(522, 400, 15);
floodfill(542, 350, 15);
// Create two circles in each
// another & color Red
setfillstyle(SOLID_FILL, RED);
circle(740, 300, 100);
circle(740, 300, 90);
floodfill(642, 300, 15);
floodfill(662, 350, 15);
// Hold the screen for a while
getch();
// Close the initialized gdriver
closegraph();
}
Output: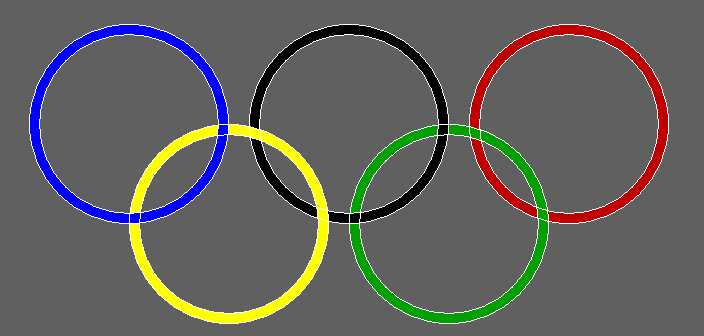 My Personal Notes
arrow_drop_up