C program to create Indian National Flag using Graphics
In this article, we will discuss how to draw the Indian National Flag using Graphics.
Approach:
Draw a rectangle using the function rectangle().
Equally, divide the above rectangle into three parts by creating the line using the function line().
Draw double lines on each other i.e., draw 4 lines and among them, 2 lines will act as a divider between Red (Light red as there is no direct saffron color present in the graphics library) & White, and the other 2 lines will divide White and Green color.
The Ashoka Chakra will be made using the function circle().
To finish, all the spaces will be filled using the functions setfillstyle() and floodfill().
Below is the implementation of the above approach:
C
// C program for the above approach
#include <conio.h>
#include <graphics.h>
#include <stdio.h>
// Driver Code
void main()
{
// Initialize of gdriver with
// DETECT macros
initgraph(&gd, &gm, "C:\\turboc3\\bgi");
// Creating the base rectangle
line(250, 100, 250, 600);
line(250, 100, 250, 600);
// Fill the White Color
setfillstyle(SOLID_FILL, WHITE);
// Create and fill the top strip
rectangle(225, 600, 275, 610);
rectangle(200, 610, 300, 620);
floodfill(227, 608, 15);
floodfill(202, 618, 15);
// Fill the Light Red Color
setfillstyle(SOLID_FILL, LIGHTRED);
// Create and fill the ashoka
// chakra with Blue
rectangle(250, 100, 650, 280);
line(250, 160, 650, 160);
floodfill(252, 158, 15);
// Fill the Blue Color
setfillstyle(SOLID_FILL, BLUE);
// Create and fill the left
// part of the middle strip
// Create a Circle
circle(450, 190, 30);
floodfill(452, 188, 15);
// Fill the White Color
setfillstyle(SOLID_FILL, WHITE);
// Create and fill the right
// part of the middle strip
line(250, 160, 480, 160);
line(250, 220, 480, 220);
floodfill(252, 162, 15);
// Fill the White Color
setfillstyle(SOLID_FILL, WHITE);
// Create and fill the bottom
// strip
line(480, 160, 650, 160);
line(480, 220, 650, 220);
floodfill(482, 162, 15);
// Fill the Green Color
setfillstyle(SOLID_FILL, GREEN);
line(250, 220, 650, 220);
floodfill(252, 278, 15);
// Close the initialized gdriver
closegraph();
}
Output: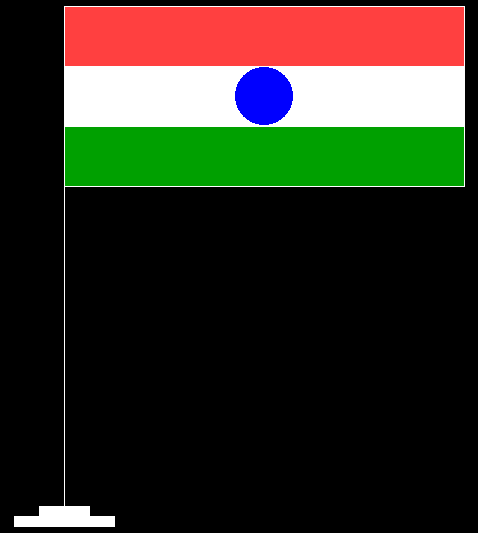 My Personal Notes
arrow_drop_up