Black Friday Sale – Grab the Best Deals on GeeksforGeeks Courses
How to get an Online Course with the best-discounted price?
This probably can be termed as the most searched query of the students over the web throughout the year. Indeed, who wouldn't want to grab a deal of getting the best courses with some heavy discounts – though the WAIT IS OVER now!!! Yes, as the entire world is all set to celebrate the season of discounts & savings this Friday, GeeksforGeeks is also coming up with a striking Black Friday Sale for all the geeks with huge discounts on all its courses for the entire day!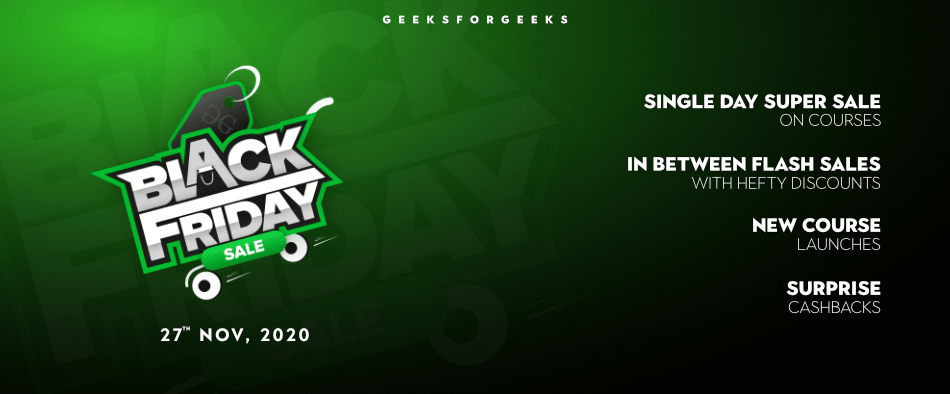 In this Black Friday Sale, GeeksforGeeks is offering heavy discounts on each course (whether it be online or live) to provide you with the best resources at a much affordable price that'll surely help you to achieve all your career goals and dreams. On top of that, the best part is that you won't need to do any hustle to get these exciting deals – yes, it is quite simple to grab these offers as it is a matter of just a few clicks!! And that's not all we are offering – there are many other additional benefits too!
Now, it's time to discuss what's great in this upcoming sale – here's everything you need to know about the Black Friday sale by GeeksforGeeks:
1. All Day Super Sale On All Courses
Want to learn Data Structures & Algorithms? Want to master a Programming Language? Want to prepare for the upcoming Interviews? – Doesn't matter whichever course you want as there will be a Super Sale on all the available courses for the whole day of Black Friday. Yes, you can buy your favorite courses at 20% OFF up to INR 1500/- to accelerate your learning journey and upskill yourself.
2. Flash Sales On Selected Courses
Now, we understand that Discount is a thing which one always demands more and more!! No worries, as along with the Super Sale on all courses, there will be in between Flash Sales on different courses for 15 minutes each on Black Friday. In Flash Sales, the price of already discounted courses will reduce further (Isn't it amazing!). But as it will be for only 15 min slot each, the discount will be available on a First Come, First Served basis.
Let's take a look at the time-slot and course details for the Flash Sale:
3. New Courses Launch
Let's leave something for the day itself! Yes, there will be a New Course Launch for all the geeks out there that you'll get to know on the day of the Black Friday Sale.
Flash Sale Courses Details
1. Complete Interview Preparation
The Complete Interview Preparation Course is a comprehensive guide for all students and working professionals that help to ace placements in your dream company. The course offers you premium lectures, theoretical notes, practice material, and all other resources required for the interview preparation. Also, you get several additional benefits such as Internship Opportunities, access to the GeeksforGeeks Jobs portal, Course Completion Certificate, and many more.
2. Java App Development – Live
This program will help you to learn Advanced Java, Spring / Spring Boot, Hibernate, RESTful APIs & related technologies to develop Java-based applications. The course will also include 1 major and 2 minor projects based on real-world applications with guided lab sessions. Also, as the course will be an online live program, you'll be able to attend the classes from any location at your convenience.
3. Android App Development with Kotlin – Live
The course will help you to learn the basics of Android Development and will take you to a level where you'll be able to build full-fledged Android apps. The course will cover almost every crucial concept for Android Development such as UI building, Kotlin programming, working with databases, fetching data from the internet using REST APIs, etc. Moreover, it'll be a practical application-based course where you will be learning by working on projects.
4. C++ STL
The course will cover all the C++ topics with an in-depth explanation of all C++ STL containers, iterators, and functions. It will help you to use STL inbuilt classes and functions in order to implement some of the complex data structures easily & efficiently and perform operations on them. Several additional prominent features that you'll get with this C++ STL course are Contests for practice, Track-based learning, Lifetime access, etc.
5. OS DBMS CN for SDE Interview Preparation
This course will help you to learn topics like OS, DBMS, and Computer Networks to prepare for interviews in top IT companies like Google, Amazon, Microsoft, etc. It provides you with premium lecture videos recorded by Mr. Sandeep Jain and theoretical concepts designed by experts. The course is strongly recommended to all the final year students and working professionals who are preparing for SDE Interview.
6. Full Stack Development with React & Node JS – Live
This course will help you to learn to develop industry-ready Single Page Web Application and APIs using React & Node JS and other concepts like AWS, CI/CD, etc. At the end of the course, you all will have completed a product, Leadstagram, which is a leads manager similar to Instagram. In addition, you will also learn how to deploy and maintain an application with the complete DevOps workflow.
So, are you excited about this astonishing Black Friday Sale? If yes, then mark the date of 27th November 2020 in the calendar and be ready to grab some exciting deals on each and every renowned course at GeeksforGeeks!
My Personal Notes
arrow_drop_up