Best VPS for Forex Traders
Foreign exchange refers to exchanging the currency of one country for another at prevailing exchange rates and speculating on currency prices whether one currency will rise or fall in value against the other to potentially make a profit. It is an international market with high liquidity and incredible trading making it the world's largest financial market, with assets worth $6-$7 trillion being traded daily. Forex trading requires high computation time and even higher network stability. A forex VPS has capabilities and resources to meet your forex trading needs. A forex VPS hosting service allows you to leverage automated algorithmic methods and strategies to trade seamlessly on your preferred platform.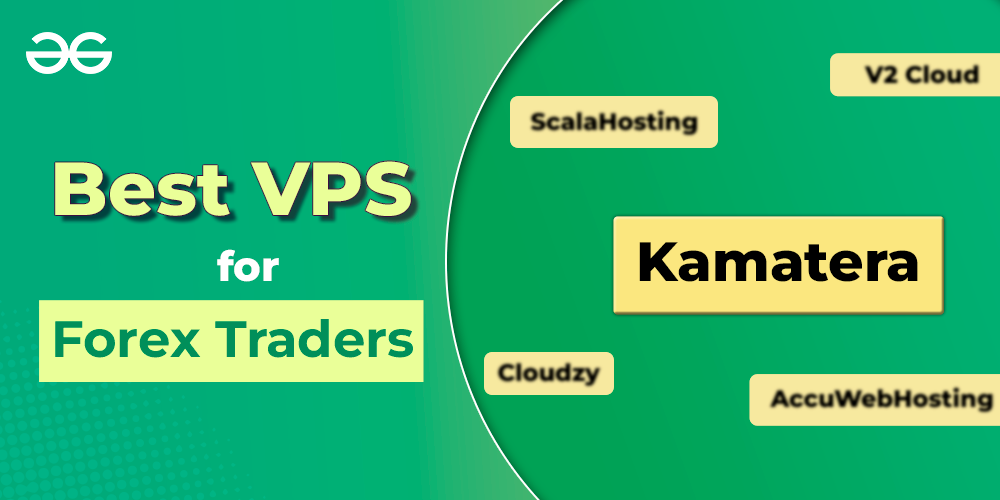 There are many benefits of using VPS for trading:
Global servers
Trade automation
Live migration
Greater connectivity
Security
Lightning-fast SSD
100% uptime guarantee
We reviewed many FX VPS based on server hardware, disk space, uptime, operating systems, software compatibility, and pricing in order to shortlist some of the best VPS. Here we have narrowed the list to the top 5 VPS for forex to make it easier for you to choose from:
Kamatera
Kamatera is one of the best Forex VPS hosting platforms. It is reliable and highly secured and has zero latency with ultra-fast speed. Its 13 data centers spread across four continents owes to its high performance and network. Every server comes with its own resources without sharing of RAM, CPU, or other system resources. You can quickly include load balancers, private networks, firewalls, and more. It has a range of packages to choose from at a starting price of $17/month where you get 1 vCPU, 30 GB SSD storage, 5 TB traffic, Windows OS, unlimited bandwidth, etc.
Features:
99.95% uptime
30 days free trial
Offers great speed and power
High-end hosting options
Rapid server setup
High performance
ScalaHosting
The USP of scala hosting is root access for full administrator control and NVMe storage and one-click scalability. It offers a self-managed forex VPS for tech-savvy traders. Its data centers are spread across USA & Europe. You can have a customized VPS server with preferred CPU cores (4-24 cores), RAM (8-64GB), and SSD space (240-2000GB).
Features:
Dedicated and highly customizable resources
24/7 human support
30 days trial and money-back guarantee
Blazing fast storage
One-click scale up and scale down
High redundancy
Cloudzy
Cloudzy is a reliable VPS provider and executes exceptional trading with minimum investment. It offers fast and dedicated server resources to run your bots smoothly, and also guarantees high uptime and dedicated resources. Cloudy leverages top forex server locations in the world with its data center in various global trading hubs like Singapore, Netherlands, Germany, and the UK which accounts for its maximum availability and reliable connectivity.
Features:
Full root access
7 days' money back
16 convenient locations
Lowest latency
compatibility with cTrader, MT4, and MT5, and more.
100% SSD storage
AccuWebHosting
AccuWebHosting is a great pick for you if you are looking for high-powered infrastructure in your VPS and control and power of your virtual server to get on with uninterrupted trading. They offer fully-managed VPS for all their Forex VPS solutions with full root access. It offers robust features, robust and reliable hardware technology, and flexibility across the board, it also provides SSDs and cloud flair even to shared servers. This hosting has robust, reliable hardware technology and provides rewarding affiliate programs.
Features:
100% uptime guaranteed with Cloud VPS
Fully-secured Tier 3 data center
Excellent support
FREE backups
SSDs available
Server firewall
Full root access
V2 Cloud
V2 Cloud offers a fully managed virtual desktop solution that you can use to trade. This platform has a rich dashboard which makes it easy for you to deploy virtual Windows desktops within a few clicks. It has served 20k+ active users worldwide in the last 5 years and has recognized data centers located in 7 places worldwide. You can access your cloud resources, billing, user controls, backups, admin access to VMs, security settings, and more. It is capable of holding 250 users on a VM.
Features:
Batch Permissions & Access.
Password & Access Management.
Malware Protection.
Network Traffic Monitoring
Pay as you use billing
File sharing and transfer
My Personal Notes
arrow_drop_up