Become Leader of Coding Era – GeeksforGeeks Campus Ambassador Program
Who wouldn't want to be a great leader in their respective field? Yes, almost everyone wants!! In fact, a leader is someone that we aspire to become since childhood. Let us tell you how:
Remember, how willingly you wanted to be the captain of your gully cricket team (nostalgia!!)?
Okay one more, remember the time when you wanted to be the leader of your school parade anyhow.
However, amidst the chaos of assignment submissions, exams, projects, etc, the zeal of becoming a leader has somehow got faded among young ones. But, to revive that spirit of becoming a leader, GeeksforGeeks is coming up with their Campus Mantri Program to give you a chance of being a Mantri (it is as prestigious as it sounds!) of your Constituency (College campus). So, excited again?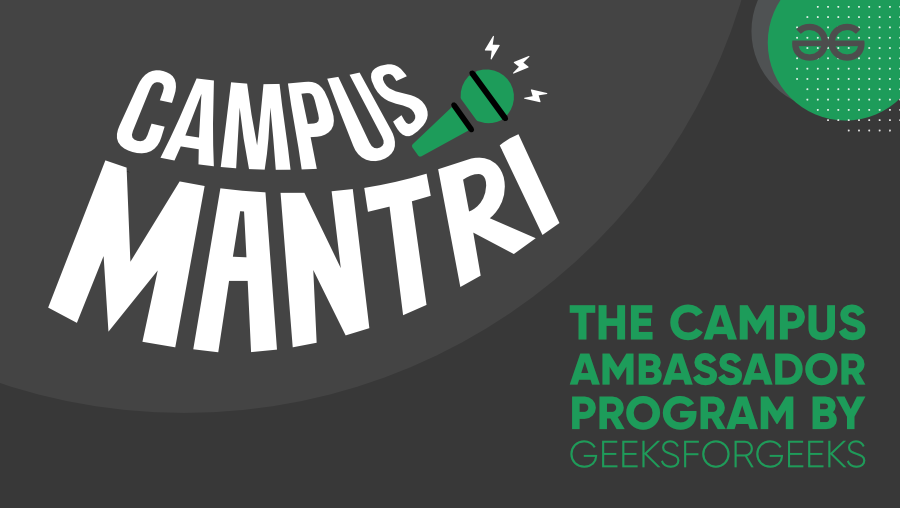 Now, you must be thinking about what is this Campus Mantri Program right? Okay, let's have a brief introduction of the same. Campus Mantri Program is the platform provided to you to become the Campus Ambassador of the GeeksforGeeks at your college campus. As Campus Mantri, you would be leading various awareness programs, workshops & seminars, and other events at your college campus on behalf of GeeksforGeeks. Being a Campus Mantri, you will be a part of the giant GeeksforGeeks Parliament having more than 20 lakhs users from 33000+ organizations in nearly 200 countries.
*The Last Date to Register for GeeksforGeeks Campus Ambassador Program is March 31st, 2022!!*
Perks & Benefits
And, apart from the esteemed title of 'Campus Mantri', this GeeksforGeeks Campus Mantri Program has a lot more to offer you. You'll get various learning opportunities, career counseling, Certificates, exciting goodies, and many more benefits. Also, the Quarterly monetary benefits (as Amazon Gift Vouchers) and the opportunity to apply for a paid internship at GeeksforGeeks in any domain will also be offered.
Every month, the top performer will be recognized as the "Campus Mantri of the Month" which will be published on our website and social media handles i.e. Linkedin and Instagram.
There will be a separate leaderboard for quarterly winners which will depend upon task completion, post sharing, and promotional activities done on the campus. The winner will receive GFG coupons up to INR 8000, Amazon Vouchers, Test Series, Courses, Webinars, Certificates, Goodies Bags worth INR 2000 and depending on the task is given.
Star performers during the program will get a goodies bag worth INR 3000, an Amazon voucher worth INR 1000, and a chance of an internship at our office, depending upon the performance throughout the year.
GeeksforGeeks Manifesto For You
You'll be recognized as the nominated "Mantri" of your campus and your duty will be to help the proletarians (Students) of your Constituency (College campus).
Opportunity to work in proximity with one of the most dynamic digital Ed-tech platforms.
Career counseling opportunity with the Head of the Parliament Mr. Sandeep Jain and other top Ministers (Mentors) of the Cabinet.
Get a chance to be a part of Law-making (idea originating and decision-making policy for the company and get featured).
Since you'll be joining us in the Parliament, your opinion matters to us. You'll get an opportunity to review the bill (upcoming online courses) and suggest the amendments required.
You get early access to new online courses being launched by GeeksforGeeks. We are all ears for your review, feedback, and suggestions.
How to Apply?
Now, you must be curious to know how can you apply for the Campus Mantri Program (especially after knowing perks and benefits!). So you can register yourself directly from the Campus Mantri Program But, keep in mind that this opportunity is only for the First Year college students who are passionate and loves to take on challenges. The detailed steps to register for the Campus Mantri Program are listed below:
Step 1: Click on the above-provided link, and you will be redirected to the 'Registration Form' page.
Step 2: Here you have to enter all your basic details such as name, contact, college, etc. Make sure all the details entered by you are correct otherwise your form may be rejected.
Step 3: Then click on the 'Next' button, and you will be redirected to a new questionnaire page.
Step 4: Here you are required to answer some basic questions relevant to the program. Also, you have to upload your Resume here and then click on the 'Submit' button.
Note: Candidates with hands-on experience in Technical Content Writing at GeeksforGeeks will be preferred. Also, you can add a reference to support your position of responsibility.
Roles & Responsibilities
Okay, now the core and most interesting part come that is what you have to do as a Campus Mantri. A Campus Mantri is responsible for spreading awareness about GeeksforGeeks within the campus. You have to promote GeeksforGeeks events, courses, etc., and help your peers by various means such as conducting workshops & seminars, social media sharing, etc. Also, the responsibilities of the Campus Mantri is not only limited to making people aware but also to making sure that maximum students participate in the activities promoted by GeeksforGeeks within the campus. You can also come up with innovative ideas and other marketing initiatives for the company.
Moreover, this Campus Mantri Program can add a much-needed weightage to your resume and will give you an edge over other students to kick-start your career. So, what are you waiting for? Turn on your laptop and get yourself enrolled for the GeeksforGeeks Campus Mantri Program as soon as possible!
My Personal Notes
arrow_drop_up