AWS Educate Student Ambassador Program
If you want to make your career in cloud computing and your dream job is in the cloud. You must apply for the "AWS Educate Student Ambassador Program", it is an amazing program for students offered by AWS Educate.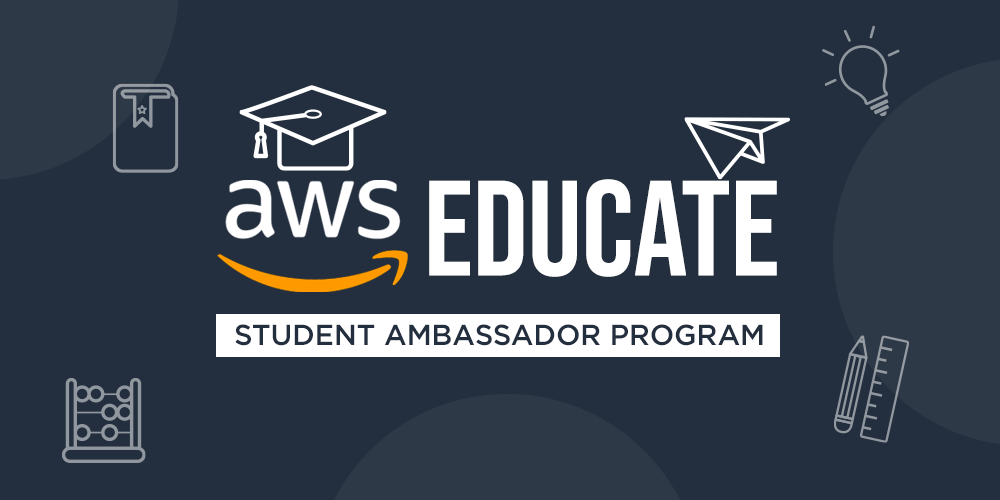 Amazon Web Services popular known as AWS is the world's widely accepted cloud platform that offers a variety of cloud infrastructure services from their globally located data centers. Today most startups, enterprises, even some government firms are going for AWS to accelerate innovation and optimize infrastructure cost. And AWS Educate is a global initiative of Amazon that provides students with adequate resources for developing in-demand cloud skills. This is a no-cost curriculum offering students with features like:
AWS Educate Skill Badges
Cloud Career Pathways
Job Board
Interview Accelerator
Promotions
What is the AWS Educate Student Ambassador Program?
AWS Educate Student Ambassador Program is a specially designed program for the student members of AWS Educate. Under this program, AWS Educate Student members receive global recognition, free access to career opportunities in the cloud, and other numerous benefits for creating awareness and helping their peers learn about AWS Educate. This program is globally available to all the AWS Educate student members.
Who all are eligible for this program?
All the students who are currently enrolled at some public or private schools or colleges/universities are eligible to apply for this program. The participants of this program must be at least 18 years of age while filling out the application form for it. It is also important that the location from where the participants are thinking of applying for this program, AWS Educate must be available over there. The most important eligibility criteria to participate in this program is applicants must be a student member of AWS Educate, then only they can apply for it. If anyone is interested to be a part of this program, but he/she is not a student member of AWS Educate, they can apply for their AWS Educate student membership easily. The only thing they need to have before applying for the AWS Educate membership is an organizational e-mail id like the one provided to you by your educational institutes. And last but not least the students applying for this program should be innovative so that they can motivate their peers to learn about AWS technologies. They should be a community builder i.e. they should be capable of building new relationships and maintaining the existing ones within their educational network. They must have standard knowledge of AWS technologies.
What is the cost of participation in this program?
There is no cost of participation in this amazing program. This program is fully funded by AWS Educate. It is freely available for interested students from all the locations worldwide where AWS Educate is available. The only cost all the participants of this program have to bear is "they have to invest their valuable time" in this program like they have to introduce AWS Educate at their college campus after getting selected.
Why you should join this program?
There are numerous advantages of joining this program, some of them are listed below:
Limited edition AWS Educate Student Ambassador Program swags/gears
Additional AWS Promotional credits
Mentorship or Training from AWS employees
Global networking with other AWS Educate Student Ambassadors
Resume building experience
Opportunities to improve skills like Public speaking, Technical writing, & leadership
Prior access to use newly added AWS Educate features & services
Get support to grow and manage the AWS Educate student community at your college.
Get featured on AWS Public Blogs
Recognition in the form of AWS Educate signed certificate
How to apply for this program?
To apply for this program follow the steps given below:
Step 1. If you are not a member of AWS Educate, first you have to apply for AWS – Educate Starter Account

Step 2. You have to answer all the questions required in the program application in the best possible manner

Step 3. You have to record a short video explaining:

What excites you about AWS Educate?
Why do you want to join this program?
How you are going to grow and manage the AWS Educate student community at your college?
What is expected from you in this program if you got selected?
As an AWS Educate Student Ambassador, they expect the following things from you:
You must attend a virtual kick-off event and semi-annual update calls.
You have to engage the students and faculties on your campus to help them learn about AWS Educate & AWS.
You have to inform the concerned AWS Educate team about the outreach activities on your campus.
You have to share your insights and opinions to improve the effectiveness of this program with the AWS Educate team through surveys & meetings.
You have to network with the other AWS Educate Student Ambassadors in the community and share your ideas & events with them.
Worried about your selection in the program! Don't worry they are just looking for candidates who are highly motivated to learn and share their knowledge about cloud computing, passionate about AWS & AWS Educate, and involved in the student-led technical clubs at their college campus.
My Personal Notes
arrow_drop_up