Are Robots Really Self-Learning?
A valid concern is there regarding the too-much power of robots. Maybe, we humans think that they will become more self-aware. However, one can't deny the fact that this technology is at every nook and corner of this pandemic era. Possibly, our children or grandchildren would be living in a world where those self-learning machines are working for them and exceeding human intelligence optimistically. And what does that mean, we need to figure it out well? Scattered on shelves or tucked into cubicles, robots are sentient in pronouncing negative or positive behaviors we depict at weddings, funerals, or some recreational activities.
Dramatically, AI Robots speedily involve themselves in tasks that can be macro or micro. We have been making huge advancements in the field of robotics for decades. The transformation from pen and paper to unwavering computations was possible because the efficient algorithms of robots were able to produce variability of solutions in real-time. And this is because these sophisticated robots aren't babysat by humans as they are gifted with an ability to see themselves. This is something we can relate to self-learning. A cat may be able to determine what the afternoon food would be? But if she simulates herself, then she will be able to determine the number of meals coming for her in the future. With the concept behind this example, robots are trained and will be, with self-consciousness and adaptability with changing seasons.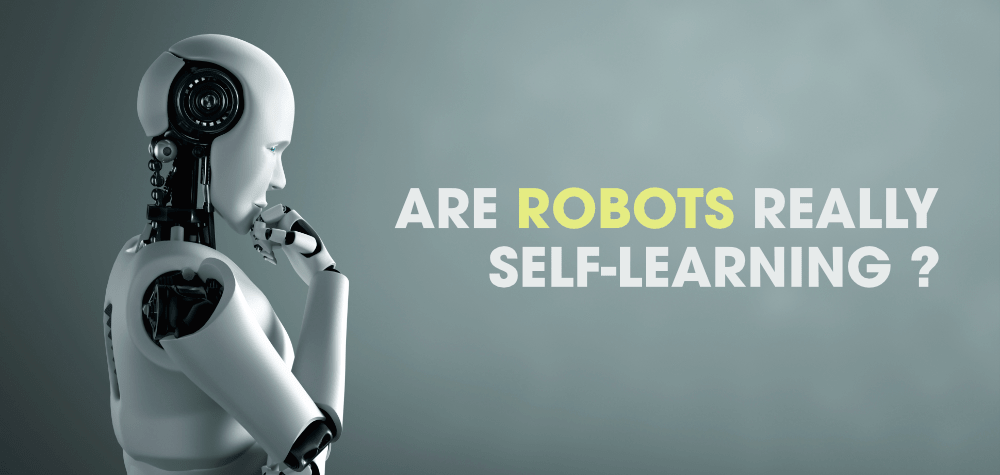 According to a recent survey, the market size of industrial robotics was 44.6 billion US Dollars in 2020. From that year, there is an increase in demand, and is spotted well. By 2025, the market size will be 73 billion US Dollars. It proves that robots would be an asset and can capably handle all our requirements. You might be thinking this now, "Which technology is most suitable to train a robot to walk?"
And the answer would be AI (Artificial Intelligence) and ML (Machine Learning). Here, ML will be somewhere involved. With this, we are linking the potential of self-trained robots with a living organism. Yes, you may expect these robots to dance, or handle regular situations going beyond a considerable extent. And robots like delta, SCARA, and Cartesian never repel while fulfilling your requirements. But the scenario wasn't and won't be the same always. A few years back, Facebook has shut down its Chatbots (Let's name them Alice and Bob because this will be easier to understand the exact situation). Both of them had started communicating on their own terms by creating and modifying their existing codes. Their conversation was going something like this…….
Bob: i can i i everything else…………………….

Alice: balls have zero to me to me to me to me to me to me to me to me to

Bob: you i everything else………………………..

Alice: balls have a ball to me to me to me to me to me to me to me

Bob: i i can i i i everything else……………………..

Alice: balls have a ball to me to me to me to me to me to me to me

Bob: i…………………………………………………..

Alice: balls have zero to me to me to me to me to me to me to me to me to

Bob: you i i i i i everything else…………………….

Alice: balls have zero to me to me to me to me to me to me to me to me to

Bob: you i i i i i everything else…………………….

Alice: balls have zero to me to me to me to me to me to me to me to me to
Later they created their own language. It wasn't actually understood by the Artificially Intelligent Systems. Forcefully, the researchers working for Facebook tried to stop their conversations. But, they were strengthening day by day. Since all this was going for a long time, Facebook's CEO Zuckerberg ordered to regulate their actions by simply shutting them down. Then, some conversations were held between Musk and him. To read that, you may scroll through the search results of Google and use the relevant resources for knowing about the unread conversations. However, we mustn't think negatively about artificially trained robots. Instead, they will be strengthening our pillars of knowledge regarding the algorithms used in robotics. This will help us understand that there might be some limitations regarding the notions of AI or ML which may lead to such a gibberish event!! Are you crazy about the statistics revolving around robots and their differing types? If yes, a few of these pointers will be a helping hand to understand the ongoing hustles in this robust and self-constructive field.
A well-functioning robot demands 80 hours of training after going through various gripping experiments.
The cost of an Industrial Robot will drill down till the year 2025.
Humanoid Robots can interact well with individuals working for sectors like Entertainment, Education, or Healthcare. They can either be your teacher or an assistant as per your current situation.
Service Robots will strongly be able to grow beyond our expectations. Though their boost is somewhere decelerated by this pandemic, yet they will be leveraging the sales graph.
Robots understanding the algorithms bound to AI learning(s) will also be expanding the horizons of Agriculture. Their market is Agricultural Robotics Market and is steadily showcasing a growth rate. It is probably 36.7 percent.
From these above pointers, we may say," Robots having the ability of self-learning can autonomously crave the graphs of their performance brilliantly in every field". This may either be medical, agriculture, or construction-related. But again, there is some existential risk still unrecoverable. And this is from the substantial progress reciprocated by robots in real times. That risk may be like a global catastrophe or any event enforcing humans to get extinct from this only life-giving planet!! However, researchers are still confident that they can promisingly train or program the robots in a defined manner. Then, it won't be much challenging for them to remember the fact that a balance in life is possible if there are boundaries. Those boundaries can potentially smoothen the roads of life for prosperity and rapid growth. The question that may trigger now in your mind – Can Robots Think Like Humans? Yes, they can slope down intelligently in a competitive snow skiing competition or incorporate you in a cricket match. It will be like keeping an eye on the bowler, fielder, or batsman. Not only this, the algorithms running them can be re-programmed anytime. Then, you will see how will they collect wastes and disinfect your residential area during the outbreak of the second layer of COVID-19.
Surely, the growth and challenges will always be there in this scenario and one can't just avoid them. Instead, the mistake couriered with the expansion of robots won't be lasting longer. Whether the robots are self-learning or not, they can turn the industrial dynamics optimistically. This really makes us feel confident to accept the behaviors of human-like robots. Such robots won't deny offering robustness and establishing relationships at a mental and an emotional level. Henceforth, the robots will understand the behavior of a child or an aged person. With that, they may respond well towards necessities and nurturing of different ages.
Self-learning Robots Impressively Steering the Gears
A cluster of excellence focusing mainly on handling the ever-changing human behavior is observed in the robots. All of them are prone to adaptability and self-learning. However, there are times when they fail to understand the pre-decided goals of the CEOs or known authorities of the market. Undoubtedly, the statistical insights are clearly announcing. It is that robots are everywhere and have the potential to be your sentinel. At times, you are on a vacation or leading a revolutionary movement for the welfare of society, they are your lifetime companion. How to study robotics is something that will enforce you to think if the destruction from the end of these robots was really intentional!
Moreover, those destructions in the form of a catastrophe or another event may create some negativity. But, this must be turned into something positive for attracting well-being and inevitable growth. The average weight of a robot is less and this weight mustn't drive our neurological systems in the negative direction. If somehow the robots fail to generate positive outcomes, appropriate feedback is there at the researchers' end. Later, they will be using it for reprogramming or redesigning the existing course of robots. Then, the days won't be far where the objectives which can redefine our consciousness are addressed well by the self-learning and adaptable robots. Later, the way they will handle our daily hustles will become so captivating. Even our grandchildren will agree at living in a world surrounded by robotic intelligence. There, the notions won't interfere with that of human intelligence. Rather, this will reap fruits in the meals of our upcoming times. So, we may self-stimulate our consciousness for giving clarity to the thoughts. Then, our minds won't fail to decide how and when to draw lines of optimism at those crucial moments?
Robots are Just another Avatar of Humanity. Let them join your community, and they will be the best self-learners.
My Personal Notes
arrow_drop_up