Amazon WoW Program – For Batch 2021 and 2022
Are you a female looking for SDE roles in a renowned product-based organization, Amazon? If yes, then there is an opportunity for you to get an interview call from Amazon. Yes, you heard it right. Amazon is back with its remarkable Amazon WoW Program for 2021 and 2022 batch candidates. The main aim of Amazon behind this initiative is to increase the participation of women in the tech industry.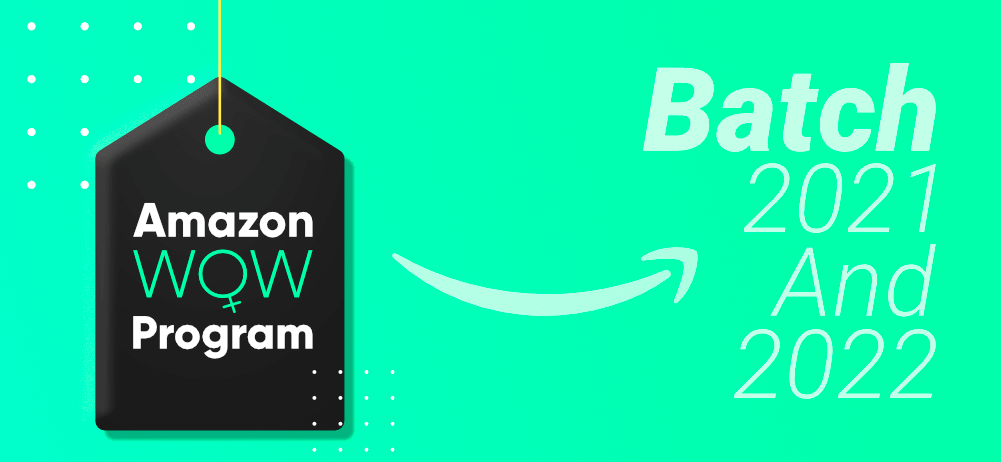 Amazon is offering internship and full-time software development opportunities to female candidates through the Amazon WoW program. Students from any college across the nation can apply for this opportunity.
Become a success story instead of just reading about them. Prepare for coding interviews at Amazon and other top product-based companies with our Amazon Test Series. Includes topic-wise practice questions on all important DSA topics along with 10 practice contests of 2 hours each. Designed by industry experts that will surely help you practice and sharpen your programming skills. Wait no more, start your preparation today!
Now let's take a look at the roles & responsibilities:
Should be able to grasp the details of the current project and its architecture.
Should be a team player.
Design code for real-world problems.
Deliver high-quality software in an agile environment
Eligibility Criteria
Before applying for the Amaze WoW program, you must ensure to satisfy the below-mentioned eligibility criteria:
Only Female Candidates are allowed to participate.
BE/B.Tech/Master degree in Computer science or related stream with no backlog and CGPA greater than 6.5.
Understanding of Design Patterns, Data Structure & Algorithm, and relational databases.
Should have better problem-solving skills
The year of graduation should be 2021 for Full-time positions and 2022 for the internship.
Note: If you have been interviewed by Amazon in the last 6 months then you can't participate.
Selection Process
Screening: A basic screening after registration will happen to ensure that you satisfy the above eligibility criteria.
Online Test: It will have coding and MCQ questions that will be testing your knowledge of Data Structure and algorithms, Programming concepts, etc. Some of the crucial insights of this round, based on the candidates' feedback, are mentioned below:
The online round consists of 28 MCQs based on programming language and Data-Structures and 2 coding questions that need to be solved within a duration of 90 minutes. However, there is not any sectional time limit and you can also switch the sections at any time during the test. To perform well in the MCQ section, you're required to have your fundamentals strong and have better speed and accuracy.
Interview Round: This will be a usual SDE level interview and consists of multiple rounds such as Technical Interview Round-1, Technical Interview Round-2, etc. Some of the most-important topics based on candidates interview experiences are – Operating System, Standard Array, and String problems, Bit Manipulation, Tree traversals, graph problems, basics topics of computer networks like OSI model, DNS, Deadlocks, Processors, etc
Benefits of Participation
Some of the advantages of participating in the Amazon WoW Program are:
Competition is reduced to half as only females can apply.
Higher package than average industry package.
Optional Telecommute / Work from Home.
Better Career growth.
Schedule
The timeline for the Amazon WoW Program for Batch 2021 and 2022 are mentioned below:
Registration Open: 20 April 2020
Registration Close: 05 May 2020
Online Assessment: 22-24 May 2020
Test Results Online: 29 May 2020
Interview: 07 June 2020 onwards
How to Register?
You can register yourself for the Amazon WoW Program conveniently by following the below-mentioned steps:
Visit the official website of AmazeWiT.
On the official website, you're required to sign in with your Google account.
Then you'll be redirected to a dashboard page where you need to click on 'Amazon's Internship and Full-time Opportunity' under the section 'Upcoming Job Opportunities'.
Now you need to click on the 'Proceed' button and after entering the required details, click on the 'Save' button.
At last, choose your preferred location and click on the 'Apply button'.
For the coding interview round of the Amazon WoW program, you all are advised to write short comments to make it more convenient for the interviewer to assess. Also, you can ask the interviewer to repeat the question in case you don't get it correctly the first time.
So, you all are recommended to don't miss out on such a wonderful opportunity and make the most out of it.
My Personal Notes
arrow_drop_up