Amazon RDS – Security & Compliance
In this article, we will discover Amazon RDS or Amazon Relational Database Service. Amazon RDS is nothing but a cloud database, that typically runs on AWS or Amazon Web Services platform and access to the database is provided as-a-service. In simpler words we can state that RDS comes under PaaS i.e. (Platform as a service).
Benefits or Advantages
Easier Management
Higher scalability
Available and durable in nature
Faster and Securer
Inexpensive
How to reach to amazon RDS management console?
Step 1: Login to your aws account and then on the left corner click services. There will be a bunch of options like this:

Step 2: After clicking on RDS a page like this will load on your screen.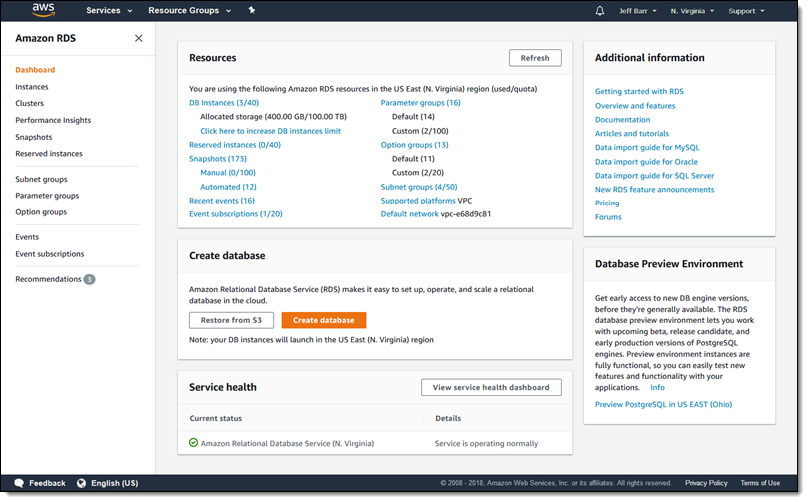 In this way, one can easily create a database along with the numerous liberties of cloud database. For knowing more about creating a database on Amazon RDS, do give the linked article a read.
Amazon RDS- Compliance & Security
Managing such a humongous cloud platform is very difficult for AWS service providers. So, to simplify their command and control. They have also included compliance programs in the AWS platform. "Compliance" basically refers to the process of learning from the feedback given by the users. These programs help the AWS service providers in meeting the demands of their users. There are multiple compliance programs initiated by AWS in different regions of the country. And these new discoveries are further tested by third party auditors in order to get an unbiased opinion, then based on this result it is decided whether the discovery should be certified and attested or not.
Huge companies like Netflix, LinkedIn are using multiple services of aws for their network of millions of users all over the globe. Thus, another major concern of AWS service providers is it's users data security. Since, everything is present online, data security is at a very high stake. As, we know AWS is a platform as a service. Hence, we are getting this extra layer of security (the platform itself) for protecting our data. But wait, what if the platform is not secure enough? In order to resolve this why, AWS has divided it's security setup into two sub categories. And these are discussed ahead.
1. Security of the platform (AWS CLOUD PLATFORM)
Ensuring the security of the whole platform is entirely AWS service provider's duty. In other words we can say that, ultimately AWS manages as well as protects the platform, so that all the services can run on it securely without any interruption. Also for periodical health checks of the cloud platform along with the services running on it, AWS hires third party auditors which regularly test and verify the productivity of our security model as it is the part of the AWS compliance program. These tests provide us a regular report about how secure our platform is. If something is found inappropriate, the security model alarms the service providers about it.
2. Security in the cloud (Your account)
Now, comes the part where the responsibility of security belongs to the users. Basically the users can be categorized into two types.
Root user
IAM user or Identity and Access Management user.
There can only be a single root user of any particular AWS account and IAM user can be multiple in numbers. By default, all the security concerns of an account reside in the hands of the root user. It depends on the root user whether to assign security related authorities to an IAM user or not. Root users can restrict access of any IAM user at any point of time as per their choices. We can use Amazon RDS encryption to make our Database Instances and Snapshots i.e. backups more secured. This encryption algorithm simply convert your data into an inaccessible format when other unauthorized users are trying to access it.
Amazon RDS- Security & Compliance gives us another firm reason to opt AWS as our go-to cloud platform for using all the desired services and databases flexibilities.
My Personal Notes
arrow_drop_up