Advantages and disadvantages of Windows operating system
Windows operating system is made by Microsoft and it has delivered numerous variants. The most renowned and utilized rendition of Microsoft Windows will be windows 7. The primary working framework (OS) which was created by Microsoft was MS-DOS. MS-DOS was a basic OS and has an order line interface. The new form of Microsoft OS has likewise MS-DOS work as a utility. MS-DOS is as yet utilized in doing some regular undertakings like making records, envelopes, introducing modules in some products, utilizing GIT and different uses also.
After Windows 7, Microsoft dispatched Windows 8. Windows 8 was not that much achievement on account of the new interface and missing the beginning menu. In the following arrival of Windows 10, the organization again added a start menu which was absent in Windows 8. The start menu in Windows 10 is a mix of Windows 7 and a little bit of windows 8. In Windows 10, Cortana which is a snappy inquiry instrument was presented. Cortana still has a few bugs which should be fixed. Cortana is enlivened by google voice search. You can voice search in windows 10 by Cortana. This internet searcher stores bunches of information about individuals and it make a high burden on the framework. You can alternatively kill the Cortana in the event that you don't prefer to utilize it.
Example –
Examples of Windows operating systems are as follows. A few instances of windows operating system are underneath as follows.
Windows 95
Windows 98
Windows XP
Windows vista
Windows 7
Windows 8
Windows 10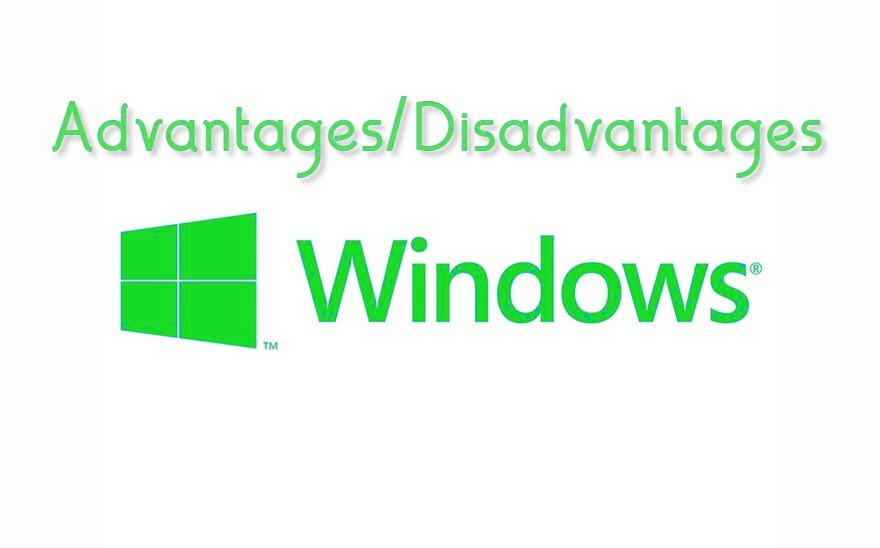 Advantages of Windows operating system :
Backing for all equipment –
As windows OS is utilized by 95% of clients so the majority of the equipment merchants make drivers for windows.
Convenience –
All forms of Microsoft Windows have something regular in it which makes it clients simple to move starting with one form then onto the next. Windows 7 clients have no trouble in moving to Windows 10 in light of the fact that a large portion of the highlights of Windows 10 is equivalent to Windows 7. The UI of windows is additionally simple to use than UNIX and MAC.
Programming support –
Windows stage is most appropriate for game and programming engineers. Windows have a huge number crowd so designers want to make utilities, games, and programming for windows OS. Linux clients can't make windows applications so it is smarter to utilize windows for creating applications.
Fitting and play highlight –
Most equipment can be distinguished naturally by attachment and play include. You don't have to physically introduce the equipment however it is prepared to utilize when connected for example webcam, console, mouse, cell phone, and so forth.
Work area and contact screen –
Windows 10 is made for both touch screen gadgets and PCs. The UI of Windows 10 is made so that it turns out better for a windows gadget.
Disadvantages of Windows operating system :
Infection assaults –
Windows have a high measure of programmer assaults. The programmers can without much of a stretch break windows security. So windows clients are reliant on the enemy of infection programming and need to pay month to month charges to organizations to ensure their information. Additionally, windows clients need to refresh OS to stay up with the latest security patches.
The majority of the product is paid –
Most windows programs are paid for example games, designs programming (Photoshop), download chief (IDM) and other famous programming are paid. You need to purchase these products or pay a month-to-month charge to utilize them.
Rebooting a framework –
If your framework turns out to be delayed in execution then you need to reboot it. On the off chance that you load numerous projects simultaneously, at that point your framework eases back down and hangs up. The lone answer for this is to reboot.
Excessive cost –
Linux OS is open source and is allowed to use for everybody except windows OS has a paid permit and you can't utilize windows OS lawfully free. The expense of purchasing a duplicate of windows OS is high too. You likewise need to purchase other Microsoft programming for example MS Office to accomplish a standard office deal with the PC.
High PC assets –
If you are introducing windows OS then your PC ought to have a high smash limit, a great deal of hard drive space, and great designs card. This is a result of highlights that are utilized in windows. In the event that you need to introduce illustrations programming for example Photoshop then 16 GB of smash is suggested.
Specialized help –
Windows uphold isn't useful for most clients. Just some enormous associations can get great help from the windows group. Basic clients need to look for gatherings to get their concerns settled.
My Personal Notes
arrow_drop_up