Advantages and Disadvantages of ESS
ESS (Extended Service Set), as the name suggests, is a service set that usually contains two or more BSS (Basic Service Set) that are interconnected with each other. These BSSs share common network name i.e. SSID. SSID stands for System Service Identifier. It is a unique mac address given to each AP (Access Point) associated with BSS. BSS usually provide short range wireless communication but ESS provides long range wireless communication.
To create long range wireless communication, more than one APs is required and then all of them are connected to a wired network. ALL APs in ESS are connected to each other by a common DS (Distribution System). With the help of DS, more than one AP can get connected to the same LAN. All APs work together to create a long range wireless network that usually covers the whole building, large area. Although there are more than one APs present within system and each AP has a unique BSSID, all users or clients present within area sees only one common network name i.e. SSID. Therefore, this network is known as Extended system service.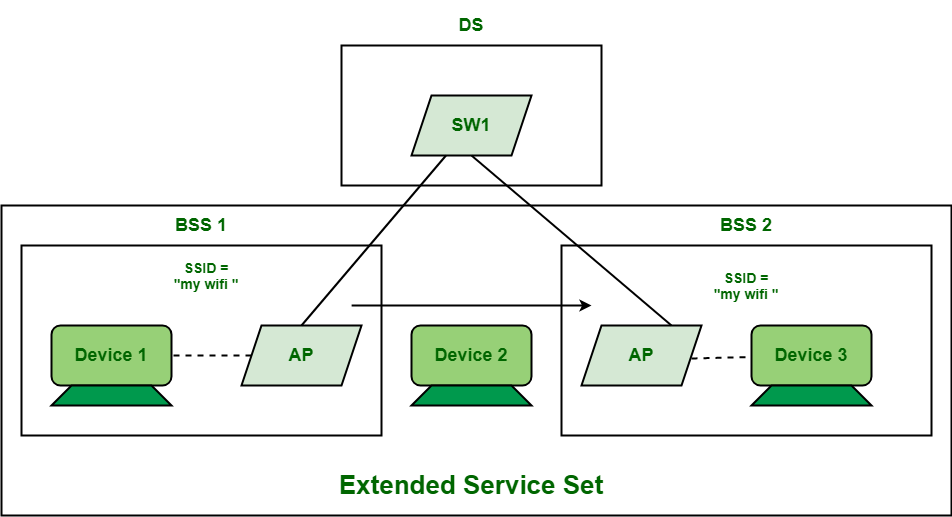 Advantages of ESS :
Whole area that is being covered by ESS is known as ESA (Extended Service Area). All clients or user that are present within same ESA can communicate with each other even if they are present in different BSA (Basic Service Area).
ESS supports mobility i.e. clients can move from one place to another without getting disconnected to the network. As there are more than one AP, whenever a client will move, it will automatically jump from one AP to another AP and get connected. This is also known as roaming.
DS is a system that is one of the best and essential parts of ESS. It usually connects more than one AP to form ESS and therefore allows users to move freely.
It also hides mobility of all stations within ESS from everything and other stations present outside ESS.
ESS provide better strength and boost signal all over wireless network.
BSS can cover small areas or business but cannot cover large areas. Therefore, ESS is mostly used by large scale organization, business, offices, etc. because it provides network coverage over large areas.
In ESS, there is no as such limitation for clients to use the ESS network. More number of users can get connected to this network without any network issue and connectivity problem.
Disadvantages of ESS :
ESS supports mobility but roaming between different APs of different vendors can create problems.
While roaming, handoff is not specified. Handoff simply means transferring of clients signal from one AP or BSS to another.
As it covers large area, ESS is not highly secure.
My Personal Notes
arrow_drop_up