Adobe Premiere vs Final Cut Pro
Videos are a great tool for entertaining, explaining, engaging, marketing and advertising purposes. Many individuals and organizations use videos for different purposes but making videos ready for different platforms is a typical task that involves editing videos which is a time-consuming process so to make this process easy, many companies released different video editing software from free to paid. These softwares come with advanced tools to change the entire look of any video and make it flawless for digital platforms. Two of the most famous video editing software are Adobe Premiere and Final Cut Pro. So let's compare the two to find out their capabilities.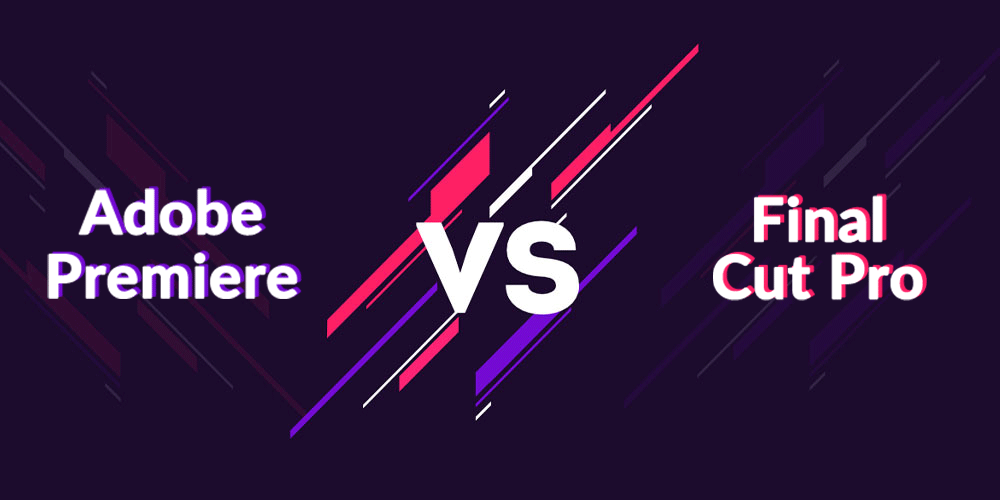 Adobe Premiere is a video editing computer software which was developed by Adobe Incorporation. It is an easy to use software which provides different tools like precision trimming, audio editing, visual effects, text effects, transitions etc. It provides a large number of audio and video layers so to work on different layers. It is very useful to naive users who don't have editing experience.
Advantages of Adobe Premiere
It has a responsive interface which makes the editing process very easy and effective.
It comes with a large number of transitions and visual effects.
It supports a large number of file formats like MP4, MOV, AVI, MKV etc.
Multiple files can be edited simultaneously without slowing down the system.
It has advanced features for audio editing like noise reduction, compressor, limiter, equalizer etc.
Disadvantages of Adobe Premiere
It is not available for android devices.
Autosave features do not work many times.
It builds cache files which fill the cache memory.
Final Cut Pro is a professional video editing computer software which comes packed with the most advanced editing tools. Initially, it was developed by Macromedia Incorporation and later it was built by Apple Incorporation. It is commercial proprietary software which was first launched in June 2011 and a stable version was released in April 2022. It allows editing of all types of video file formats. It is a popular software used by individuals along with organizations.
Advantages of Final Cut Pro
It is a fast video editor means it does not lack/hang and runs smoothly.
It comes with inbuilt VFX features so no external plugin is required.
It comes with a one-time purchase facility which is cost-effective compared to subscription-based software.
It is easy for beginners because of its simple interface and all essential tools are in a single place.
Editing videos using multiple camera features is possible in this software.
Disadvantages of Final Cut Pro
It is available for Mac operating systems only.
It requires a graphic card to function smoothly.
It uses high memory and processing power.
Following is a table of differences between Adobe Premiere and Final Cut Pro:
| | | |
| --- | --- | --- |
| | Adobe Premiere | Final Cut Pro |
| 1. | It can be understood as a video editing software which provides brilliant editing features. | It can be understood as a sequence of non-linear video editing tools which comes with professional video editing features. |
| 2. | It was developed by Adobe Incorporation. | It was developed by Apple Incorporation. |
| 3. | It does not allow VFX editing. | It has VFX features to add special effects to videos. |
| 4. | Rendering videos is slow and requires a lot of time. | It is one of the fastest editor and rendering videos even in 4K is fast. |
| 5. | It supports Windows as well as Mac operating systems. | It only supports Mac operating systems. |
| 6. | It is not available to purchase for a lifetime as it is a subscription-based software. | It only needs a single time payment and the software can be used for a lifetime. |
| 7. | It is mostly written in C++. | It is written in the Cocoa programming language. |
| 8. | Updates are frequently available. | Updates are infrequent as compared to Adobe Premiere. |
My Personal Notes
arrow_drop_up