8 Technical Courses To Get a Job in IT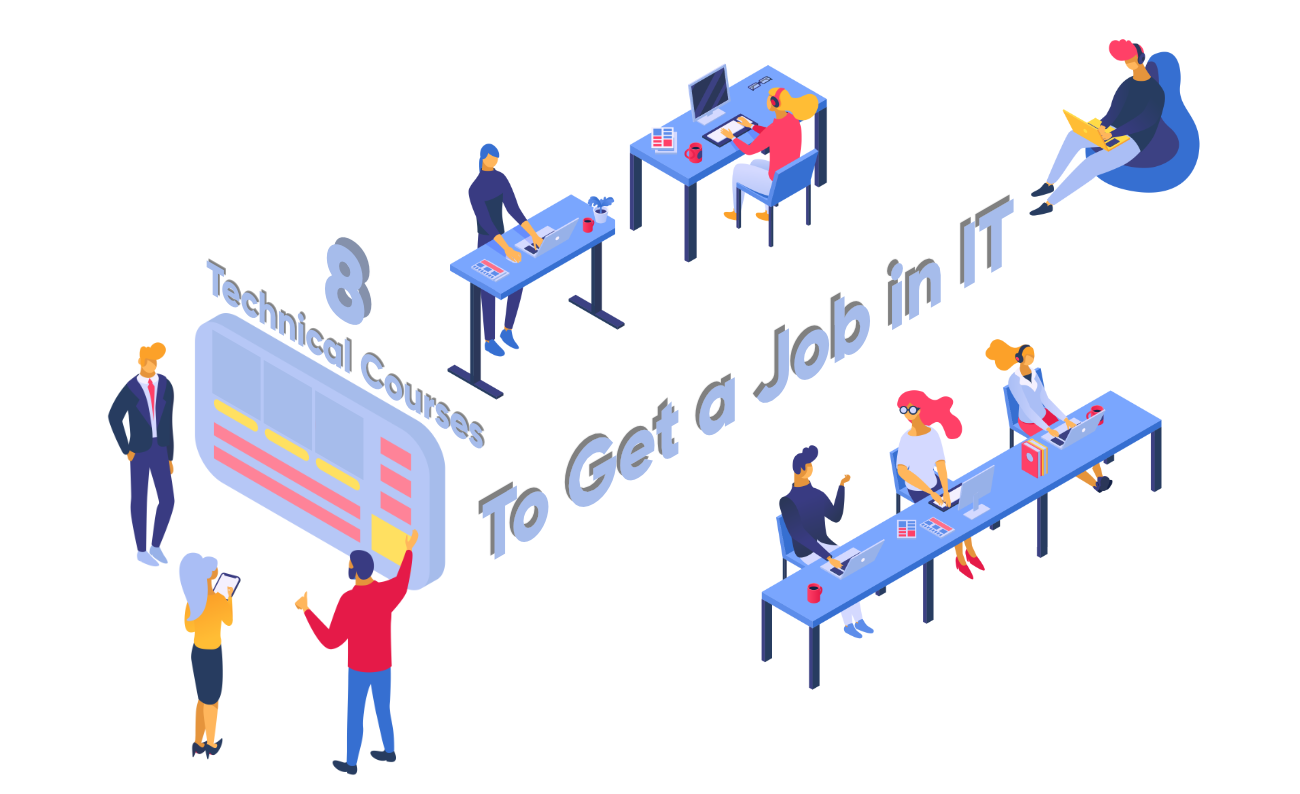 In today's world, technical jobs are one of the highest-paying jobs. Most IT, Software and Electronics engineer dreams for such a job. Over 1.5 million engineers graduate from India alone every year out of which around 1 Lakh are from Computer Science, IT and Electronics, but the employee requirements of the software companies are not that high. Software companies in India take up around 10,000 engineers per year(approx.). So the question now is how to be among those 10,000 engineers. The answer would be to make yourself different from others. In simple words, you need to have some extra technical skills which would make you stand out in the crowd. Below is the list of some courses that would help you to do so. You can take up these courses while you are in college too.
1. Web Designing
As the name suggests, in this course you'll learn how to design a website. You are reading this article too on a website which is also designed by a web designer. We come across loads and loads of websites in our daily life so, we can imagine the number of jobs which will be there related to this field. No pre-requisites are required to learn web designing just a bit of creativity will do the job. For more details, you can read the article How can I start to learn Web Development?
2. Data Science
Data Science is the study of data and processing it. This course is not necessarily only for an IT or Software Engineer but other branches can also show interest in this field. Data Science course is not a short duration course. It can be done as a Post Graduation course for a 10-12 month duration. India has many institutes that offer data science as a PG course. To know more about this, you can read the article How to Become Data Scientist?
3. Industrial Automation Courses
This category contains many courses such as Programmable Logic Controller (PLC) and Supervisory Control and Data Acquisition (SCADA). These systems are generally used to control or monitor the different machines in industries such as energy, telecommunication, transportation, etc. HMI (Human Machine Interface) software is also used to interact with machines directly. So, the HMI course is also a good option. Many companies in India provide 1 month or 2-month course in these fields for example SIEMENS.
It is an application of artificial intelligence where we focus on the development of computer programs that will help the system to learn and improve from experience without programming them explicitly. Pre-requisites to start learning ML are linear algebra, statistics and probability, and prior programming experience.
Although IoT is a new technology and is yet in the developing phase in India. IoT is used to control anything using the internet like switching lights, TV and stuff. It doesn't have any major pre-requisite, just an interest in programming and circuits will help you to learn this course. The more creative you be the higher is the chance of doing something great in this field.
6. Simulation Software
There are many software like MATLAB, Simulink, and Multisim which are used especially in Electronics core companies to kind of simulate the hardware before actually making it. Hence, if you know how to work on this software then it will add an extra charm to your technical skills. You could learn these software online as well as offline. With a bit of interest, this software can be learned in a few days and you should have good theoretical knowledge about circuits.
7. App Development
Apps are convenient to use for everyone. We have apps for everything be it learning, teaching, music, etc., there are endless apps on the internet hence, there is endless need of app developers too. You can take up either android app development or IOS app development or if you have time you can learn both. Pre-requisites for android app development are Java and SQL and for IoS, you should know how to work with Objective C.
8. Digital Marketing
Digital Marketing has some highest paying job opportunities. Nowadays, marketing has become so important that companies invest immensely in marketing. Taking this course would also be a smart choice if it has your interest. It just requires one's creative skills to start this course.
My Personal Notes
arrow_drop_up