8 Key Elements of a Product Information Management System
Without an online presence, it is quite tough for a retail and manufacturing organization to reach out to a large user base and generate better sales. An eCommerce platform is highly essential to sell and promote your products. Especially in this COVID-19 situation when people do not prefer to go out for shopping, they mainly depend on the online marketplaces and stores to deliver them the products they want. With robust product information management, you can build an advanced eCommerce store.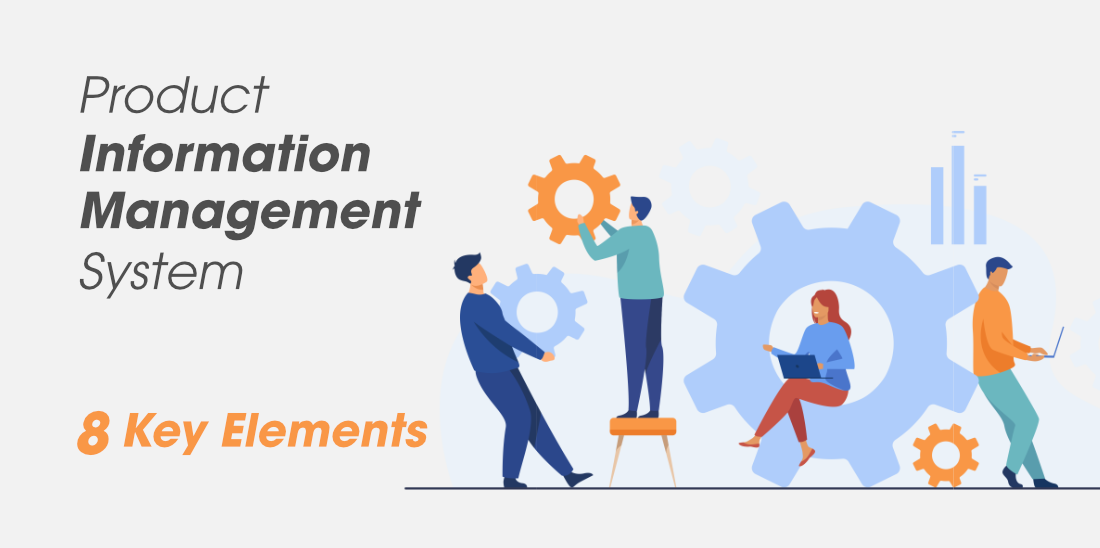 It does not only allow you to list the products, but also allow you to manage the process of product data enrichment, data distribution, and data governance. Leverage the flexibility to store thousands of your products with hundreds of their attributes effectively and seamlessly.
Adoption of PIM is a far better way of product information management than conventional ways such as spreadsheets, ERP, PDF, etc. If you are planning to implement a PIM, then you need to make sure the system contains the below-listed elements to ensure successful product data management.
8 Essential Elements of Product Information Management System
1. Data Accuracy and Data Consistency
It is very essential to define and enforce the data quality as you want to allow your different internal teams and external resources to access the product data from a single location. A reliable PIM aggregate manages and collaborates product data in a single platform by improving the data accuracy at the same time.
It enables you with a trusted centralized repository from where your internal stakeholders can easily access and use the product information.
2. Integration with Third-Party Systems
The PIM should allow you to integrate your different third party software such as ERP, CRM, eCommerce, PLMs, homegrown systems, and other enterprise systems. All these systems go through the changes as per the merger and acquisition decisions you make. You need to add the new product data to your existing systems in a seamless workflow.
The product information is likely to spread across multiple systems. PIM should be capable of connecting all these different systems. It allows the data to flow freely across all the software and exchanges the data amidst all the systems effortlessly.
Moreover, the PIM solution should provide support to multiple data protocols, and formats. It allows you to integrate different sales channels where you want to distribute your product data.
You can allow anyone from your team to view, access, and manage the product information from a single platform at any time from anywhere without sacrificing the security that your IT department cares about.
3. Integrate Data From Multiple Sources
The integration of PIM with other enterprise systems and sales channels is not just for data management and information distribution. The system also collects the data from different platforms to enable organizations with a holistic view of their product information.
Along with collecting the data, it also enriches the data for you to deliver a better customer experience for your product.
4. Integrated and Flexible Workflows
If we consider the increasing complexities of every business, it is essential a PIM solution contains flexible workflows that have the capability to mimic any business process by maintaining data governance at the same time.
For example: if you are an organization that has 30+ strops of product introduction process and 20+ users to work on 100+ product attributes at the same time. In such a case, you cannot go with the workflows that take months or weeks for their effective implementation.
5. Digital Asset Management (DAM)
These days, more and more people prefer to shop online. Thus it is very essential for PIM to allow you to manage the product images, content, videos, and other resources in the digital form in a seamless way. Usually, such digital information is stored in an unstructured way across the organization.
PIM that contains the DAM capabilities ensures that the accurate association of the product's digital assent with the data. Moreover, it also makes sure the correct data is syndicated to downstream channels such as mobile, eCommerce, Point of Sales, etc.
6. Localization
Most businesses intend to expand their presence in multiple geographic and countries. PIM supports multiple languages, multiple currencies, and multiple measurements. You can present your product content, currency, and measurements in the native preference of the users.
Consider the PIM that offers localization and allows your targeted customers to feel connected with your brands. They trust you more as they find your product information, their familiar languages, and their currency. Eventually, you can increase customer engagement and generate better sales.
7. Adaptive User Interface with Flexible Data Model
A reliable PIM solution consists of an adaptive user interface with a flexible data model. If we understand the adaptability in the context of PIM, it refers to the ability of the PIM UI to adjust automatically as e the underlying data model, without any implementation efforts and additional coding.
Here flexibility refers to the ease of offering data model extensions, updating or adding attributes, and provisioning multiple categories or hierarchies.
The addition of a category and product is the most common action in any product-driven organization performed by different business users. Thus, you need a solution that can adapt to changes quickly.
8. Vendor Portal
If you own a multinational company then you might be connected with the thousands of suppliers with whom you need to interchange the product information. PIM allows you to build a vendor portal that manages the product information required by the vendors.
If you want to make the product data available for vendors, the process could be error-prone and do not support the best practices of data governance, data quality, or audit requirements.
Thus, consideration of an integrated vendor portal helps you to address various issues. You can also measure the performance of vendors through the scoring system and implement the corrective actions accordingly.
Closing Lines
A reliable Product Information System helps you transform your business by enabling you with effective product information management. It allows you to manage all your product-related operations starting from product data collection to data management to data distribution.
Along with that, a robust PIM enables you with a flexible data model, data enrichment process, data governance, and audit to ensure security, quality, accuracy, and consistency of your data across the different systems and sales channels.
My Personal Notes
arrow_drop_up