7 Well-Paying Tech Jobs For BCA Graduates
Fresh graduates often find themselves in a swamp largely because of the wide range of career options available to them. This is great since you can choose anyone out of these options. But, it often leads to choice overload also called the paradox of choice. While a lot of graduates are aware of what they want to do and become, there are many who don't. A similar case is for BCA, i.e., Bachelors in Computer Applications graduates. When deciding about careers it is natural to have several questions in mind. These include what will be the career prospects and growth, the average salary, job role, etc.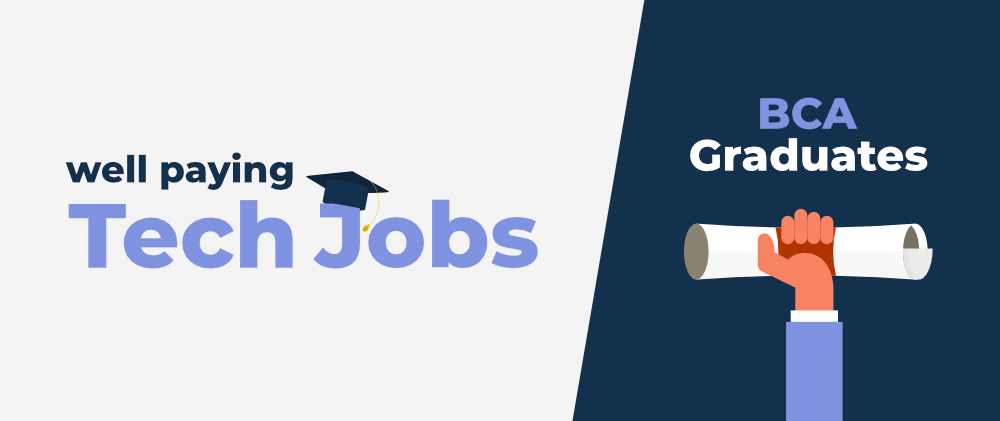 Here, in this article, we have tried to list out 7 well-paying tech jobs for BCA graduates. So, let's get started:
1. Software Engineer
If you like or have an interest in developing applications and games or operating systems, or if you are curious to see how it works, software engineering is a field you can choose. As a software engineer, you will be required to develop, test, and maintain the software created. You will interact with clients, the design team as well as fellow software engineers on a regular basis. You will need to learn programming languages and various tools/platforms meant for building the required product. Along with technical skills, interpersonal communication and good analytical skills also come in handy.
If you are a fresher, there is a chance that you will be appointed as a trainee or an analyst. Software engineering is one of the most in-demand jobs in the market and has a really good scope. The average salary range for this profile is between 6 to 8 LPA in the competitive industry.
2. Cyber Security Professional
Information and data are the next big factors that will drive the economy for the next decades. With the increase in data usage, the number of cybercrimes has also shot up. This has resulted in making cyber security a highly sought-after profession. To combat data breaches and hacking of databases companies hire cyber security professionals.
As a Cyber Security Professional, you will be trained to manage the firewall and understand the applications of cybersecurity thoroughly. You will be overlooking the security and access to the company's confidential information, and maintaining their security pathways across various channels. In the beginning, you will be required to assist senior cyber security professionals to gain practical experience. Hence, you will get to learn a number of things that will eventually help you become one of those experienced professionals. The average salary range for this profile varies between 6 to 10 LPA depending on your industry and the size of the company you work for.
3. Full-Stack Developer
There are two fronts of a software development company. Whichever company you may choose, you can either opt for the front-end or back-end development. In particular, if you happen to work in the back-end developing area, you will be assigned tasks like application developing, debugging, testing. etc. This is more for the server-side rather than the client aspect. As a full-stack developer, you will be expected to work for both the departments – front-end and back-end with knowing various programming languages, such as CSS, JAVA, Python, PHP, and databases like Mongo DB, MySQL, etc.
Like every other IT sector job, full-stack developer jobs are rapidly increasing. An experienced developer can go on to explore product management or software engineering later on. As a fresher, your package in this job profile can vary between 6 to 8 LPA, while an experienced developer can earn up to 15 LPA depending on their expertise and skill set.
4. Data Science Professional
Just like wires, nowadays in companies, you will have several messy and tangled data. You will be required to untangle these unstructured data and make sense out of it. To put it bluntly, you will be responsible for turning large chunks of unorganized data into useful data and analyzing it. As a data scientist, you will get to work with various types of big and small data related to the company, and use it to ensure the effectiveness of strategies and campaigns, or suggest rectifications in their services as per the requirement. Data science professionals can go on to become data analysts, data engineers, business analysts, and product managers. The scope is really good, and a lot of big companies hire data scientists. The average salary for an entry-level job in this field is 3 to 5 LPA, whereas experts may be offered up to 12 LPA in India.
5. Cloud Computing Professional
This is another area in the IT industry that is constantly developing. Many companies are inclined towards transferring their data to the cloud. Since the cloud has huge database storage and is considered safer and faster, it optimizes the entire workflow in your palms. Cloud is a relatively new concept but one that is revolutionizing how data is stored and managed.
The requirement for cloud computing professionals is increasing. Initially, you will be involved with the main process and the works of cloud computing. It involves on-demand delivery of data, therefore having good time management skills will be an added bonus. For instance, as a cloud architect, you'll be required to formulate cloud computing strategies, cloud management, application design, etc. New innovations are being introduced every few days into this field of work. If you land a job in this field, your starting package can range between 3 to 5 LPA.
6. System Engineer
As a System Engineer in a company, you will be responsible for installation, configuration, testing, and maintenance across devices and systems used in the company. It is more inclined towards the performance of the service development cycle. You will need to build, maintain and debug systems and infrastructure. Your aim will be to ensure the top-notch availability of systems. Being an interdisciplinary profile the scope is enormous. With a stable and increasing career projectile. You can opt to become a freelancer or join a big company later on in your career. You can expect a salary package of up to 6 LPA in this job role in India.
7. Technical Content Writer
If the above-listed profiles didn't excite you and you don't really want to go into the core technical field, then this might make you curious. Content writing involves curating content in the form of blogs, articles, web content, or social media content. The content can be technical or not so technical you can opt for whatever suits you best. As a technical content writer, you will be expected to know the technical terms. Your tasks will be to write informative articles concerning various technical fields. You could also be asked to write a variety of long-form content, tutorials, or product manuals based on the requirements of the client. The basic skills that you will need here are the ability to comprehend information quickly through research and express it well in your own words.
While you might be required to write about technical things you will not be required to perform technical tasks. The profile has been gaining momentum and is likely to gain more popularity in the coming years. A lot of digital marketing agencies are always on the lookout for fresh talent, so make sure to follow their recruitment drives. Since technical knowledge is also important, having a degree in BCA will work wonders for you and set you apart from fellow applicants. The average salary for this job role depends highly on your expertise and the company's requirements. As a beginner, you can land a job role for 3 to 5 LPA.
Conclusion: BCA is one of the most coveted graduation courses, and rightly so. With everything going and becoming digital, being proficient in computers and computer applications has become imperative for having a successful career. After your graduation or during it, you might find yourself going back and forth while choosing a career option. While there isn't really one way in figuring out your calling, knowing different options and the job profile helps to form a rough sketch of what the job might entail. Also, gaining first-hand experience through internships might help. Internships offer an insight into what a day of professionals in an organization looks like. Try to go for medium-term internships that last for 3 to 6 months, this way you will get insider knowledge. And if the work or profile doesn't satisfy you or meet your expectations, try another profile or organization. BCA graduates have tons of options to choose from which include technical as well as non-technical professions, so make the best out of it!
My Personal Notes
arrow_drop_up