7 Ways to Add Value to Your Resume
Having a great resume is one of the many important tools that will improve your chances of getting selected or shortlisted. As the number of graduates increases, the competition for many job positions is also increasing drastically. While the least of the applicants may be from top-notch institutes that already invite the best on campus, there are those majority of the applicants exploring opportunities off-campus. Although there are a variety of opportunities off-campus they happen to be the toughest ones as well. So having a resume of high quality and profile is of utmost importance.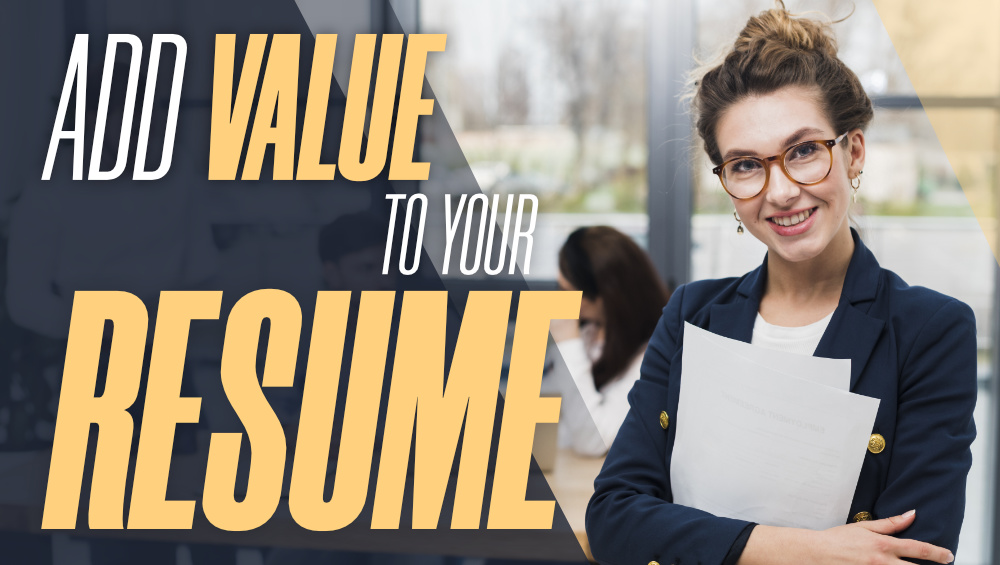 Many online tools and application programs have a variety of templates and formats accordingly these days. No matter how many formats there maybe there are a few attributes that are mentioned in common in the best resumes (although the wordings vary) which get shortlisted. So here are 7 of those things that you can add to get a much more valuable resume as a result.
7. Online Certifications
Online certifications are offered by a vast number of platforms these days. While some of them are paid several others are offered for free. Based on your comfort zone you may choose a few relevant ones which help you showcase your best skills or the skills you are passionate about.
While it is true that you should have them it is also important that you don't have too many. It is advisable to typically have 4 of them at a maximum stretch. Having too many not only decreases the space you will have remaining to fill other fields in your resume but also increases the doubt in your mind in terms of confidently being able to showcase every one of the skills mentioned in those certifications.
Hence only choose those certifications which you are interested in and in turn confident enough to showcase the skills you attained.
6. Job-Specific Skills
There are many skills that all applicants have in common and there are others that are specifically mentioned for a particular job. These are the job-specific skills and having at least a small collection of them may be adequate to increase your chances of getting shortlisted.
So always read the qualifications required for the job completely. Try to analyze the generalized skills and the ones specialized. After reading several notifications you will get a clear picture on that note.
Next try to sort out those specialized skills in terms of the ones you are confident, partially confident, and not confident. After making that analysis list the skills based on your analysis in your resume.
5. Work Experience
Now, this is one of those fields that most of us as freshers would like to leave empty. But in many cases, this one field may turn out to be a lifesaver. So you mustn't leave this field empty.
There are many opportunities to gain work experience and finally get this field filled up. The opportunities are available both online and offline. The offline opportunities maybe volunteering in non-profit organizations, completing short term internships, being an active member of student bodies, etc. Whereas online opportunities include volunteering educational content on sites such as GitHub and IEEE, Digital Internships, completing projects, etc.
So make sure that you make use of any of those opportunities to get the field filled up by the time you start applying and that will complete your next big step to add value to your resume.
4. Achievements and Awards
This is one of those interesting fields to fill compared to several others. Achievements and Awards demonstrate your skills on a whole new level. This has been one of the emerging ways to showcase your skills to a potential employer.
If you have been competing in official competitions online organized by coding platforms like HackerEarth, Hackerrank, and Codechef or any other major testing platforms related to your domain for a long time and achieved a major milestone at any point then this field will be the perfect one to showcase your talent and skill. The other kinds of achievements related would be attaining badges, finishing in the top 500 or top 100 and so on.
Also, employees who attained various promotions and enumerations tend to use this field the best. But when you showcase your talent as a fresher that's how you make a very good first impression.
3. Leadership Skills
Now, this is one of those rare fields where you express your dedication, passion, and management skills which are of high demand be it any kind of organization.
There are many ways to showcase yourself as an emerging leader. As a student, you may co-ordinate for student bodies, ambassador for a company, lead events such as workshops, contests, etc to establish yourself as a leader. It is suggestible to make use of every single opportunity to prove yourself.
Volunteering is also one of the best ways to take your leadership skills to the next level. There are many organizations right from google to TEDx offering volunteering opportunities. So, there's another lesson to try to make use of any opportunity that involves showcasing your leadership skills to take your resume to the next level.
2. Linkedin Profile
This has been the secret weapon through which many employees, freshers, students, and even professionals have been benefiting for a long time. A platform that has been impacting millions of employees for a long time. Linkedin is unique in many ways from other social media not only in terms of the content it provides but also the ease in maintaining close relationships with an organization.
Linkedin can be used to receive job notifications, talk to employers, search for positions, get notified for events, and so on. Thousands of jobs are posted daily. But here comes the important part, creating a standout profile. Creating a standout profile on Linkedin will not only invite a lot of viewers but will also attract potential employers to find themselves the right candidate for providing a career opportunity. There is also another field of Linkedin called Linkedin Learning which helps in learning a variety of skills be it technical or non-technical.
So, there's yet another lesson for you. Create a profile and start updating it with the latest details and make it complete and standout. Finally link it in your resume.
1. The three Ps
The three Ps turn out to be projects, publications, and patents. These are some of the topmost and highly effective ways to make a quick impact. The 3 Ps demonstrate the application of the attained skills practically. And as you all might have known practical knowledge turns out to be the number one attribute that any company looks forward to seeing in an applicant or jobseeker.
The first P (Project) happens to be the easiest to fill. The ideas for projects are numerous both on an online and offline perspective. Many online platforms are offering guided projects right from scratch. With experience, you can even build your own with a self-plan and idea. Uploading such projects on online repositories such as Github is considered one of the best practices to do. You may also save your project online and provide a direct link to the page on Linkedin.
The second P (Publication) is comparatively difficult to fill. A publication involves activities such as writing a scientific paper or journal and publishing it on sites such as IEEE, CSI, Springer, IOSR, and so on, writing a blog on an official website or even publishing an article.
The third P (Patent) happens to be the most difficult to fill. A patent is an official license to a product that you solely own and excludes others from making use of it. So if you can fill this then that would mean that you are far ahead of many others. Usually experienced employees or external parties hosting online applications or android apps or other resources tend to have filled this field. However, the other Ps are also equally effective in their way.
Hence to sum up showcase your leadership skills and other skills and demonstrate areas where you have applied them. Make sure important fields like work experience, achievements, and awards are not empty. Work on a Linkedin profile if you have not already and finally try to fill one of the three Ps.

My Personal Notes
arrow_drop_up