7 Must-Watch Web Shows for Tech Geeks
After hustling with the source codes, databases, APIs, or other related stuff the entire week – wouldn't it be great to get yourself refreshed and delighted over the weekend by watching some interesting web shows? (Sounds exciting, right?)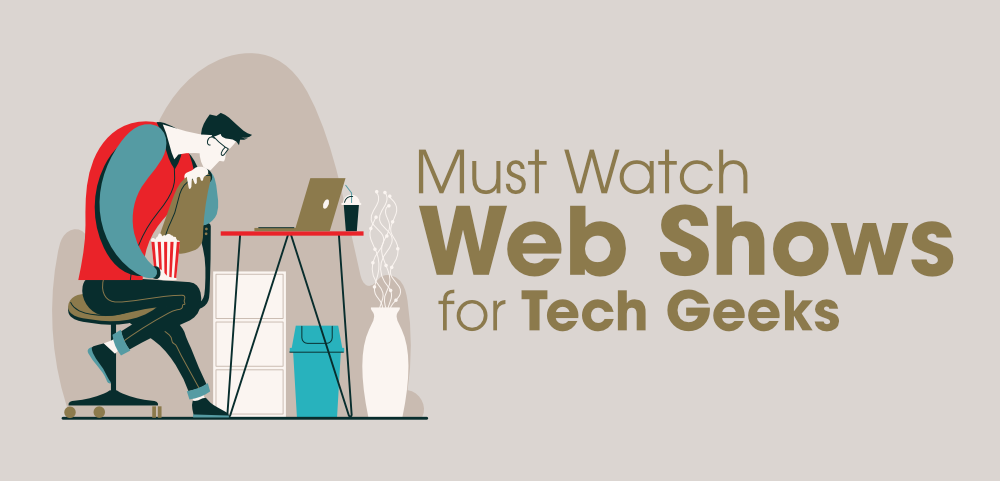 And fortunately, there have been numerous web shows available for all the geeks out there. However, there is an issue with every tech enthusiast that they are quite fastidious – not only with the tech stack or other tools & technologies that they use but even when they need to pick out a movie or web show for themselves to watch. They're often like to get entertained with intellectual and technology-focused content.

Here, in this article, we've compiled a list of 7 must-watch web shows having the tech-focused content that'll surely give chills to all the techies:
1. The IT Crowd
Do you want to witness the adventurous environment of a tech company with some tensed as well as funny situations b/w tech and non-tech professionals…?? If yes, then 'The IT Crowd' is meant for you! The story of this show revolves around three individuals in the Information Technology (IT) department working in the basement of a fictional company Reynholm Industries. When two of them are quite genius (though socially awkward), one of the three is the manager and yes, she doesn't know anything about tech. In this show, you'll find various moments and situations true to real-life aspects along with IT-related practical jokes that will surely allow you to have a good laugh.
Released On: 2006
No. Of Seasons: 04
It is one of the most-recommended web series for all tech geeks with an IMDb rating of around 8.5 and you can watch all the episodes of 'The IT Crowd' on Netflix India.
2. Silicon Valley
If you're a tech person then chances are less that you've not heard about Silicon Valley – a global region for technology and innovation. This shows also depicts the culture of Silicon Valley and follows the life of a programmer, Richard Hendricks who builds a startup company, and his struggles along with his friends/colleagues to make it big in the tech world while facing high competition from giant entities. The show manages to showcase the insight aspects of the tech startup along with dealing with venture capitalists and about the bubble of Silicon Valley. And the best part of this series is all the seasons are connected with a single story instead of having a separate story for each series.
Released On: 2014
No. Of Seasons: 06
The show is not meant for those who are not interested in technology as many of the jokes are tech-related which they won't be able to understand, it is particularly meant for all the tech enthusiasts. And you can watch all the episodes of Silicon Valley on Hotstar Premium in India.
3. Mr. Robot
The geeks who love to watch the fusion of thriller and technology-based content can give it a try to 'Mr. Robot' as it is surely worth watching for all of them. The story is around Elliot Alderson who is a cybersecurity engineer by day and a vigilante hacker at night. Subsequently, he joins a group of hacktivists called 'fsociety' to destruct all debt and financial records of E Corp, the largest conglomerate in the world. Also, mental illness and social anxiety disorder with Elliot makes the storyline more intense and intrigue. The series deals with the implication of a lot of technologies to penetrate the network with a greater realism factor and a book & several computer games have also been released based on this series.
Released On: 2015
No. Of Seasons: 04
In addition, you must know that real hackers were hired as consultants & assistants to show it as real as it can be. All the episodes of Mr.Robot can be watched on Amazon Prime India.
4. Black Mirror
Another show that comes on this list is 'Black Mirror'. The show is recommended to those tech enthusiasts who want to witness the negative prospects of technological advancements and innovations in society. Though each episode of this series comes up with a new storyline and characters, the primary theme somehow remains the same in all the episodes i.e. the darker side of tech innovations with future perspectives. The show is quietly inspired by The Twilight Zone and one of the best things about the show is the way it is written, how smartly it is created by the team and the acting performances of the characters in the respective episodes.
Released On: 2011
No. Of Seasons: 05
The show is enjoying the IMDb rating of 8.8 and all the geeks can surely give it a try to watch some unanticipated consequences of the latest technologies. You can watch all the seasons of Black Mirror on Netflix.
5. Person of Interest
A crime thriller content focused on computer programs and technologies like AI, etc. what else you need? The 'Person of Interest' storyline revolves around a mysterious reclusive billionaire computer programmer who creates a supercomputer for the US government to collect the sources of information to prevent terrorist attacks and identify the people behind these as well. Also, the machine can identify other perpetrators and the victims of other premeditated crimes which accelerates the story to deep. Moreover, the pairing of the protagonist with a former CIA agent and other instances make the story more thrilling and interesting.
Released On: 2011
No. Of Seasons: 05
The way 'Person of Interest' depicts the exploration of technologies like Artificial Intelligence to end the crimes and for other security aspects as well is something must-watch for all the techies. All the episodes of Person of Interest can be watched on Amazon Prime India.
6. Halt and Catch Fire
The penultimate one on the list is – Halt and Catch Fire! The show is set in the 1980s and depicts the evolution and development of computer technologies by the time with a storyline of the character Joe MacMillan. In the series, John is a former IBM employee who starts his own startup company to build portable personal computers. The best thing about this particular show is it somehow it got succeed in showing the utmost similar atmosphere of that time and even the facts & figures used in the series are mostly based on the actual historical stats.
Released On: 2014
No. Of Seasons: 04
The show can really help to get aware of the history of personal computers more convincingly & interestingly, and if you're a 90s born – you definitely would have various nostalgic moments while watching the show. All the episodes of Halt and Catch Fire are available on Netflix and Amazon Prime Video.
7. Chuck
Last but not least – here comes another popular web show for geeks named 'Chuck'! The series is about an average computer geek, Chuck Bartowski who receives an encoded e-mail consisting of the US Government spy secrets. To make it more intriguing, all that information ends up being downloaded into Chuck's brain. And, now CIA and NSA agents protect and use him for top-secret missions. Some of the best things about the series are the smartly written content, better screenplay, and appreciable character performances. This American spy-drama with an extensive touch of technology is definitely worth watching.
Released On: 2007
No. Of Seasons: 05
The series has a successful run from 2007 to 2013 and is quite popular among tech nerds. Also, all episodes of "Chuck' are available on Amazon Prime India.
As a bonus, let us tell you a few more web shows that can also be taken into consideration – Scorpion, CSI, and Westworld. And yes, a list of web shows for geeks can't be completed without mentioning this cult classic, Big Bang Theory! So, if you're in a search of a web show based on tech-related content for the upcoming weekend to get refreshed and enlightened – take a look at the above-mentioned list and pick out the one as per your interest!!
My Personal Notes
arrow_drop_up