7 Most Useful Google Analytics Metrics For Web Developers
Google Analytics is like a private detective for your websites that tracks your customer behavior, user experience, device functionality, and many more aspects. It is simply like a go-to solution to monitor your website, that provides you with amazing information about your visitors. One of the most astonishing facts is that it's completely free of cost. It automatically collects user data and provides customized reports. Web Developers must dive deep into Google Analytics insights to use those metrics in order to get a high conversion rate and enhance their reach. It provides you with information that includes gender, age, and location of the audience, progress reports, internal site search, customized reports, etc.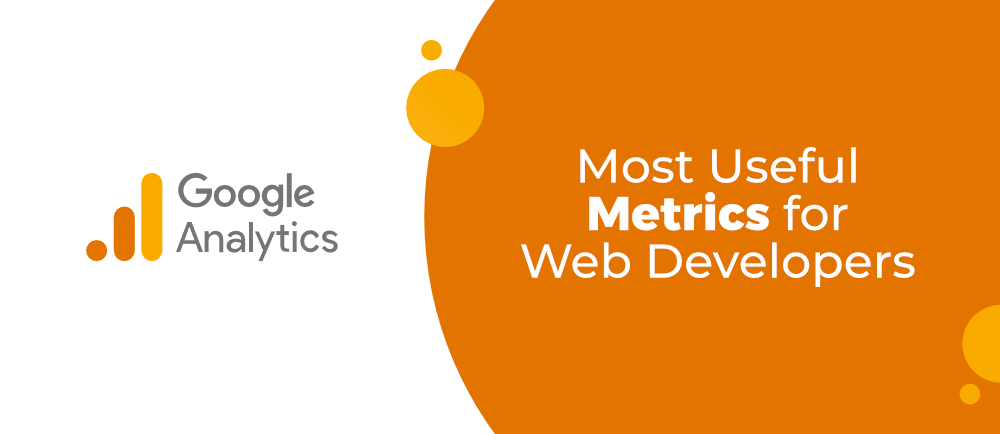 By only looking at the small part of Google Analytics, web developers are doing unfair to themselves, their site visitors, and their clients. In this blog, we will dive deep into the 7 most useful Google Analytics metrics for web developers. So let's get started:
1. Audience Insights
Audience Insights is undoubtedly the best feature of Google Analytics. It provides amazing details like location, interest, demographics, age and gender data, and many more. The metrics observed can help you:
To enhance your conversion rate.
Personalize website content as per the priority of users.
Increase audience engagement
Customize website design to clutter unnecessary traffic and focus on potential leads.
2. Bounce Rate
This term denotes the number of digital consumers who visited your site but exited without performing any action.
High bounce rate indicates:
The information present on the website is not fit for users
The load time of the page is really high
Website design is confusing or unappealing
The content on your site is irrelevant
If your bounce rate is high then you must dig deeper to evaluate the problem.
Examine your marketing efforts for the high bounce channel.
Reevaluate your site design, CTA, content information, etc to decrease your bounce-back rates.
Avoid the usage of irrelevant keywords and images.
Having a high bounce rate is perfectly normal when you have a single-page site like blogs, newsletters, etc. For these only single pages, sessions are needed and a high bounce rate is perfectly normal.
3. Conversion Rate
Google Analytics helps you to set a particular goal and it tracks when a user completes that particular goal. Regardless of the number of digital consumers who visited your website, it tells about the traffic that is converting. A high conversion rate means that your website is performing well and a low one means that digital consumers are not getting what they exactly want from your website
To enhance your conversion rate you can start with a three-step investigation:
What drives digital consumers to your website?
What forces them to leave your website without completing a particular action?
What can you do to convert the digital visitors?
You can analyze these three aspects to enhance your conversion rate. Further, you can also ask the visitors to provide their feedback to get a clear picture of the aspects that need your attention. Then you can further develop your website as per the feedback.
4. Average Time on Page
This feature of Google Analytics helps you understand which pages are performing amazing and which need your serious attention. To increase the average time on the page you must:
Enhance the readability of your page
Optimize the content as per user requirements
Make your site design clutter-free and simple
Use relevant keywords and internal linking
Try to present unique content with original information
5. New and Returning Visitors
Two types of users usually visit your site: ones who have visited your site before and the second are new to your site. When a user visits your website Google tracking tool searches for a cookie. If the cookie is present then the user is labeled as 'New User' else the user is labeled as 'Old user'. It is an important factor to enhance the traffic of your website.
To increase the number of visitors on your website you should:
Include relevant keywords in your content
Enhance your marketing strategy
Lay emphasis on social media strategy
Keep your site updated with the latest content.
Ensure that your website design is clutter-free
6. Site Speed
The site speed reports of Google Analytics indicate how quickly users are able to interact with your website content. It measures the major aspects which include:
Individual page load time
Execution speed for a particular interaction
The loading speed of the document to make it available for user interaction
To enhance your site speed, you can follow some practices like:
Decrease your HTTP requests.
Defer large files to ensure the rest of your content is loaded faster
Compress your content
Minimize the size of images
7. Device Optimization
Google Analytics is a really fast way to identify the devices, your site visitors are using, and based on that you can optimize your website. As per a survey, nearly 60 percent of website searches are made through mobiles. Hence it is really important to optimize your website for mobile phones. But B2B industries generally prefer the desktop version of a website. So think of your audience first and then optimize your website. This analysis will definitely help you to enhance your user engagement, increase your conversion rate, attract more customers, etc.
Conclusion: Google Analytics is a really powerful tool that collects enormous amounts of data, polishes the information, and presents it consistently. Developers can use this data to provide recommendations to the clients. Web developers can extract enormous information from Google Analytics insights – all they need is to drive deep and unfold the mystery. Hope you find this information helpful!
My Personal Notes
arrow_drop_up