7 Most In-Demand and High Paying Programming Jobs
The world of work is a frightening place for freshers. It takes a lot of time and effort to find the perfect job opportunity and then get into it. You need to think and analyze every aspect before deciding on a suitable career path. But let us tell you that the rise in the digital era has led to the constant rise of IT jobs which has led to a significant increase in salaries. As per the survey, 52 percent of students want to develop their career in the programming domain. This domain promises an insanely high salary, global exposure, and amazing career opportunities.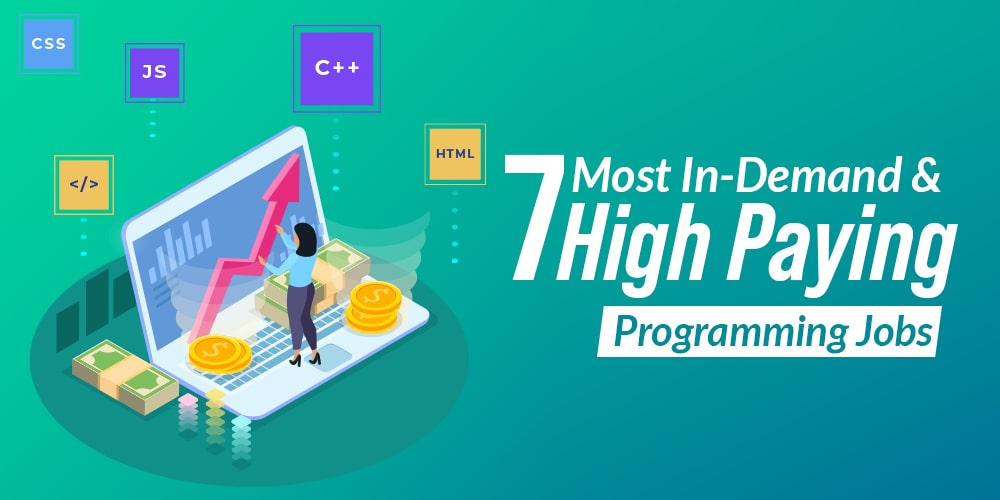 Considering this scenario – programming jobs seem to be one of the highest paying and in-demand jobs for the future, in this blog, we will discuss the 7 most in-demand and high-paying programming jobs. So let's get started.
1. Artificial Intelligence (AI) Engineer
Artificial Intelligence is the computer's ability to intimate human behavior. It aims to make predictions about business insights and trends, to enhance their decision-making. Artificial Intelligence engineers create AI models using deep learning and machine learning algorithms for analyzing and predicting the future. Skills needed to become an AI engineer are programming knowledge, Big data technologies, algorithms, linear algebra, statistics, probability, soft skills, etc.
AI is expected to create 2.4 million jobs this year. AI engineering is a promising career option that offers a high salary, immense job satisfaction, global exposure, and the field is ever-evolving. The average salary of an Artificial Intelligence Engineer in India is around INR 857,000 per annum.
2. Web Developer
Web developers are solely responsible for designing and developing websites. In particular, web design deals with the front end of a website like visual appearance and user experience. On the other hand, web development deals with building technical frontend or backend code of websites. To ace this, you need to have good coding skills and knowledge of core elements like HTML, CSS, JavaScript.
It is a booming field that offers endless growing opportunities and insanely high salaries. As per the latest statistics, the market is expected to grow by 15% in the next 5 years. The average salary for freshers in India is around INR 3-5 LPA per annum.
3. Database Administrator
A DBA is an IT professional responsible for efficiently maintaining the database environment. Their core responsibility is to ensure that organizational databases and applications operate effectively. DBAs perform tasks like data modeling, data analyzing, creating backup and recovery, and many more depending on the organization's demands. To become a DBA you need to possess in-depth knowledge of MySQL, SQL, database queries, theory, and design.
It is an ever-evolving field that is continuously growing with the rise of 10 percent in jobs and an unemployment rate of just 1.7 percent. The average salary of DBA is around INR 500,660.
4. Data Scientist
Data science is an integrative field that uses scientific processes to gain insights from data and apply that knowledge to a broad range of domains. The role of a data scientist includes finding patterns and trends from unstructured data, creating data models, deploying data tools, and improving data quality. Skills required to become a Data Scientist are data science fundamentals, programming knowledge, data manipulation and visualization, deep learning, machine learning, and big data knowledge.
Data Scientist is a lucrative and promising career path. The jobs in this amazing domain are rapidly increasing with the rise of nearly 28 percent, which means 11.5 million new jobs by 2026. The average salary of a Data Scientist is around INR 6-8 LPA.
5. Java Developer
Java developer is a specialized programmer who is responsible for designing and maintaining java applications, software analysis, testing, programming, debugging, resolving production issues, developing technical designs, and many more. You need to insert some basic key skills like JSP, servlets, Java-based web services, markup languages like JSON and XML, J2EE framework, and test-driven development.
Java is one of the most popular programming languages which is currently used in 3 billion devices. The popularity of Java is linked with the rise of Java developers. Java developer is a grooming and satisfying career with a satisfaction rating of 4.2. The average salary of a beginner-level Java developer in India is around INR 4-6 LPA.
6. Mobile Application Developer
Mobile app development is a process by which an application is developed for mobile devices. The main tasks of mobile app developers are to design, implement, test, and support mobile applications. Further writing code, troubleshooting, debugging, designing interfaces, and enhancing user experience. To become a mobile application developer you need to inherit skills like application development, coding skills, software designing, automation, and deep knowledge of UX and UI.
The world is rapidly moving towards the digital era. Hence the demand for mobile application developers is continuously increasing and is expected to increase from 17 percent to 26 percent by the year 2026. The average salary of beginner-level mobile app developers in India is around INR 4-6 LPA.
7. Cloud Architect
Cloud computing refers to the availability of system resources as per the requirement. A cloud architect is responsible for fulfilling the technical requirements of design and architecture. Initial skills required to become a Cloud architect are network understanding, knowledge of at least one operating system like Linux, Unix, or Windows, minimal understanding of the preferred programming language, and a high-level understanding of security concepts.
A cloud architect is a booming career that offers insanely high salaries, amazing growth opportunities, and global exposure. The national average salary of a cloud architect is around INR 19,33,000 per annum.
So till now, you must have decided which domain you want to choose. Now to attain proficiency in that domain you can visit GeeksforGeeks – the site is embedded with amazing content, courses, interview experience, and a lot more that will help you ace your career. We wish you all the best for your future!
My Personal Notes
arrow_drop_up