7 Cool Applications of Wearable Technology
There was a time when the best example of technology, the computer, was so big that it fit into a room. Then we got the PC's and laptops and finally, we moved on to the phone. Now it's like the phone is constantly attached to us and almost an extension of the hand!!! But what next? What's the new innovation in technology and how small can our tech devices go? After the phone, it's now the wearable technology that we can continuously wear on the body! All of you might have heard of the smartwatch or even FitBit but that's not the limit. There are many more applications of wearable technology that you might have ever heard of.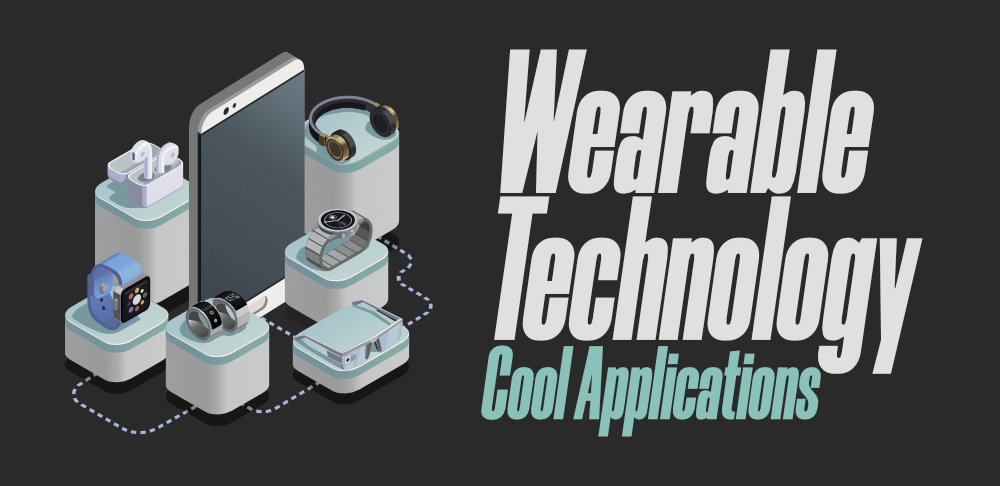 Now, you can have smart glasses that provide an extra dimension to seeing. There are also multiple applications to tech jewelry such as monitoring your body health. You can look both classy and technically savvy! There are even smart clothes available these days that can do anything from monitoring your heart rate to allowing you to control your phone without using your hands. So let's see all these applications of wearable technology in detail and maybe you can decide what's the next tech you'll buy!
1. Gaming
Are you sure what you see is real? Or perhaps reality can be changed?!! You could see a completely different reality using Virtual Reality while sitting in your own room. You can travel into Middle Earth from Lord of the Rings or maybe visit Narnia or even Westeros from Game of Thrones. Virtual reality headsets are a type of wearable technology that can change your world. And one of the most popular applications of these Virtual Reality headsets is gaming. You could fight with your friends in Star Wars: Squadrons video game or the action-adventure game No Man's Sky where you have to survive in a different world. There are many such games that are mostly compatible with different VR headsets such as Oculus Rift, Oculus Quest, Sony PlayStation VR, etc.
2. Jewelry
Whether it be beautiful necklaces or cute rings, who doesn't like jewelry? It is fashionable, fun, and also elevates your dress to another level. But with the advent of wearable technology, jewelry has many other uses than just looking good. There are smart rings that can monitor your health and send all the relevant data to your smartphone. One example of this is the Oura King which is a smart ring that can track your physical health and monitor your vitals while you sleep. And what if you don't like rings? Never fear! Joule is a company that creates earring backings that you can pair with any of your earrings. These track your heart rate, physical activity levels, and calories burned. And you don't need to worry about your smart jewelry being stolen because it comes equipped with GPS. Now you can stay healthy while looking fashionable as well!
3. Health
Health is one of the most important factors in life. As they say, health is wealth! There is not really anything you can do without good health and so it is imperative to take care of yourself. However, this is easy to forget in the hustle-bustle of life. Fortunately, there different types of health wearable tech that can help you remember that! For example, there are posture aids that can help you in maintaining the correct posture to prevent back pain. An example of this is the Upright Go posture trainer that is the size of a matchbox. You can attach it to your upper back and it will give gentle vibrations when you slouch your posture. Hopefully, that can cure us of the humpback posture by sitting in front of the laptop or staring at the phone hours at a time!
4. Security
Have you seen those spy movies where the hero has glasses that are actually mini-computers and can scan the villain to provide all the information? Yes, those glasses may actually become reality because of a combination of facial recognition, computer vision, and wearable technology. Imagine that police officers could be wearing what looks like normal glasses but that can identify the culprits of a crime by matching their image with an entry in the police database using facial recognition. It is even cooler if security cameras are integrated with these smart glasses using IoT so police officers can immediately know if there are any suspects around them. And if you think these sound like science fiction than reality, then you should know that Vuzix Blade Smart Glasses are already used by the Netherlands national police with great success!
5. Fitness
The most popular application of Wearable Technology has been in the field of Fitness from the beginning. That's right, I am talking about the Fitbit which is so popular it's less a fitness monitor and more a fashion device these days. For the uninitiated, Fitbit is a fitness company that creates smartwatches and activity tracking bands that monitor various aspects of your fitness including heart rate, sleep quality, number of steps walked, number of steps climbed or run, number of kilometer running each day, etc. Whatever, Fitbit product you buy, it is connected to a fitness app that shows your daily activity, sleep goals, etc. You can also connect multiple Fitbit devices to your app and it will automatically sync with whatever you are wearing. The best example of the Internet of Things!
6. Clothing
The importance of clothing cannot be understated! Fashion plays an important role in looking good as well as dressing for the occasion. And if the technology is integrating into all possible sectors, then why not fashion as well! There are various applications of wearable technology in clothes. These yoga pants can be synced with Bluetooth and they provide light electric pulses in the hips, knees, and ankles until you move to the correct yoga positions. You can also see more feedback about your yoga poses on your phone. That's one way to do yoga without an instructor! Another example of smart clothing is the Google commuter jacket built in conjugation with Levi's. It's a great biking jacket that allows you to control music and maps with just hand gestures without touching your phone. This jacket is smart in more ways than one!
7. Tattoos
Most of you might have thought of getting tattoos someday, but what if you could get smart tattoos now?!! Most of the wearable technology discussed till now has been some device that you need to wear and which has battery life. There are many disadvantages to this as you cannot continue wearing these devices all the time. But there are no such problems with a tattoo. Researchers at MIT and Harvard have created tattoo ink for smart tattoos that can detect health problems. These tattoos will change color if you are getting dehydrated or if your blood sugar rises if you are a diabetes patient. These tattoos have a broad set of applications in that they can be externally used to gauge the state of the body without any invasive procedures required. And the plus point is that you can combine art and technology and get that tattoo you always wanted which will also help monitor your health.
Conclusion
As you have seen, there are a wide variety of applications of Wearable Technology in different fields. Some of these are already available in the market while some are still in the experimental stage and may come out in the future. Whatever the case, it's obvious that wearable technology can provide a multidimensional experience of tech where we have not only smartphones but smart earrings, tattoos, and even T-shirts. These wearable technologies can even save lives such as detecting a heart attack in the early stages or monitoring when the blood sugar levels fall low. There's no doubt that wearable technology is a new tech revolution and now you can decide what you want to wear next!
My Personal Notes
arrow_drop_up