7 Best Ways to Build the Professional Online Presence
In today's highly competitive world, it is imperative to have an excellent online presence for doing an online business. Starting a new business and entering the entrepreneurial world for the first time requires learning many things. It becomes more challenging if you are also new to the online world, and building your professional online presence might take a lot of time and can become disappointing.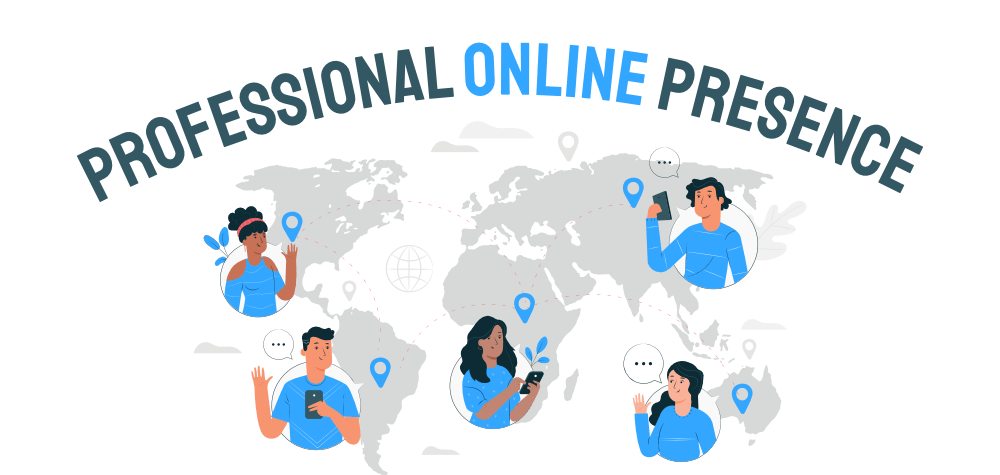 Before moving ahead, let us explore – What is an Online Presence, its importance, and how it can help you grow professionally? Building an online presence is vital as it helps to create your identity. Though the process is long, it empowers your business in the long run. An excellent online presence allows people to interact with you, find you, and trust you quickly. Starting an online profession must have a broad horizon, and it should be the sum of identities you will showcase in the future through your business. So now you must be curious about how to build your online presence?
Here are the 7 best ways to build a professional online presence:
1. Building a Smart Goal
Goals are something, which keeps us moving ahead and motivates us to work accordingly. You should always know what do you want to achieve so that it can help you to move in the direction of success. Hence, it is quite important to have smart goals for building a strong online presence. Having a good presence in the online world benefits and empowers you and people who keep watching you continuously through various apps they build trust in you and want to work with you or invest in your business. Also, goals help you to shape up your future plans and help you to achieve them on time rather than lingering behind.
2. Identify Your Audience
Before starting any work you must understand your audience perfectly. You have to be an industry player and try spinning the wheel in a way that you are visible everywhere. For knowing what your audience wants from you, you must break them into segments and keep an eye on what they like. Then you can control your online presence by posting content at a particular time or if you are launching any product then it must be done on a specific duration when your website or the page has maximum traffic.
Apart from this, you should also spend time on social media, capture the activities of your audiences and understand how you can be different from the crowd to achieve your goals.
3. Make Good Use of Social Media
Social media acts as a boon for creating a good online presence. It helps you build a strong online presence and showcase your work or brand in front of people. Once you identify your audience then it becomes easier for you to choose what do you want to post on your page. Post engaging and knowledgeable content so that the people visiting your website or page do not get bored.
Also, you should always work in accordance with Search Engine Optimization and use appropriate & trendy keywords in order to make your page more visible. Also, keep in mind that it is not necessary that you are present on each and every app, choose the app which is mostly being utilized by your audience and increase your time with that, as it will help you to reach heights.
4. Be Competitive
Healthy competition is always good and keeps you engrossed in doing better. Find what the others are doing and what measures are they taking for keeping their audience visiting them again and again. Then do exactly what keeps you going, never copy from other people but you can be more innovative and achieve your goal. Strategize in a way that you do not miss out on the points and fill the gap between you and your customers. In addition to this, provide essential information and do what your followers like.
5. Never Stop Improving
Improving and optimizing never lets you stuck at one point. If you think that you are getting less traffic then try innovating new ideas. You don't need to have complete knowledge of everything but a willingness to keep learning the new ones can help you build a strong online presence. Rewriting your content multiple times post-launch does give you benefits and lets you understand things more clearly.
It's a process, the more you research, the more quickly you will reach your goal. Put together a complete guide and upload more engaging content, like video, a blog, podcast, ebooks, etc. The credibility and growth of your website also depend upon the valuable things you give your visitors. All these things will not only build your followers but also help you become a niche in the industry.
6. Build Relationships
Talking about relationships is essential when you want to create a professional online presence. It is vital that you are being seen by everybody and is known as the key to success while building a good online presence. Do not get discouraged by not reaching out to a large number on your first attempt, but keep working on it and they will be attracted to your Facebook and Instagram page, which you need to optimize well.
You can also search for such groups or pages on social media that run the same business, and being a part of that can provide you more value. Be better connected and introduce yourself to the people who have the potential to understand your AVATAR and make more people talk about you to show yourself up in the market.
7. Advertise Frequently
Everything done! And still not getting the walk-in, then there must be a loophole try fixing it by advertising about yourself. It is one of the fastest and most prominent ways to become visible to your customers or employers. You can choose a medium of advertising about yourself online, such as social ads, search ads, google ads, display ads, etc. It helps in increasing your engagement rate and takes your website visible.
Hence, these strategies can help you build your online presence, create your brand awareness among people and help you develop a strong reputation. Though creating the presence requires effort, it will definitely pay off in the future, increase your sales and create brand awareness in the industry!
My Personal Notes
arrow_drop_up