7 Best Tips To Speed Up Your Job Search in 2022
Hunting down a relevant job requires proper techniques for showcasing your potential to the employer. But with the advent of COVID-19, it has become a bit challenging and competitive to reach out for your dream job. Many individuals have lost their jobs during these times, and on the other hand, freshers are facing difficulties while applying for a new job. But there is no need for panic, you can change your ways and streamline things in a way that you get a proper result.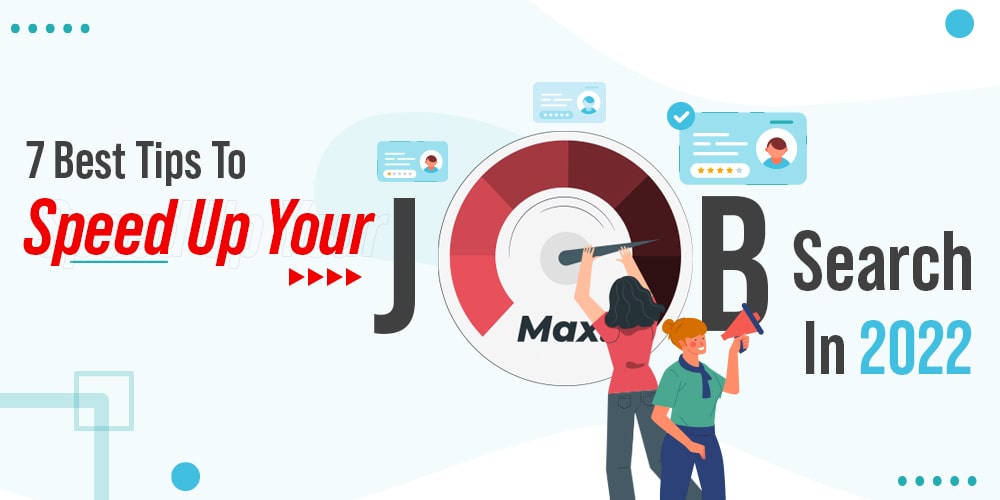 Changing your tactics and being proactive can make you lucky for landing the job of your choice. Furthermore, we all know that digital technology is playing a major role in the recruitment trend and provide a variety of options according to your qualification. You can also opt for the below-given tips to speed up your job hunt.
So let's get started with the job-seeking tips and techniques:
1. Building Up Your Resume
Having a perfect resume helps you stand out in the crowd and makes one more likely to be noticed. Many people tend to make mistakes in the resume by using stock phrases such as' team leader' though, it is good but does not represent your skills. Hence, you should always write such words, which showcase your ability to do various tasks. Also, adding various projects to your resume can make it more impressive. Apart from this, including the experience from the previous organization in proper bullet points so that the person reading it can take a look at your capabilities immediately. But, if you are a fresher and do not have past experience then you can write about your achievements in your institute or any volunteering experience in order to make a good impression.
2. Update Your Skills and Experiences
If you are trying to enter a new workforce or starting a career then you must add your experience in an engaging way. Plan ahead properly so that all your accomplishments and skills are highlighted, which are required for a particular job. Moreover, it is also important to prioritize your skills, such as hard skills including technical, or job-specific skills which can be taught easily. Other than this, there are soft skills, which include communication, pressure handling, or skills that can be developed easily. Hence, doing this increases your chances of making it through the Applicant Tracking System (ATS) very easily.
3. Networking
It should be on the top of your to-do list to speed up your job search. Attending seminars or any social events helps in interacting with new people and allows in developing professional contacts. It further lets you connect with the people working in different organizations and provides a boost in searching for a better job opportunity. Moreover, you can also get information about the unlisted job openings or might get recommended for your dream job. Apart from this, creating an account on LinkedIn can also help you in getting in touch with several recruiters and makes you noticed by potential employers.
4. Identify Your Career Goals
To get a preferable job is to identify the career you want. It is very important for the people who are applying for the first time or if someone is changing their career path. Just make sure that the goal you want to achieve is realistic and you can also take advice regarding the same from your family, friends, or mentors. Do not plan until you get a clear vision to achieve what you want and narrow down the job search accordingly. Plan efficiently and organize yourself for hunting down the best jobs. Completing this step before starting your job search will speed up the entire process.
5. Research About the Companies
As you are done with the paths that you want to choose, the next thing is to prepare the list of the companies, which are hiring. Once it is done, research the company and gather information about the work culture, salary range, benefits, services, etc., which will help you in the future. Furthermore, research will also tell you whether you are qualified for the company or need to work more.
6. Apply for the Desired Job
In order to apply for your desired job, you must emphasize your goals with those of the company. Depending upon the position, the employer might want to hire motivated people who are quick learners and easily go through with the on-job training processes. Besides this, if you want to apply for a specific role and do not meet a portion of the qualification, but you believe you can succeed in that, apply directly with confidence. It helps in learning new things and becomes a great add-on for your resume.
7. Preparing Well for the Interview
Before going for an interview you can polish your interview skills by practicing in front of family, friends, or even a mirror. It will help you in boosting up your confidence and make you feel comfortable at the time of the interview. Be prepared for all the possible questions and make sure you have the answer for each one of them. In addition to this, research your career progression and check out what path you must choose for achieving your future plans.
Hence, these are the steps you can take to re-evaluate your job hunt and find a perfect workspace for yourself. For making your search a success you have to be consistent and reserve a few hours daily. Be as much as responsive you can and connect with people by email or phone calls so that you do not miss out on any of the opportunities.
My Personal Notes
arrow_drop_up