7 Best 3D Modeling Software for Beginners in 2020
Learning a new 3D Modeling Software can be intimidating, especially if you're a beginner and are just looking into the 3D world with those wondrous eyes and can't wait to jump into this new domain that you've always wanted to be a part of.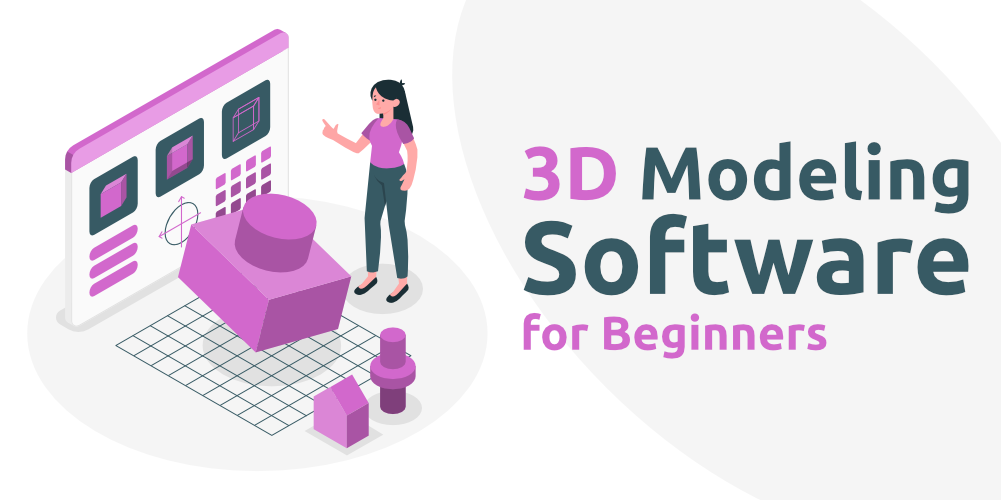 But, you can't just go ahead and start with any software you feel like man-handling; you need to do your research and find out which 3D modeling software is best for beginners. If you're not up for that, to do the research part, no worries, we've covered it here for you instead so you just sit back and go through this helpful guide that'll help you decide which 3D software you should go with as a beginner. We've included both – Online 3D modeling and downloadable versions.
Enough rambling, let's jump in and see which ones are the most beginner-friendly 3D software out there in the market right now:
1. Blender
Though, Blender is not a "beginner-friendly" software in terms of the learning curve that one has to go through, because, in that regard, it is one of the toughest software to learn in 3D space, according to most people. But, it is one of the most famous ones out there, that's for sure. We've put 19 software names in a search volume detection tool and Blender came out #1 as it is being searched for about 368,000 a month in the US alone!
You may ask, why did it is included in this list if it isn't a beginner-friendly 3D software?
Well, as mentioned above, it is one of the most popular software out there, which means you'll easily find its community on almost every platform; most importantly on YouTube, because that's where most people learn Blender from. There's another reason that we've included it in this list as the #1 option for beginners. And you may already have guessed it – the reason is that it is a FREE 3D software that offers studio-like features that studios even have used to make some 3D movies in the past, and probably are still using it to make some that will soon be launched in the future.
It's a great piece of free software that you can go ahead and start getting your hands wet with and without spending a dime. Usually, 3D software costs thousands of dollars, as you may already be aware, so a beginner would never be able to afford such expensive software, which is why we've put this one as the #1 here on this list.
2. TinkerCAD
TinkerCAD is an easy-to-use 3D modeling software. TinkerCAD from AutoDesk is the second most popular 3D software that is recommended for beginners, right after Blender. TinkerCAD is also free-to-use software. It is very easy to get your head around, which is especially helpful for beginners, as everything needs to be as easy as possible to learn and explore the 3D world for the first time.
We've placed this software on top of the list because of how easy it is to use. You have to grab your objects and place them wherever you like and there you have it, your 3D model ready to export. You almost feel like a kid playing with legos! Though the only disadvantage of this program is that it's hard to create complex designs in it, but SelfCAD, which we're just about to look has bridged this gap.
3. SelfCAD
SelfCAD is already pretty famous in this domain, because of its ease of use. It only was launched recently and has already gained popularity and space in the 3D modeling space, especially because it is one of the most beginner-friendly software out there right now. SelfCAD is similar to TinkerCAD in its simplicity and ease of use, but the difference is that SelfCAD can be used to create complex designs that are hard to achieve in TinkerCAD. This is because it has powerful tools and features.
You can sculpt, model, and slice the objects in this 3D software, and it is a SaaS-based program. You can check it out using its free trial, and later upgrade it to the Pro version which only costs around $14.99 per month.
4. 3D Slash
3D Slash is one of the easy to use and fun 3D modeling software for beginners. It has a unique interface that makes creating 3D objects as fun as building a game, and that's why this program is popular among the students. There is a collaboration option where a team can work on the same project. This is advantageous more so if the project is complex. There are also advanced features to help you create advanced and complex designs.
3D Slash also has 3D printing features. The users have the capabilities to modify the mesh. There are also 3D sculpting and rendering features. There is also a library of models where one can modify the templates to fulfill their needs if they can't design from scratch.
5. Fusion 360
This software comes in at number 5 on our list, and it is very similar to TinkerCAD, and even is developed by the same company; AutoDesk. There's a free version available of Fusion 360 which beginners can utilize to learn and practice 3D modeling with ease. Even though it is a beginner-friendly software, it is also a professional and industry-standard software that is even being used in the industry right now.
If you're a bunch of beginner 3D learners trying to learn this software, it even has the feature so you guys can collaborate with each other and enjoy the process of learning even more.
6. SketchUp Free
Next comes the SketchUp 3D software. It is already very famous in 3D architecture, filmmaking, and design industries. It also has a free web-based version, and that's the one we've featured here at number 6 in our list of beginner-friendly 3D software to try. The interface is even simpler with the free version than it is with the regular SketchUp, so beginners can fully take advantage of the opportunity and get their hands dirty with the 3D modeling tools that are available for them for free in this software.
SketchUp has been in the market from 2,000s for professionals and beginners alike to use. Once you learn the free software or the free version of the SketchUp, you can easily upgrade to the Pro version and step to the next ladder and upgrade your 3D modeling skills, as the software is capable of doing much more complex models.
7. Cinema 4D
Cinema 4D is one of the best 3D modeling software available in the market. Cinema 4D is not a free software by any means, but its lite version is available in the Adobe After Effects software, which you can get the trial of and enjoy the trial of that Cinema 4D Lite at the same time for that 7-day trial period and after that, you have to purchase the Cinema 4D software,
Once you start your free trial, you'll come to know that it is one of the easiest and cleanest interfaces you've ever experienced, if you've used some 3D software before. But, if you're a complete beginner and trying it out for the first time, you'll not have a hard time trying to grasp the tools and the overall interface design.
My Personal Notes
arrow_drop_up