5 Well-Paying Tech Jobs That Don't Require Coding
If you're one of these individuals who want to build a career in the tech world despite not being a Coding Fanatic or not knowing how to code – then let us tell you two major facts:
Fact 1: Indeed, Programming is one of the fundamental and constitutive facets of the tech world.
Fact 2: Tech world is not only limited to the programming domain – it is something much extensive than that!
Many individuals, without exploring things and doing research, believe that they can not work in the tech industry as they don't possess programming skills. This is something very much untrue. Let's understand it with an interesting example:
There's an individual, A. He wants to make a prosperous career in the film industry. Though neither is having satisfactory acting skills nor he is very much fond of doing acting in films. Now, what do you think – just because he is not meant to become an actor, can't he build a successful career for himself in the particular industry? Obviously, he can…!!!! He can opt to become a director, a scriptwriter, a music composer, a cinematographer, or anything else as per his skills, interest, and convenience.
The case is the same with the IT industry (or any other sector) as well. Despite coding being one of the most preferred skills in the tech world – it is not mandatory for you to know to code for making a career and getting a job at a reputed tech organization. There are numerous ravishing tech jobs out there that do not demand coding skills and allow you to make a good decent amount of money also. Whether it be the startups or leading tech organizations – they all are providing various non-coding tech jobs to individuals.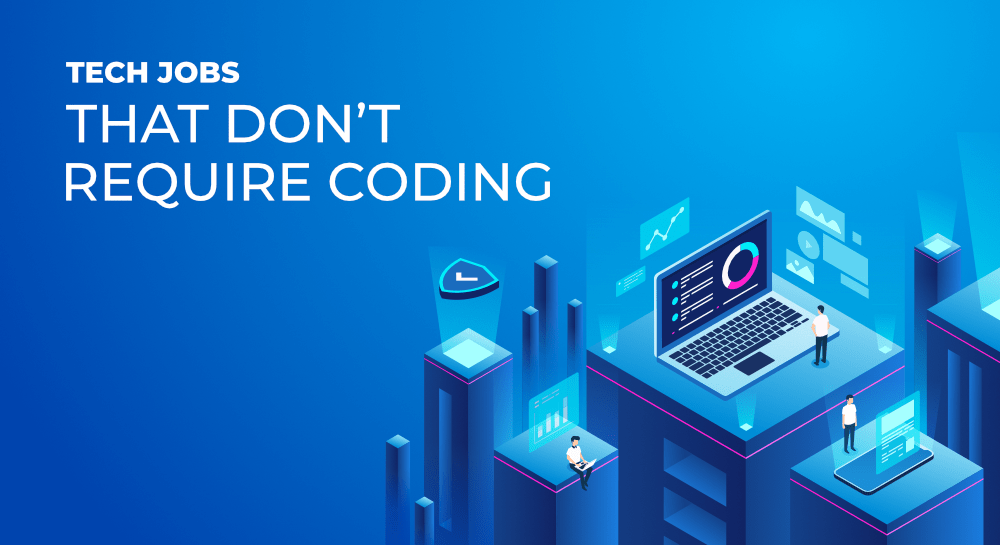 So, if you are looking for the Best Job in IT Without Programming, then we have some most preferred options. So, let's get started.
1. UI/UX Designer
Especially in today's times, when almost every business is becoming more and more concerned about providing a superior user experience for better user retention – User Experience (UX) and User Interface (UI) Designer is a good to go career option for individuals. While a UX Designer is mainly responsible for providing users with great experiences and better customer satisfaction with the design & usability of the respective website, a UI Designer holds the specific responsibility of designing the entire interface and layout of the website or product.
Though UI Designers & UX Designers are two different yet correlated job profiles – some companies usually hire a single professional to handle both tasks. Also, in particular, with the case of UI Designer, you may be required to have a basic knowledge of HTML and CSS. Hence, you can opt to shortlist the companies as per your skills and convenience. Also, you're very much recommended to create a portfolio to easily showcase your work to the recruiters. Moreover, if we talk about the average salary of a UI/UX Designer in India, it is around INR 6-8 LPA.
2. Data Analyst
If you love to play with data and looking forward to getting a tech job that doesn't require coding skills – then Data Analyst would be the perfect career option for you. What Data Analysts primarily do is – explore & research huge data, identify key patterns & trends from it, and then help the organization to make some data-driven decisions based on these insights for the sake of revenue growth, profit increase, expenses reduction, market expansion, etc. These people make use of various tools and software for doing this.
If we talk, about the required skillset – a Data Analyst should be good at Mathematics & Statistics, Analytics, Business knowledge along with having familiarity with certain tools and software. Several other prominent skills are – communication, presentation, decision-making, problem-solving, critical thinking, etc. The average salary of a Data Analyst in India with 1 or 2 years of experience is around INR 6-8 LPA. In addition, after becoming a proficient Data Analyst – you may also consider other related fields in the future such as Data Science, etc. for more exposure.
3. System Admin
Needless to say, every organization in the tech world requires a professional (or you can say a team of professionals) who is responsible for tasks like setting up systems for employees, troubleshooting software malfunctions, setting up servers, backing up files, and many others. And a System Administrator does this for them! A System Admin ensures the appropriate functioning, performance, and security of the systems and all within the company's budget. Moreover, he also plays a key role in the creation of IT policies of an organization.
To get a job as a System Admin, you need to have a good understanding of general operating systems, networking concepts, system security, databases, etc. Also, you should have good communication, problem-solving, and leadership skills. There are various renowned IT certifications that can help you to get a job and start your professional career conveniently as a System Admin. The average salary of an entry-level System Administrator is around 4-5 LPA in India.
4. SEO Professional
Digital Marketing is the need of the hour – and that's why all the job roles that come under this particular domain are high in demand. SEO (Search Engine Optimization) is one such job role for all individuals who want to build a career in the tech world but are not very much fond of coding. Search Engine Optimization is nothing but the practice of optimizing the blog or website to improve its ranking on SERPs for the sake of increasing traffic on the platform. You need to know that almost every online platform is taking SEO quite seriously and there are adequate opportunities for SEO professionals in the industry from executive to managerial positions.
You're required to possess skills like keyword research, link building, technical SEO, etc. along with having familiarity with respective tools and software to get started your career as an SEO professional. You're also required to know about different search engine algorithms and stay updated with the latest SEO trends such as Voice Search, E-A-T (Expertise, Authoritativeness, and Trustworthiness) Concept, Local Search, etc.
5. Technical Writer
Technical Writer is another great choice for individuals who're in the search of a non-coding tech job. In simple words, a technical writer is a professional who converts or compiles complex information into a concise, simple, and easy-to-understand document. In particular, when it comes to the IT world, a technical writer is required to write or update documentation for a product or service such as instruction manuals, user manuals, guides, white papers, etc. You can say the technical writers not only write for the users, but they often create tech content for internal communication also such as project plans, design specifications, reports, etc. with the help of respective teams. Along with some remarkable writing skills, you're required to possess good research & exploration skills to become a successful technical writer.
The best thing about being a technical writer is that apart from regular office jobs you can also get adequate freelance career opportunities in the tech world. Moreover, the average salary of an entry-level technical writer is around 4-6 LPA, and it can go higher as well based on your skills and knowledge.
The list doesn't end here! There are numerous other non-coding tech jobs also such as Growth Hacker, Software Quality Tester, Business Analyst, Product Manager, Information Architect, Operations Manager, etc. What all you need to do is identify your interest, skills, and requirements – and pick out the relevant career option for yourself…!!
My Personal Notes
arrow_drop_up