5 Ways to Make Money With Your Blog
You have heard that you can make a good amount of money by Blogging but, do you ever think it is possible or not? Yes, it is possible and some of the top bloggers are even making 30-40 Lakhs per month, all from their blogs. All you have to do is just maintain a quality blog to make your online presence and then follow the money-making strategies for it. In this article, we will let you know about the ways to earn money blogging.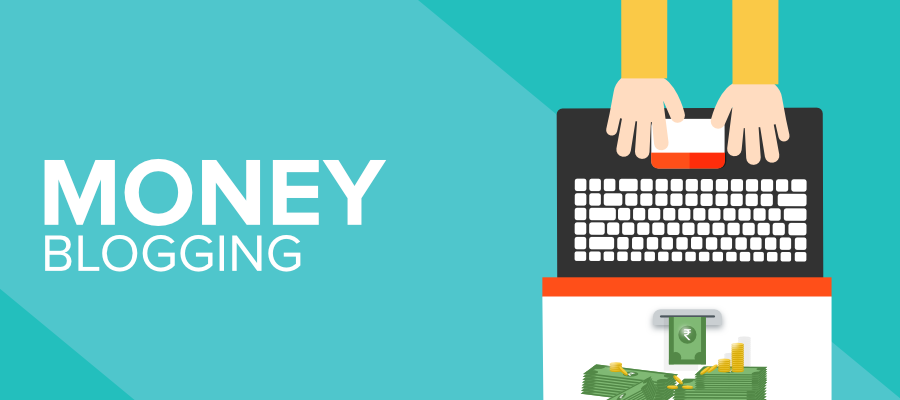 Before going further, let's discuss "How to start a Blog?" in brief. You just have to decide what to blog about and select a blog domain. Then, you have to look out for a CMS Platform. You can go with the WordPress as it is one of the best and provides many valuable features too. Then you have to get hosting for it and set up your blog. Customize it and you are ready to publish your first blog post.
The best part of blogging is that you can work from wherever and whenever you want. Also, there is not any limit to how much money you can make from it. However, it requires a lot of dedication and subsequent time to maintain a standard and valuable blog. You can't expect to start a blog today and earn money within a few days. The ways by which you can make money from your blog are listed below:
1. Google Adsense
Google AdSense program is one of the best ways to generate income from a website or a blog. It is a platform that provides you relevant ads as per your site content and target audience and you get paid for it by showing these ads on your blog or site. The steps to go for the process are listed below:
Be ready with your blog. The site must satisfy all the eligibility criteria as per Google's Guidelines.
Now, create an Adsense Account.
Then, configure your advertisements like ad type, size, style, etc.
After configuration of ads, you will get an Adsense code which you have to paste on your site.
Now, you are ready to get paid.
There are the following models on which you get paid for the ads you show.
CPC (Cost Per Click) – Whenever a visitor clicks on the ad displayed on your site, you will get paid. The cost per click varies with the advertisers based on advertisement content.
CPM (Cost Per 1000 Impressions) – In this model, you are paid an amount of money based on how many people view your ad. Basically, there is not any consideration of a user click.
2. Affiliate Marketing
Affiliate Marketing is something when you promote or sell a product or service of another site to your target audience by providing links in your content. Whenever someone goes to that the affiliate's site and buy the product after clicking your link, you get a referral commission for that sale. The working of the Affiliate Marketing process can be described as
Another site has a product to sell and it makes a deal with you to give you a commission for each sale in case if the buyer is redirected from your site.
In case of agreement, a link is provided to you which is used to track whether the buyer is coming from your site or not.
Now, you have to include the affiliate link on your site.
Whenever a user will buy the product using your link, you will get a commission for that. This is how affiliate marketing works!
Some of the biggest sites which supports affiliate marketing are listed below:
Amazon
Flipkart
OYO
Fitbit
Udemy
3. Direct Selling
When we discussed the idea of affiliate marketing, you must be thinking can't we sell our products too? Yes, you can! Direct selling is one of the major sources of income from blogging. The point to remember while doing direct selling from your blog is that you should sell those products which are relevant to your content and useful to your audience.
This can be understood as suppose you are writing an article about "how to climb a mountain", then you can sell various gears which are used while trekking such as trekking shoes, jackets, trekking sticks, etc. Or you can write a blog regarding best smartphones under 20,000 and can sell them. Also, you have to set up a good payment system for the transactions. Some of the most popular direct selling products by the bloggers are listed below:
Books
Handmade Stuffs
Artificial Jewelry
Sports Gear, etc.
4. Premium Content
Providing the premium content to your audience is also a considerable option to make money from your blog. Premium content is somewhat different from regular or average content as you have to provide a piece of deep and more qualitative information. Your content must have those valuable aspects which make the audience to buy it.
Before switching over the Premium Content, you should do some research. First, you have to analyze how many of your visitors are returning to the site and how often they return. Now you have to explore which content is most viewed by your target audience so that you can provide something extra for that domain in the paid version. The examples of some of the most selling premium content are listed below:
Tutorials (Notes)
Infographics
Case Studies
Research Papers
Practice Papers, etc.
5. Offer Services
You can start to make money by offering your skills and services. Here the best part is that you do not require any kind of investment, all you have to do is just start to offer the services in which you have some really good skills. Although you have to maintain the quality of services you are offering, to make the audience pay for it.
You can earn through providing the monthly or annual membership to the users or you can charge for each service separately. First, you have to look out for the services you love to do – it can be your writing skills or it can be your consulting power or anything else. Then you have to analyze how these skills can be that much beneficial to the audience so that they are even ready to pay for it.
My Personal Notes
arrow_drop_up