5 Reasons Why Learning Coding is Beneficial For Students
Indeed, Coding for students has been a much-discussed topic for a long time and after the advent of the new education scheme that allows young minds to learn coding from earlier stages, the topic has again come in a positive light. Even various IT giants such as Google, Amazon, etc. are promoting the culture of coding for students and are coming with up various programs & resources to make things convenient for them. Meanwhile, there are still some doubts in the minds of individuals that is it really worthwhile to teach young minds (or you can say school students) how to code.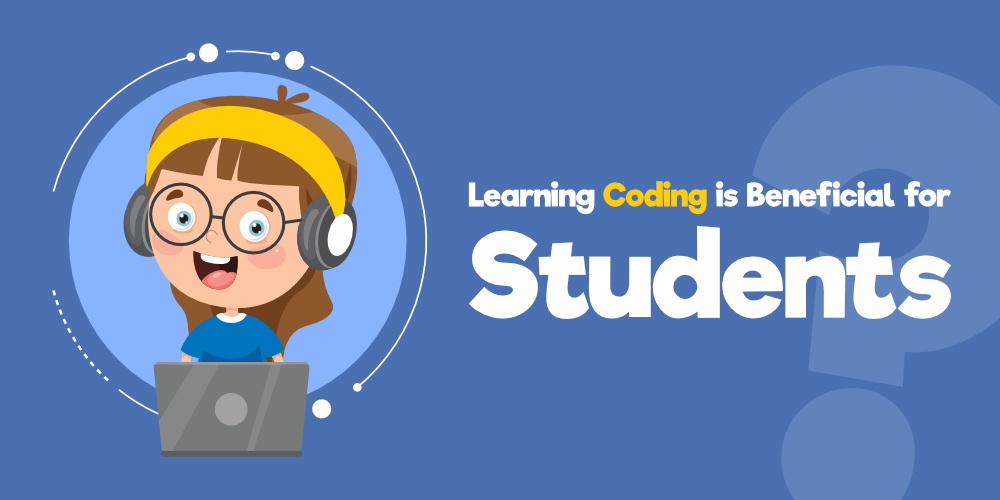 Firstly, teaching the younger ones to code doesn't only signify the process of empowering them with some technical skills such as computer programming, basic application development, etc. but it builds the foundation of their overall development and teaches them various worthwhile life and career skills such as critical & abstract thinking, persistence, entrepreneurial skills and many more. There are many ways through which students can get into the world of coding such as online resources, boot camps, school curriculum, etc. You can also opt to explore the GeeksforGeeks School Learning initiative which is solely created for the school students to teach them computer programming and other tech skills.
Here, in this article, we'll let you know about several major reasons that can be taken into consideration by all the school students for getting started with Coding:
1. Helps to Build Problem-Solving & Logical-Thinking Skills
Coding is one of the best ways to develop and enhance the skills of problem-solving and critical thinking among the students. It teaches them how to tackle and solve problems efficiently as it allows young minds to learn the approach of breaking down a large problem into smaller chunks to solve it conveniently. Furthermore, through coding, apart from following the pre-existing methods or solutions, students are allowed to do abstract thinking and come up with their own approaches to solve a particular problem. Though it is also required to acknowledge their efforts of solving a problem to enhance their confidence. Needless to say, these skills not only help them to become a better coder but also lay the foundation of their strong academic and professional career for the future.
2. Improves and Encourages Creativity
We all know that the young ones have the utmost level of curiosity and when this curiosity meets with one of the most influential tech skills i.e., Coding, it encourages creativity among them at an extreme level. Once a student gets into the world of coding then whenever he/she plays a video game or uses any other entertainment app, he often thinks to build the same on his own. And even sometimes, they come up with something outside the box in their minds as coding provides them a suitable environment for creative thinking. Moreover, the creativity skills generated through coding among them not only help them to build optimal programs but also leads them to a pathway of possessing various other entrepreneurial skills.
3. Teaches the Practical Application of Maths
As they said – the best way to learn anything is to Learn by Doing!! And what can be better for the school-goers than to implement and visualize all those maths concepts in real-world situations? Indeed, Coding makes maths more engaging and interesting for them. Whether it be of using arithmetic expressions or number systems or multiplication tables or any other concept, coding allows them to play with all these concepts in their own way through their codes. It also allows them to do various experimentation with mathematics through coding. And, the implementation of maths doesn't last only for these basic concepts instead maths is an integral part of the coding world, and it will benefit them a lot in their future endeavors as well.
4. Allows Students to Better Understand the Technologies Around Them
In today's time, we all are growing up with lots of technologies surrounding us whether it be smartphones or video games, or any other. Meanwhile, it becomes quite preferable to make younger ones aware of these technologies and what made them work along with their proper & relevant use. And Coding is the most recommended approach for them to explore and better understand these technologies around them. However, it doesn't necessarily mean to teach them about the core development of these technologies at such earlier stages, but it simply means to at least make them aware of how things work and what is the science behind these technologies. Moreover, coding helps the students to develop the skill of perseverance as well to reach their goals.
5. Coding is the Demand & Need of the Future!
Last but not least – Coding is the most demanded skill of the industry at present and the demand seems to be rising rapidly in the future as well. Moreover, almost every trending technology whether it be related to Artificial Intelligence or Data Science, or any other requires you to have at least some basic knowledge of programming or coding. Hence, it is recommended for the students that if they're showing even a little interest in technologies or similar facets, then get introduced to the coding world for various ravishing future career opportunities. Furthermore, students who learn to code develop various other crucial skills also such as consistency, algorithmic thinking, etc. that further help them abundantly during their academic as well as a professional career.
So these are several most considerable reasons for all young minds to learn coding. However, there are various other reasons also such as academic success, competitive advantage, etc. that can also be taken into consideration. Meanwhile, the only thing for all the students to keep in mind is that be patient & consistent and instead of taking it as a complex subject, try to enjoy this entire journey of the Coding world!!
My Personal Notes
arrow_drop_up