5 Best Linux Distros For Programming
Linux's distributions are highly recommended for web developers and programmers. The host operating system and web server on a Linux machine need to implement HTTP/HTTPS protocol and support Nginx, Apache, or any other suitable web server for that matter. What is a Linux distribution? A Linux distribution includes an embedded package management system, so it's effortless to install additional software packages which can make your job easier; additionally, you can use any of the repositories from the different distributions present in the repositories section of their websites.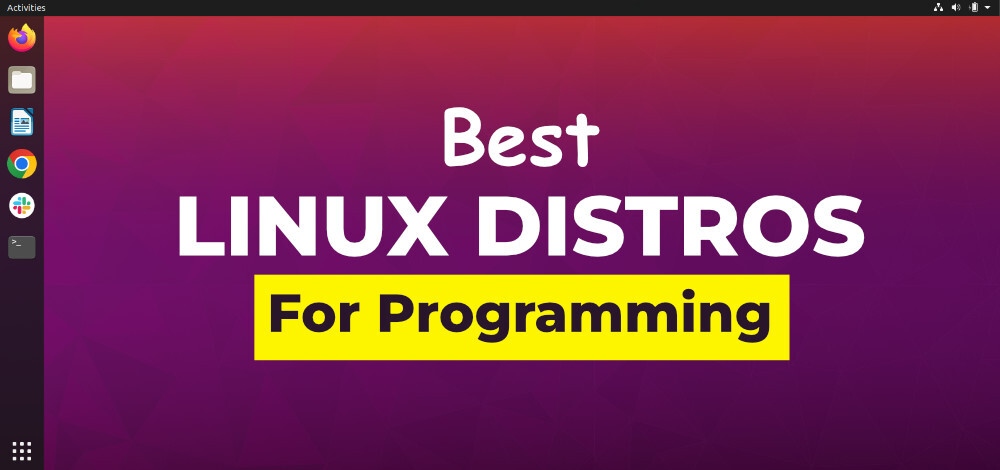 Linux distributions have excellent benefits and features stated above. There are various Linux distributions, but the best ones are always preferred when developing an application. Let's look at the 5 Best Linux Distros For Programming and Web Development.
Best Linux Distros For Programming
1. CentOS
CentOS is a free and open-source operating system that is the best Linux distribution for web development based on the source code of Red Hat Enterprise Linux (RHEL). It is a community-driven free software project and can be used by anyone, anywhere at no cost. It aims to be 100% binary compatible with RHEL, allowing all RHEL binaries to run unmodified. CentOS mainly differs from RHEL in package updates and some extra repositories.
2. Debian GNU/Linux
Debian is a Unix-like computer operating system that is composed entirely of free software. Debian is a project of the Free Software Foundation (FSF) and is a Linux distribution that can be used on all major Unix-like Operating Systems, including Linux, BSD variants such as FreeBSD and NetBSD, and macOS. The Debian project was founded in 1993 by Ian Murdock to ensure the development and distribution of free (as in freedom) software along with adding incentives for other developers to write free software. Originally named GNU/Linux, the official name was changed in 2001 to avoid confusion with the GNU project, which has had many names since its founding in 1981. Debian's mascot is based on the iconic front cover of Donald Knuth's The Art of Computer Programming.
3. Fedora
Fedora is a Red Hat product and aims to take the best features of Red Hat Enterprise Linux and put them into a community-driven distribution. Like RHEL, Fedora includes complete source code for many Linux software packages and also provides advanced technical support for those packages. Fedora has some pre-installed software (including Firefox, LibreOffice, and Tor). Many times when you install Fedora it comes with everything you need; when it doesn't, it has a large community repository where thousands of free applications are available for download.
4. OpenSUSE
One of the most preferred Linux distributions for web developers is OpenSUSE. It offers a building service that can be used to easily make packages for all major Linux distributions adding the latest versions of Ubuntu, Debian, Fedora, RHEL, SLES, and more. So even if you don't use the openSUSE distribution, the developer can and should use her OBS.
5. Ubuntu
Ubuntu includes everything you need to run your organization, school, home, or business. All essential applications such as office suites, browsers, email, and media apps are pre-installed, plus thousands of games and applications are available in the Ubuntu Software Center. Ubuntu is always free to download, use, and share. We believe in the power of open-source software. Ubuntu wouldn't exist without its worldwide community of volunteer developers. Ubuntu takes full advantage of your screen with high resolutions, touchscreen support, fractional scaling, and touchpad gestures. 22.04 updates the signature Yaru theme with system-wide support for dark style settings, accent colors, and the largest selection of community wallpapers.
My Personal Notes
arrow_drop_up