5 Best Cybersecurity Certifications For 2021
The need for cybersecurity professionals has gone drastically up during the pandemic. We have seen almost every professional domain shift online, be it online teaching in schools and colleges, online grocery shopping, medicines, finding vaccination centers, having online events like virtual conferences and hackathons, and even online study circles. With the advent of this huge amount of dependence on the Internet, there also comes a great responsibility of securing data of users, preventing servers from being taken down, fending vandalism of websites, securing users of the application against various attacks and what not! Since people were not allowed to go out during the lockdown unless it was an emergency, almost everyone had to shop online. This eventually means, millions of financial transactions happening worldwide, and therefore, a huge responsibility on security professionals to secure these payments and prevent any data leak.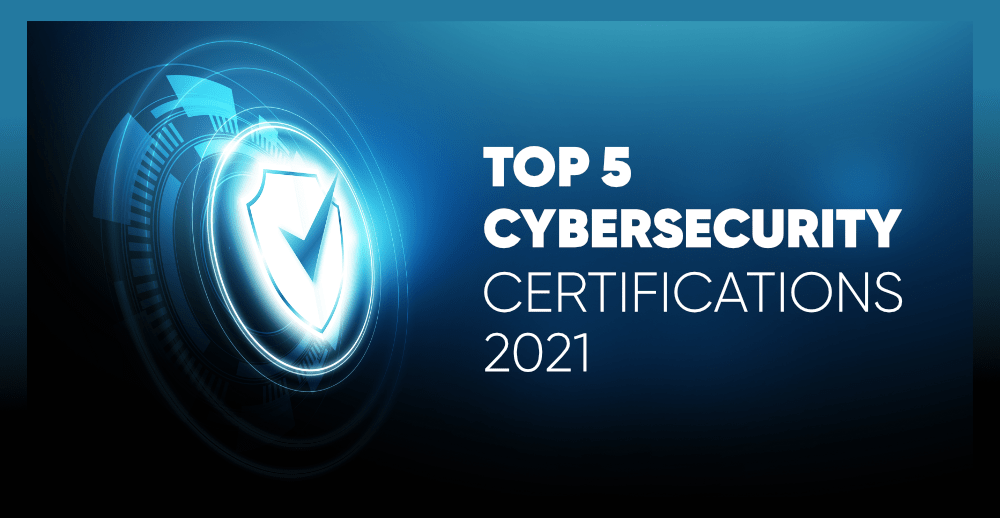 Due to all these factors mentioned above, there has been significant growth in the job openings for cybersecurity experts. To find the best professionals, organizations usually filter the candidates on the basis of the official industry level certifications as it proves that the candidate has the required working knowledge to carry out the required tasks. If you are planning a career in cybersecurity and hold an interest in security-related domains, you have come to the right place! We will be discussing the top cybersecurity certifications that you can go for to prove your skills and eventually landing the job of your dreams.
1. EH-Council Certified Ethical Hacker
CEH is one of the most demanded security certifications in the cybersecurity industry and can only be cracked with a great deal of effort. The latest CEHv11 is mapped to the NICE2.0 framework, has a greater focus on cloud and IoT, has thousands of hacking tools, tricks, and techniques, and provides modern case studies and recent events. If you clear CEH, you can apply to dozens of jobs like Network Engineer, Cyber Defense Analyst, Warning Analyst, IT Security Administrator, Solution Architect, Cybersecurity Consultant, Information Security Manager, and a lot more! The course outline contains 20 modules with domains that include SQL injection, Cryptography, IoT hacking, Cloud computing, Session hijacking, Sniffing, Malware threats, hacking web servers, Social engineering, Denial-of-Service, etc.
Cost of the Exam: Varies between $1,050 to $1,119. Training is excluded.
Exam Pattern: MCQ based
Number of Questions: 125
Time Limit: 4 hours
Pass Percentage: 65% — 85% depending on the difficulty.
2. CompTIA Security+
Security+ is a globally recognized cybersecurity certificate that measures and assesses the candidate's ability to carry out core security operations to be able to pursue an IT security career. The structure of this exam is designed as such so that it aligns with the latest trends and techniques and proves that the professional has required hands-on skills and is prepared to solve a wider variety of complex issues. Skills that can be learned through the Security+ Exam are attacks, threats, and vulnerabilities on embedded devices, newer variants of DDoS attacks, access management, cryptography, threat detection, risk mitigation techniques, governance, risk, and compliance.
Cost of the Exam: $370
Exam Pattern: MCQ and PBQ based
Number of Questions: 90
Time Limit: 90 minutes
Passing Marks: 750 (On a scale of 100-900)
3. CompTIA PenTest+
PenTest+ assesses necessary penetration testing, vulnerability detection, and mitigation management skills required to find how resilient the network is against attacks. Skills that are learned via this exam are planning and scoping of compliance-based assessments, information gathering or reconnaissance to prepare for the exploit and then performing vulnerability scans and analyzing results, RF-based vulnerabilities, post-exploitation techniques, using various penetration testing tools, reporting and communicating the best mitigation strategies from the discovered vulnerabilities. Some jobs that use PenTest+ are Penetration tester, Vulnerability tester, Security analyst (II), Vulnerability Assessment Analyst, Network Security Operations, and Application Security Vulnerability.
Cost of the Exam: $370
Exam Pattern: MCQ and PBQ based
Number of Questions: 85
Time Limit: 165 minutes
Passing Marks: 750 (On a scale of 100-900)
4. Offensive Security Certified Professional
The OSCP PEN-200 exam is designed uniquely to test and prepare individuals to be successful penetration testers. The course is intended for Infosec professionals transitioning into penetration testing, pentesters seeking an industry-leading certification, security professionals, network administrators, and other technology professionals. The course also requires to have some prerequisites. These include a concrete understanding of TCP/IP network, knowledge of Python and Bash scripting along with Windows and Linux Administrator experience. The exam covers topics such as command line, practical tools, active and passive information gathering, vulnerability scanning, buffer overflows, client-side attacks, web application attacks, locating and fixing exploits, privilege escalation, password attacks, Metasploit, and tunneling. Overall, it is guaranteed to make you an expert penetration professional.
Cost of the Exam: Varies between $999 to $2148
Exam Pattern: Practical Based
Number of Machines to Hack: 5
Time Limit: 24 hours
Passing Marks: 70 (out of 100)
5. Certified Information Systems Security Professional
CISSP by (ISC)² is said to be one of the most renowned professional and advanced level cybersecurity certifications. This is a highly reputable credential and is the 2nd most requested IT certificate worldwide with having the highest job openings in cybersecurity asking for a CISSP. It evaluates the expertise of the professional in eight different domains which include Security and Risk Management, Asset Security, Security Architecture and Engineering, Communication and Network Security, Identity and Access Management (IAM), Security Assessment and Testing, Security Operations, and Software Development Security.
You need to know that the CISSP exam uses Computerized Adaptive Testing (CAT) for all English exams. And for all other languages, CISSP exams are administered as linear, fixed-form exams. Let's check the exam details for both modes:
CISSP CAT Exam –
Cost of the Exam: Varies between $749 to $800
Exam Pattern: MCQ and Advanced Innovative Items
Number of Questions: 100-150
Exam Language: English
Time Limit: 3 hours
Passing Marks: 700 (out of 1000)
CISSP Linear Exam –
Cost of the Exam: Varies between $749 to $800
Exam Pattern: MCQ and Advanced Innovative Items
Number of Questions: 250
Exam Language: French, German, Brazilian Portuguese, Spanish-Modern, Japanese, Simplified Chinese, Korean
Time Limit: 6 hours
Passing Marks: 700 (out of 1000)
These were the top cybersecurity certifications that you can go for if you are looking to work in security-related fields. These certificates will not only ensure that you have good theoretical skills but will also validate your practical skills and that you can respond quickly in an Incidence of Response. These will sharpen your skills, make you think like a hacker, and cover a lot of domains thereby opening a huge pool of opportunities in the network, infrastructure, and security-related domains.
My Personal Notes
arrow_drop_up