30 Days of SQL – From Basic to Advanced Level!
Structured Query Language or SQL is a standard database language that is used to create, maintain, destroy, update and retrieve the data from relational databases like MySQL, Oracle, SQL Server, PostgreSQL, etc.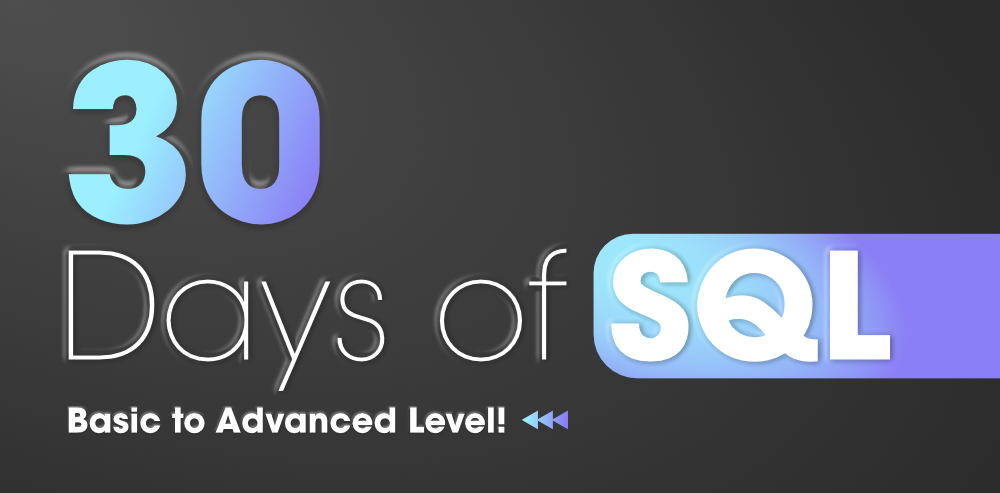 Whether you want to become a successful Data Scientist or a Business Analyst or a full-stack web developer or even a software developer, learning and practicing SQL is very important for all fields. Almost every big tech company uses SQL to manage and organize data be it Uber, Netflix, Airbnb, Facebook, Google, LinkedIn, or any other, SQL is everywhere. SQL is also the top and most popular language among data scientists or data engineers. Despite lots of hype around NoSQL, Hadoop, and other technologies, it's one of the most-used languages in the entire tech industry, and one of the most popular languages for developers of all sorts.
Now that we know, how much learning SQL is important or what is the significance of SQL in today's world, we shall know how to learn SQL in a systematic way. To help you with this we have created a practical roadmap of 30 days of SQL based on a lot of study and research. This roadmap will give you a complete guideline with reference to learning and practicing SQL for all types of job roles be it, Full Stack Developer, using SQL to retrieve information from the database, or Data Scientist/Data Analyst using SQL to understand the dataset and then analyzing it for different models. All you just need is a laptop, a working internet connection, determination to solve problems regularly and within 30 days, you will be able to learn and apply SQL to real-life problems and crack the interviews.
Considering the depth of this topic, we would be requiring 30 days to learn SQL from the beginning to the advanced level. Stay committed to the roadmap and solve as many questions as you can solve daily to maintain consistency. Also, if you wish to get a good placement in the company then this Geeksforgeeks SQL Foundation – Self-Paced course is perfect as it will help you to solve each and every query from the scratch.
Day 1 to Day 6:
Start with the basic concepts: From Day 1 to Day 6, you'll be knowing the basic database and SQL concepts such as creating a database, SELECT Clause, etc.
Day 7 to Day 12:
From Day 7 to Day 12, you'll take a step forward and learn a few advanced concepts like nested queries, wildcard operators, and other clauses.
Day 13 to Day 18:
From Day 13 to Day 18, you'll be mainly learning the Aggregate functions in SQL.
Day 19 to Day 24:
From Day 19 to 24, you'll be learning and practicing the Joins in SQL. It is one of the most important concepts of SQL.
Day 25 to Day 30:
Miscellaneous: Since we have covered almost all the topics, we shall now move on to some of the miscellaneous topics, concepts, and functions. These are important parts of DBMS and SQL and will surely help you in your college exams and competitive exams like GATE CS.
Practice SET
With all the learnings, we also need practice, so here we are providing some practice question sets to improve your understanding and skill. We would be having some commonly asked interview questions be it of DBMS or SQL, subjective problems, and multiple-choice question sets.
My Personal Notes
arrow_drop_up