11 Industries That Benefits the Most From Data Science
Data science has been effective in tackling many real-world problems and is being increasingly adopted across industries to power more intelligent and better-informed decision-making. With the increased use of computers for day-to-day business and personal operations, there is a demand for intelligent machines, can learn human behavior and work patterns. This brings Data science and big data analytics to the forefront.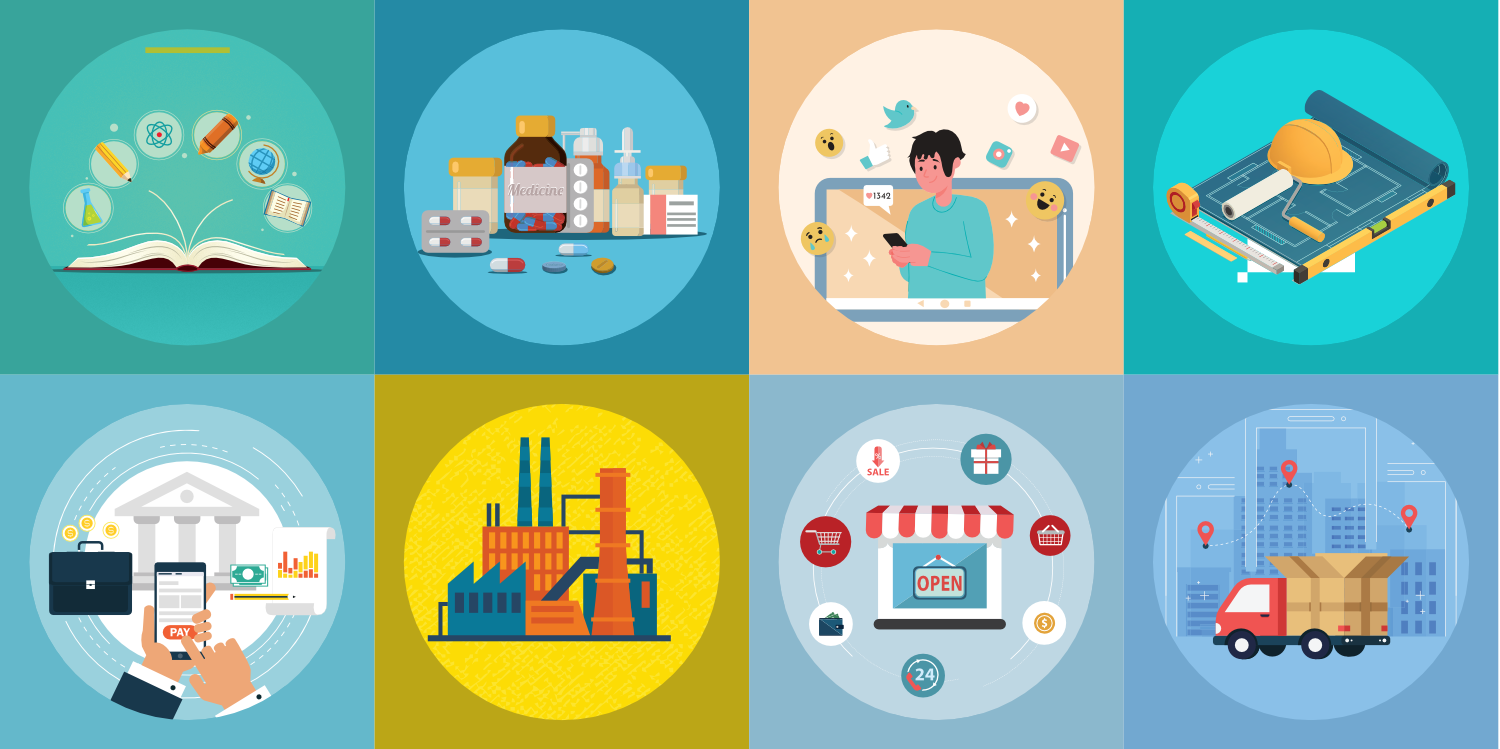 A study says that the global data science market is estimated to grow to USD 115 billion in 2023 with a CAGR of ~ 29%. A report by Deloitte Access Economics says that a massive 76% percent of businesses have plans to increase their spend over the next two years on increasing their data analytic capabilities. Almost all industries can benefit from data science and analytics. However, below are some industries that are better poised to make use of data science and analytics.
1. Retail
Retailers need to correctly anticipate what their customers want and then provide those things. If they don't do this, they will likely be left behind the competition. Big data and analytics provide retailers the insights they need to keep their customers happy and returning to their stores. One study by IBM said that 62% of retail respondents claimed that insights provided by analytics and information provided them with competitive advantages.
There are many ways retailers can use big data and analytics to keep their shoppers coming back for more. For instance, retailers can use big data and analytics to create hyper-personal and relevant shopping experiences that make their customers highly satisfied and more prone to making purchase decisions.
2. Medicine
The medical industry is using big data and analytics in a big way to improve health in a variety of ways. For instance, the use of wearable trackers to provide important information to physicians who can make use of the data to provide better care to their patients. Wearable trackers also provide information like whether the patient is taking his/her medication and following the right treatment plan.
Data compiled over time provide physicians with comprehensive information on patients' wellbeing and provide much more actionable data than just short in-person visits.
Big data and analytics can also help hospital managers improve care and reduce waiting times. Medical data is a great example of how providers can look at large amounts of data to find patterns and prescribe appropriate courses of action.
3. Banking and Finance
The banking industry is generally not looked at as being one that uses technology a lot. However, this is slowly changing as bankers are beginning to increasingly use technology to drive their decision-making.
For instance, the Bank of America uses natural language processing and predictive analytics to create a virtual assistant called Erica to help customers view information on upcoming bills or view transaction histories.
Erica, the virtual assistant, is also trained to get smarter with every transaction. Bank of America representatives say that the assistant will eventually study their customers' banking habits and suggest relevant financial advice at appropriate times.
4. Construction
It is no surprise that construction companies are beginning to embrace data science and analytics in a big way. Construction companies track everything from the average time needed to complete tasks to materials-based expenses and everything in between. Big data is now being used in a big way in the construction industry to drive better decision-making.
5. Transportation
There is always a need for people to reach their destinations on time and data science and analytics can be used by transportation providers, both public and private, to increase the chances of successful journeys. For instance, Transport for London uses statistical data to map customer journeys, manage unexpected circumstances, and provide people with personalized transport details.
Public transport officials also use predictive analytics to keep things functioning smoothly. In 2017, Americans took 10.1 billion public transit trips. The substantial data generated from these trips can allow data scientists to analyze this data to ensure that all obstacles are properly dealt with.
6. Communications, Media, and Entertainment
Consumers now expect rich media in different formats as and when they want it on a variety of devices. Collecting, analyzing, and utilizing these consumer insights is now a challenge that data science is stepping in to tackle. Data science is being used to leverage social media and mobile content and understand real-time, media content usage patterns. With data science techniques, companies can better create content for different target audiences, measure content performance, and recommend on-demand content.
For example, Spotify, the on-demand music streaming service, uses Hadoop big data analytics to collect and analyze data from its millions of users to provide better music recommendations to individual users.
7. Education
One challenge in the education industry where data science and analytics can help is to incorporate data from different vendors and sources and use them on platforms not designed for varying data.
For example, the University of Tasmania with over 26,000 students has developed a learning and management system that can track when a student logs into the system, the overall progress of the student, and how much time is spent on different pages, among other things.
Big data can also be used to measure teachers' effectiveness by fine-tuning teachers' performance by measuring against subject matter, student numbers, student aspirations, student demographics, and many other variables.
8. Manufacturing and Natural Resources
The increasing demand and supply of natural resources, such as oil, minerals, gas, metals, agricultural products, etc. has led to the generation of huge amounts of data that is complex, difficult to handle, and a prime candidate for big data analytics. The manufacturing industry also generates huge amounts of data that has so far gone untapped.
Big data allows decision-making to be supported by predictive analytics in the natural resources industry. Large amounts of geospatial data, text, temporal data and graphical data can be analyzed using data science to ingest and integrate these large datasets. Big data also has a role to play in reservoir characterization and seismic interpretation, among others.
9. Government
Big data has many applications in the public services field. Places where big data is/can be used include in financial market analysis, health-related research, environmental protection, energy exploration, and fraud detection.
One specific example is the use of big data analytics by the Social Security Administration (SSA) to analyze large numbers of social disability claims that come in as unstructured data. Analytics is being used to rapidly process medical information and detect fraudulent or suspicious claims. Another example is the use of data science techniques by the Food and Drug Administration (FDA) to identify and analyze patterns related to food-related diseases and illnesses.
10. Energy and Utilities
The energy and utilities industry generates and will continue to generate huge amounts of data that can be analyzed using big data analytics. For instance, nowadays, smart readers allow data to be collected every 15 minutes or so as compared to how it was previously when it was once a day. This data can be used to better study the consumption of utilities, which in turn allows for better control of utility use and improved customer feedback. The use of big data by utility companies also allows for improved asset and workforce management and is useful for identifying and correcting errors as soon as possible.
11. Outsourcing Industry
The value of the global data science and analytics outsourcing market was US$ 2.49 Bn in 2018 and is expected to grow to USD 19.36 Bn by 2027 at a CAGR of 25.8%. Factors driving this growth are shortage of skilled resources and high adoption by diverse industries.
Outsourcing companies are not far when it comes to Data Science Services. They are making use of data science to automate back-office processes, keep prices in check, and shorten the turnaround time. Flatworld Solutions is one such company using artificial intelligence (AI) and machine learning (ML) to automate the back-end processes for clients to automatically classify and index documents, process PDF files, name and classify files, automatically discover documents, use image annotation for inventory management, and more.
Conclusion: The term 'Data Science' was first coined in 2001 and it took less than two decades for it to become the phenomenon it is today. Finance was the first industry to understand data science advantages when no one could and used it to sift through and analyze large amounts of data and help companies reduce losses.
Today, Data Science is a force to reckon with and almost all industries are trying to leverage it's potential, and this number will only continue to increase as data science technology becomes more reliable and cost-effective. However, to capitalize on data science opportunities, you will need to understand industry-specific challenges, understand data characteristics of each industry, and match market needs with custom capabilities and solutions.
My Personal Notes
arrow_drop_up