10 Tips to Improve Logic Building Skills in Programming
"In some ways, programming is like a painting. You start with a blank canvas and certain basic raw materials. You use a combination of science, art, and craft to determine what to do with them." — Andrew Hunt
Yes, programming in itself is a very beautiful art. Sometimes we may face some problems while trying to program, but we can definitely overcome them. So, in this article, we will be sharing the top 10 tips and techniques that can help you to make your programming skills more strong, rectify some common programming problems and this will also help you in the logic building process.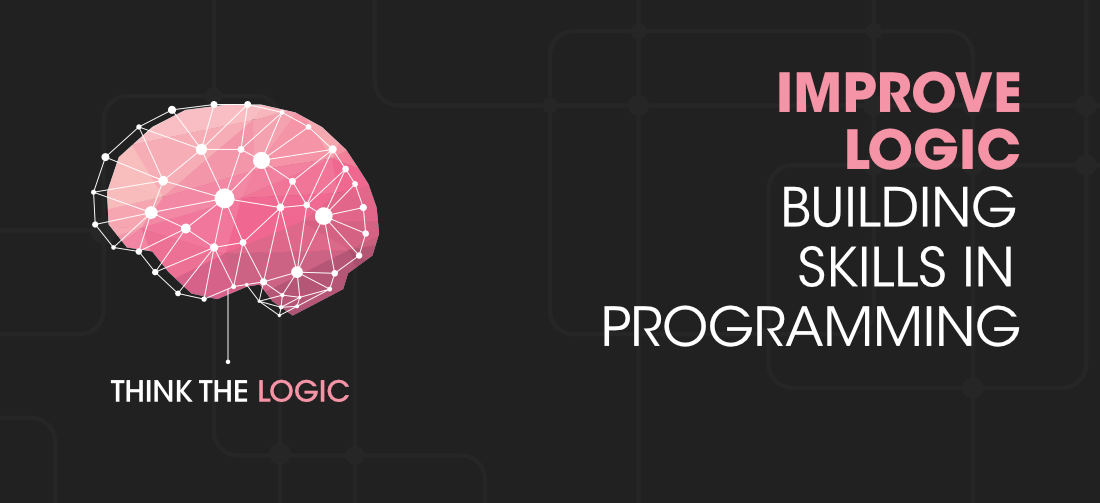 So let's get started!!!
1. Concepts are Building Blocks for Programming
While trying to crack the logic of any coding problem, many of us think that we never came across such algorithms or theorems while studying and therefore are not able to solve the problem. In order to solve any problem, we should know the concepts of that topic, then only we would be able to apply them and solve the problem. Theoretical knowledge and concepts can be gained by reading articles, blogs, documentation, and watching videos based on that topic. You can also refer to the articles on GeeksforGeeks for building your concepts. We should also know the application of concepts and practice some important problems based on that topic.
2. Be Consistent
Many times it happens that we take up a challenge to solve a question for some number of days and then discontinue in the middle after some days!! It is a popular saying that practice makes a man perfect!! The same is the case with building programming logic. Make it a point to revise, or read an article or solve a question daily despite being very busy in remaining activities. Practicing consistently will help a lot in the overall logic-building process. In order to motivate yourself, you should always contemplate the reason why you started, reward yourself, and make programming fun by solving some quizzes and experimenting with the programs to see different outputs.
3. Pen and Paper Approach
After seeing any problem, we generally start coding the same on our IDE. So, when we are asked to write code on paper in interviews, we fail to do so. Always try to write the pseudo code or algorithm of the code before implementing them. It will help you in writing the code and next time whenever you approach a similar problem you will be able to recollect more easily. It will also help you in getting syntactically strong.
4. Revision is Very Important
Many of you might be facing this issue that you learn a particular concept but after a few days or months when another question with the same logic or concept appears, you are unable to solve it. This is because you haven't revised the concepts. Always make it a point to write down the important concepts and logic of questions that are important and keep them revising again and again. This will help you in recollecting the concepts easily.
5. Do as Many Questions as You Can
It happens with most of us that there comes a single question and most of us get stuck there for 4 to 5 days and still are not able to crack it. Always try to practice lots of questions in order to develop your programming logic skills. This will help you in improving your logic building. If you are stuck in a single question, don't spend a lot of time after a single question instead look for the concepts hidden behind the question.
6. Puzzle Solving
In many coding competitions, problems are not directly asked based on a concept. Instead, it generally involves a story woven around it, and we have to figure out the logic for solving the program. In such cases, sometimes we are unable to solve the problem. Try solving puzzles such as Sudoku to develop your logic and thinking ability because programming is nothing but solving complex problems with the help of good logic.
7. Follow Step-by-Step Approach
We don't start running since the day we are born. Similar logic applies to coding also. We should not directly jump to difficult questions. We should go from Basic to Advance questions. You can take the ratio of questions such while choosing 10 questions you can divide them as 5 easy, 3 medium, and 2 hard questions. You can find these questions on many good websites. Sometimes, people solve a lot of easy questions from all the sites, but they are not able to solve medium-level questions. Instead, make a balance of all the levels. This will help in clearing the coding tests while placements as most of the questions are from easy to medium level.
8. Find a Programmer's Community
Sometimes we get bored while solving the problems by ourselves with no one to teach or guide us. In such cases, you can always try discussing solutions or complex questions with fellow programmers and friends. This will always help you in finding new logic for the same problem and will help you in optimizing your code. This will also improve your confidence and communication skills!!
9. Go through the Editorials
It happens a lot of times that we are not able to solve some questions, so we just leave the question or understand the editorial and move forward without implementing it. After programming any question, go through the editorial section and the top submissions of the code. Here you will be able to find optimized and different logic for the same code. Try to implement the solutions in the editorial section after understanding them, so that next time you find such a question you will be able to solve it.
10. Patience is the Key
Most of the time we leave programming after some days just because we are unable to solve the questions. Let's always motivate ourselves by saying let's just try one more time differently, before we decide to quit!!!
If you'll patiently work on your programming logic skills and follow the tips which we have shared with you, no one can stop you from being a good programmer and you will surely crack all the coding tests and interviews!!!
My Personal Notes
arrow_drop_up