10 Reasons to Choose MBA as Your Career
The goal of every student after completing studies is to get a good and secure job in a reputed company. The recruiters look for the employees who are skilled enough in all the aspects of company affairs and the most important skill among them is managerial skills. They should know how to maintain and promote the company's positive image and credibility.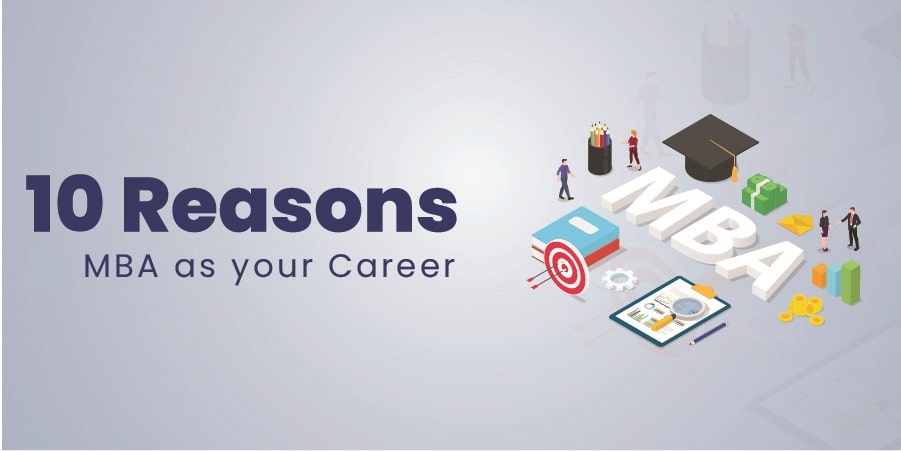 So one has to be very particular when it comes to choosing a degree program that offers promising career ahead. In recent years we have seen a huge number of students pursuing an MBA after graduation whether be it a commerce graduate or a science graduate. The importance of an MBA for students can be attributed to the following reasons:
1. Attractive Salaries
The salaries offered to MBA graduates are better compared to other employees. This is because wider career opportunities in different fields of work such as banking, consulting, and general management are available for MBA graduates and hence they get higher salaries.
2. Distinct Career Avenues
There are various specializations available in which one can pursue an MBA. Some of them are Finance, Marketing, Entrepreneurship, Human Resource, International Business, and IT Management. So with wider career options, the number of job roles available for an MBA graduate also increases. Some of them are Business Manager, Human Resource Specialist, Accounts Executive, and Public Relations Specialists.
3. Develop Management Skills
MBA program helps students to come out of their shell and develop advanced management skills required to work in a company and most importantly to secure their job. These include networking skills, advertising skills, communication skills, leadership skills, ability to work under pressure and taking harder decisions at the right time.
4. Expansion of Network
A student pursuing an MBA program, internship or job gets immense opportunity to interact with fellow students, staff and business professionals. Moreover, they get new connections with alumni of that particular college or university which ultimately broadens their business network. This way they get to learn the corporate ethics and the skills required to work in a corporate. This ultimately helps to strengthen the network of the student.
5. Increased Self-Confidence
The prime benefit of pursuing an MBA course is a boost in the self-confidence of the student. This is because the MBA program besides academics focuses mainly on refining the communication skills, presentation skills, marketing skills, and overall personality development of the student. Therefore, a student becomes well aware of the corporate skills required to get a promising job.
6. Time Management
Students get to learn the quality of time management. Since one cannot increase or decrease time, they learn how to deliver the best outcome within the bound time. They understand how to prioritize their work for their smooth and effective performance. They get to learn how to trust their capabilities, how to stay committed to turn out to be an eminent part of the company.
7. Ability to Work Under Challenging Situations
Students having an MBA degree get familiar with all the challenges that a company faces and the ways required to overcome those challenges. They know how to manage difficult situations like financial crises, public scandals, etc. The abilities they develop during the program are required to overcome the unavoidable changes of industries and marketplace. This provides them with a wider view of the world. They tend to think beyond their job role and start analyzing the problems and the possible solutions for them. This ultimately enhances their problem-solving skills.
8. Global Exposure
MBA Graduates enjoy worldwide placements because this degree is highly recognized throughout the world. They get the opportunity to interact with international business professionals. They learn new business strategies required to maintain the growth and integrity of the company. This way they get international exposure as well which ultimately enhances their career aspects.
9. Entrepreneurship Skills
With an MBA degree, one becomes familiar with all the skills and responsibilities required to be a successful entrepreneur. MBA Graduates have the golden opportunity to start their own business from scratch and be their boss. Starting a business and doing everything to make it successful and growing is a skill that can be learned through the MBA program.
10. Flexibility
MBA courses are offered by universities as full time or a part-time course. This is ideally beneficial for those who are pursuing a job. They can pursue this program without having to make any compromises with their job. Moreover, after completing the program they can switch to better-paying jobs as after the completion of the MBA program a large number of job opportunities are available for them. So for this one should first select the type of industry they are interested to switch into. Thereafter, he/she should decide the MBA specialization to pursue further.
If you are still confused then must read this article, What To Do After Engineering – MTech, MBA, MS or a Job?
My Personal Notes
arrow_drop_up