10 Popular IoT Home Devices in 2020
Your home is your sanctuary. It's the place where you return after a tiring day of work. It's also the place where you have fun with your friends and family! So what if you could make your home more interesting? What if you had lights that changed according to your mood? And if there were smart locks and a front door camera so that you could be aware of who entered your home? You could also have a smart thermostat to automatically monitor the temperature and an air quality monitor to check the pollution levels. And let's not forget your persona assistants Alexa or Google Home! All of this is possible using various home IoT devices that are all the rage these days!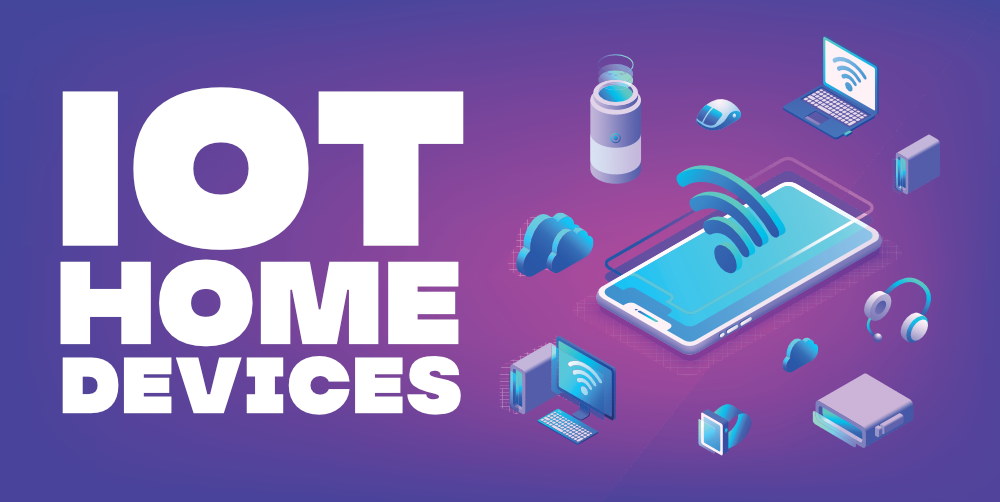 You can use these smart IoT devices to convert your home into a smart home where every device would be linked to other devices and centrally controlled by you. These devices are becoming more and more popular these days because they allow you complete freedom to personalize your home as you want. In fact, these IoT devices are so popular that every second there are 127 new devices connected to the internet. So let's check out the most popular IoT home devices these days.
1. Google Home
Google Home is the most popular personal assistant out there! You can ask any questions like "When is the sunset today?" or "What's the recipe for pasta?" or you can play your favorite songs. Google Home can also help you manage your schedule, set alarms for any important meetings, play the news for you, and much more. If you want some fun, Google Home can also connect with Chromecast so you can enjoy Netflix movies and shows on your big TV screen. And the great thing is that you can do all this by just using your voice and saying "Ok Google"! There is a wide variety of Google Home devices available for you including Google Home Mini and Google Home Max apart from the standard Google Home.
2. Amazon Echo Plus
If Google is not your cup of tea, then go for Amazon Echo Plus! Echo plus is also a smart device combined with Alexa, your personal assistant from Amazon. Alexa can answer all the questions you can ask, ranging from general Google inquiries to telling you the temperature outside to setting your alarms and playing your favorite music. Just say "Hey Alexa" and Alexa will answer any question you have! Amazon Echo Plus is also compatible with any other Echo devices you may own like the Echo Dot, Echo Studio, Echo Loop, etc. You can also use Fitbit, NextThere, etc. with your Amazon Echo Plus.
3. Nest Smoke Alarm
What if your smoke alarm could warn you if there was some danger? Rather than the shrill beep beep beep, what if your smoke alarm could gently tell you if there's smoke from burnt toast or something more dangerous like carbon monoxide in the air? All this can be accomplished by using the Nest Smoke Alarm. It has a green light that signals everything is working correctly, yellow light, and a friendly head up when there is a slight smoke, and a red light along with an alarm if its something more serious. The smoke alarm even tells you where the problem is in your house!
4. Nest Learning Thermostat
A thermostat can be pretty annoying sometimes. Maybe you set the temperature to high when it was cool outside but it starts feeling hot when it becomes hot outside and you have to manually change the temperature again. But what if you had a smart thermostat like the Nest Learning Thermostat? After you manually adjust the temperature on this thermostat a few times, it learns your preferences and automatically changes the temperature according to them. It also changes the temperature when you are not home to save as much energy as possible and lower your bills! You can easily control your thermostat using your smartphone or laptop.
5. Philips Hue Lighting System
What if the lights in your house could reflect your mood? Maybe you want bright lighting while studying but soft and dim lights while watching a movie? And even bright pink lights while partying! This is certainly not possible using the basic lighting systems at home but you can achieve this using the Philips Hue Lighting System. This is basically smart lighting that you can change according to your mood. And Philips offers around 16 million colors so you are sure to find what you need. There are also various light fixtures that you can opt for such as light bulbs, table lamps, light strips, floor lamps, spotlights, suspension lights, wall lights, etc. And you can control all these lights using the Hue Dimmer switch.
6. August Smart Lock
The August smart lock locks after you leave your house and unlocks your front door when you come back! It has an automatic lock that automatically locks the door after a specified time that you can set on your August app or your Apple Watch. The door also automatically opens because of geofencing when you come back. You can also create virtual guest keys that you can give to other people so that they can open your door. And there's no chance of your lock being hacked. August Smart Lock uses encryption, authentication, and biometric identification features to make sure no unauthorized person can enter your home.
7. August Doorbell Camera Pro
What if you want to monitor who is outside your front door? Well, you could always use your peephole but if you are not home? In that situation, the best option is the August Doorbell Camera Pro that monitors your front door 24/7 and provides you with an HD camera feed. It also informs you if the motion sensors go off meaning someone has arrived. And if you are not home, you can remotely open the door by pairing your Doorbell Camera Pro with the August Smart Lock. And there are even built-in floodlights in the Doorbell Camera Pro which allow for perfect video clarity even in the nighttime. So no grainy night pictures now!
8. Foobot Air Quality Monitor
These days the air quality is getting worse and worse all over the world. But at least you can make sure you have good quality air in your home using the Foobot Air Quality Monitor! This monitor uses artificial intelligence and smart sensors in the building to find out its air quality and then modify it until its at acceptable levels. It checks different factors such as the changing outdoor temperature, increasing pollution levels, the number of people in a building, and the total energy being used. Foobot Air Quality Monitor provides services both for residential homes and also offices to make sure they are at good air quality.
9. Kuri Mobile Robot
Did you think robots are only fancy machines that are used in hi-tech companies? Well, the Kuri Mobile Robot is a very cute robot that you could buy for your home! Kuri has its own personality and it loves dancing. It also automatically returns to its charging port when it needs charging. Mainly, Kuri captures 5 seconds clips of your days every day and you can mark favorite the clips you like. This also teaches the robot more about you and your personality. All in all, Kuri is a fun addition to your house which is great for some entertainment.
10. Samsung SmartThings Hub
There are so many smart devices discussed here provided by a wide variety of different venders. But what if you wanted all these smart devices to actually work together and create a truly seamless smart home? That's where the Samsung SmartThings Hub comes in! This hub can wirelessly integrate with a lot of smart devices so that you can control them using your android or iOS smartphones. These are many IoT devices in this list that the SmartThings Hub can control including the Google Home, Amazon Echo Plus, Philips Hue Lighting System, etc. You could also integrate the Samsung SmartThings Hub with Alexa or Google Assistant and just given verbal orders of what you want to be done!
Conclusion
Now that you have seen all these IoT home devices, you can deduce which ones you want to try out. You might already have Google Home or Amazon Echo because they are so popular but there are a lot of other options to explore. You can check out Foobot Air Quality Monitor if you are health-conscious, or the Nest Smoke Alarm if you want to be safe from dangerous situations. The August Smart Lock and Doorbell Camera are great options if you want to protect your home from unwanted intruders. And if you want some fun, go for the Kuri Mobile Robot!
My Personal Notes
arrow_drop_up