10 Must-Have Skills For Every Project Manager in 2020
If you've ever gone out for a trip with your friends, family, etc., you must have known that there is usually a single person who manages all the things such as budgeting, schedule, etc. in the entire journey. And what, if you're told that this can be considered as one of the aspects (though minor one!!) of Project Management? Yes, Project Management is something that we all are seeing or even doing in our daily lives in various distinct forms. And when it comes to the professional level, the demand for worthwhile Project Managers is rising exponentially as the need of these professionals is in almost every industry. Meanwhile, the Project Manager is a very challenging and exciting job profile that comes with a lot of responsibilities and accountability.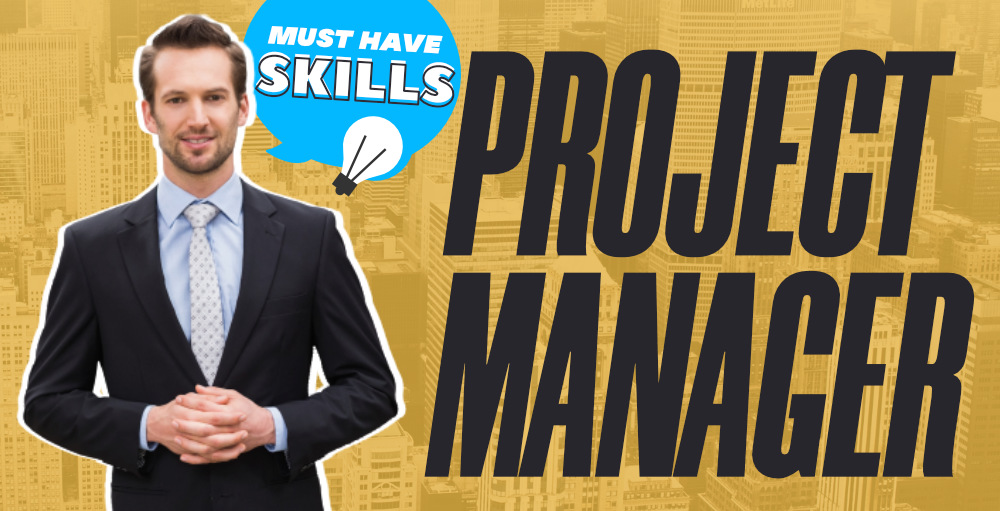 As per the reports, around 35-40% of projects generally fail due to the unavailability of significant Project Management processes. Most probably, that'd be enough for you to understand the importance of Project Managers in an organization. In general, a Project Manager is a key person in an organization who is responsible for managing all the aspects of a project whether it be planning, execution, monitoring & evaluation, or any other. Some of these major roles & responsibilities of a Project Manager in an organization are listed below:
Develops the project plan and define the goals of the project
Manage the team and allocate the resources accordingly
Ensures that the project is going as per the defined schedule and budget;
Monitors the progress of the project
Determines whether the final product or service meets the required goals or not, etc.
However, you're required to have an adequate amount of experience to gain expertise in the Project Management domain but there are few prominent skills exists that you must take into consideration to strengthen your Project Management skills. Now let's take a look at these several must-have skills for every Project Manager in 2020:
1. Planning
Needless to say, you can't even imagine becoming a successful Project Manager without having remarkable and effective planning skills. It can be considered that the journey of a Project Manager in an organization starts from the planning virtuosity as he is required to come up with a worthwhile plan for numerous aspects whether it be regarding project goals & scope, day-to-day tasks, changes implementation, or any other. Meanwhile, having appropriate planning skills helps you to set clear targets and goals for the respective project and you can enhance your planning skills through various exciting ways such as brainstorming sessions, playing video games, and many more.
2. Leadership
Being a Project Manager, you'll always be required to lead the project team and encourage or motivate them consistently along with maintaining the team spirit. And here comes the role of strong Leadership skills!! A strong leader doesn't only coordinate with the team members and keeps the things combined but also holds himself accountable and takes responsibility for any mishap in the project. Moreover, you're required to create empathy with the team members, build the trust factor, etc. for being a worthwhile leader. However, Leadership is something that one majorly learns from the experiences but you can opt for several most-recommended leadership seminars, books, etc. for some positive outcomes.
3. Communication
Let's assume a situation – there is a person who is very good at planning, prioritizing & execution of tasks, etc. But the only spot where he lacks is while expressing himself or conveying the ideas or messages to the team members, clients, etc. Now, according to you, will he be able to become a successful Project Manager? A big NO! He must have to acquire some good communication skills to effectively communicate with team members, stakeholders, etc. and share his goals & visions with them. And yes, good communication skills doesn't only mean to express yourself effectively but also concerns with the active listening process.
4. Negotiation
Here comes another prominent skill for becoming a successful Project Manager – Negotiation Skills!! Negotiation skill is concerned with the discussions to resolve the conflicts and forms mutual agreements with team members, clients, stakeholders, etc. When you reach the position of Project Manager, you're mandatorily required to have appropriate negotiation skills as this practice is followed on regular basis for various tasks such as while defining the goals & vision of the project, budgeting, etc. Meanwhile, for possessing some good negotiation skills, you're primarily required to have effective communication skills along with the planning and strategizing skills.
5. Problem Solving
Indeed, Problem Solving is one of the must-have skills for the Project Manager. In an organization, a Project manager has to deal with a lot minor as well as major problematic situations, and he is required to assess the problems thoroughly whether it be related to team members, project execution, or any other, and come up with an optimal solution & approach to solve the particular problems. For becoming a proficient problem solver, you're required to develop the critical thinking process and analyze all the aspects of a problem (whether it be negative or positive) before reaching out to any solution.
6. Team Management
As mentioned above, Team Management is one of the prominent skill that one should possess for becoming a Project Manager. As a Project Manager, you'll be responsible for the allocation of tasks to the team members, performance evaluation, and various related jobs. And to perform all these jobs effectively and efficiently, you must have some good Team Management skills. Meanwhile, you'll be required to wear other's hats as well and act like a colleague, mentor, trainer, etc. accordingly in front of your team. Furthermore, you need to become more adaptable and transparent to come up with better Team Management approaches.
7. Budget Management
As the name suggests – this particular skill is concerned with the budgeting and cost management process. Indeed, Budget Management is the most crucial skill for a Project Manager as every organization defines a specific budget for a particular project and the Project Manager of the respective project becomes responsible to ensure that the things are going fluently under the defined cost constraints. He is required to filter out extra or unnecessary expenses and come up with various innovative cost-effective strategies throughout the entire project life cycle. Though Budget Management is a skill that you master under the experience of managing various projects.
8. Time Management
It is one of the basic yet most underrated skill of the Project Management domain – Time Management. As a Project Manager, you need to be well-versed with the Time Management skill as you're required to accomplish all the tasks (whether it be minor or major) efficiently to complete the entire project under the specific deadline. And if you fail to do so, it not only hampers the workflow of the project lifecycle but also creates a negative image of yours as well as the organization. Moreover, you're recommended to start prioritizing the tasks and set deadlines also in your personal life to enhance Time Management skills.
9. Risk Management
When it comes to Risk Management, this is a skill that cannot be learned overnight from any book or tutorial. Risk Management skill is concerned with the process of prior identification of any risk or issue that can come during the project lifecycle and prepared with the backup plans. A Project Manager is always expected to be ready for the unexpected changes in the project lifecycle instead of getting panicked in such situations. Additionally, there are various enriching tools available such as A1 Tracker, Isometrix, Risk Management Studio, and many more that can help the Project Managers in the risk management process.
10. Reporting Skills
Last but not least – Reporting Skills!! As of now, you must have known that a Project Manager is not only responsible for managing his team or execution of the project lifecycle, but he is also responsible for coordinating with stakeholders, clients, etc. to share the progress of the project, discuss the required changes and various other things with them. Hence, it becomes quite essential for a Project Manager to have worthwhile reporting skills. Furthermore, to get more proficient with reporting and visualization skills, you can work on several other related aspects as well such as Technical Writing, Business Case Writing, etc.
So, these are several essential skills that every Project Manager should possess in 2020. Furthermore, there are several other skills as well such as Organizational, Research & Analysis, etc. that can also be taken into consideration. All you have to keep in mind that there is not any shortcut to master all these skills and getting into the Project Management domain but the requisite experience along with your hard work & consistent efforts will surely pave your way of becoming a Project Manager!!
My Personal Notes
arrow_drop_up