10 Important Lessons to Learn From Working at a Start-Up
Working at a Start-Up requires a DNA that focuses on making quality products rather than quantity. But that doesn't mean you will be working fewer hours. The concept of launching a Startup is to convert itself into an organization flexibly adhering to a business model which is both repeatable and scalable. And to get success through that concept in real-time, startup-geeks don't mind working for 12 hours if the process demands the same. You can call it one of the reasons why they are either having long beards with styles or either involved with attacking the existing problems with their single-mindedness and creativity. Is doing all this playing a vital role in making themselves sustainable? Or Will it be preventing them from failures? Of Course, not!! Facebook, Google, Tesla, and Salesforce were startups once upon a time but now they have a user-base of more than a few billion.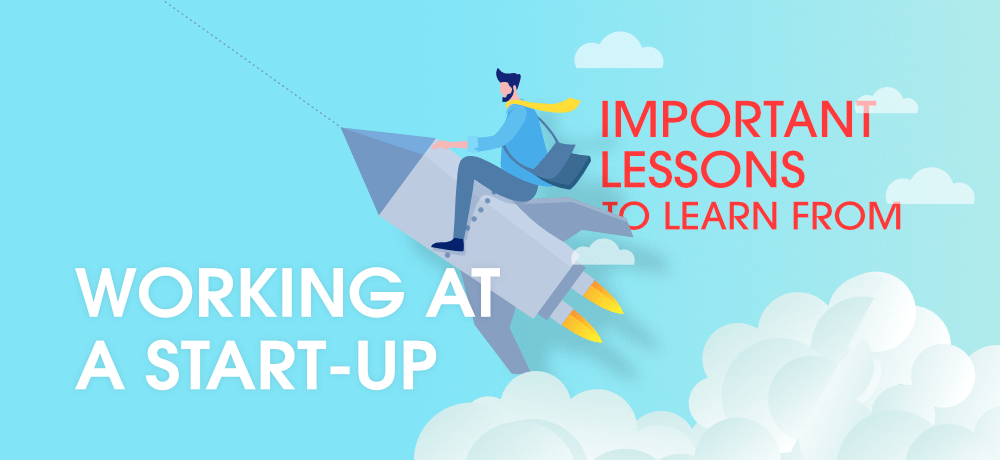 All this is possible because of their never-ending attitude of accepting challenges and finding solutions that they implement in terms of products that are scalable and efficient as well. Let's know a bit about those important lessons startups are teaching to bigger corporates and us also.
1. Never Say Never to Continuous Learning
Startup employees have a habit of continuous learning. This habit is helpful because, with it, they will be fiercely competitive with their updated skills and current industry knowledge. Also, their minds are much inclined towards simplifying their existing work processes without getting much worried about its budget. Such involvement of their minds into NEVER SAY NEVER to work coming towards them makes them believe the fact that the knowledge they have acquired currently isn't complete and they need to work harder to know more about the industry for which they have been working!! Similarly, you also start sailing with the boat of continuous learning so that you won't lag behind the rest of the workers working with you on any of the projects.
Thinking if you could be the one known amongst your colleagues, family members, or other known people of your society as a CONTINUOUS LEARNER!! For this, you must be ready either with learning a new language like Golang, Python or signing up for courses conducted online or on-campus to keep you ahead of coworkers or stay informed with the practical knowledge not bound to any educational material or fictional stories.
2. Focus on Adapting to Changing Work Environment, Not the Company
If you are working in a Start-Up, you will observe that people working there are much interested in adapting themselves to the change in processes. The change may either be related to building the product from the scratch or reorganizing the sequence of marketing events. Conceptualizing why they do so while working? This makes them adaptive to changes occurring in both personal as well as corporate lives. Besides, the majority of them are flexible and intelligent enough in striving harder to know with what strategy their teammates or team leaders are involved within their work done on time and with no compromise on quality.
Indeed, this quality of adapting to the changing rules of performing your corporate routine won't let you think much about changing the company just for a few perks and attractive salaries. Rather, you will be much involved with cross-company domains and also, side-by-side getting a transparent view about how the board of members adapts themselves to the sudden changes?
3. Grow as a Person Who Believes in Taking Risks
Are you from the ones who come on the list of risk-takers? If this is so, then no one can stop you from breaking yourself free from the rugged category of people i.e. average-thinkers. The most disheartening thing about average thinkers is that they need a teacher for everything!! From finding the interest which benefits them the most to organize their approach to solving a problem, the aforementioned thinkers can't do things on their own but are ready to settle for average without discussing the same with others. In any of the startups, such average thinkers don't last for a longer time and this is one of the reasons why you will grow in terms of personality, skills – interpersonal or intrapersonal, and other areas of operations without thinking much about the repercussions of the risks.
Most often, the ability to take risks in the hardest times and not sticking every time to the decisions made already will let you ride the bumps of ups and down with utmost smoothness. And every day will be a joyous party for you because now, you have the power of handling the stress launched on a daily basis either in the corporate or personal life. What else is now required to keep yourself happier and productive even if at times the product released is a total flop or zero customers are there to show their interest in the company's services…..!!
4. Be Open to Innovation and Creativity Even If It's Silly
In the landscape of startups, you can spot innovation and creativity followed in leaps and bounds and spreading its presence just like an open-source entity does!! To recognize the presence of both in that landscape, you need not ask people about that. Rather, you will see in their attitude according to which, creativity is something which will happen in their heads with bigger and out-of-the-box thoughts whereas innovation will come through creativity and connect them more with what will drive as a magic in the outer world? And this is one of the reasons why startups are renowned in the market as ones analyzing the exact difference between innovation and creativity even if it sounds silly.
Creativity Versus Innovation – this battle keeps on troubling the minds of startup guys/ girls due to which they are able to propose variations in their services so that it becomes more of a want than a need for a lot of their customers. But How? The answer is that such variations keep the feeling of sheer curiosity alive in their clients' or customers' hearts due to which they are able to serve their customers in a way that no other company or their competitors may afford to do………
5. Get Yourself Organized by Planning a To-Do List
Planning a to-do list every morning is something startup minds can't sustain without. Rather, this to-do list helps them cross off the tasks previously finished by them and track every minor detail of the project with which they are involved. Indeed, this keeps them much organized because without any doubts, they are able to structure their day-to-day responsibilities priority-wise and flourish well in terms of performance and smartness even at times they have no sense of what is happening all around? Moreover, they have a clean schedule of attending meetings, completing the deadlines of the projects knotted with their designations with this memory aid availed by them in the form of email lists, Microsoft to-do, Google Tasks, Spreadsheets, Word Documents, and a few more. Still doubting if you will be benefited from such a memory aid i.e. a to-do list!! From clarifying your goals by organizing the tasks priority-wise to self-imposing a variety of ways for improving your performances, all this will be reciprocated by this to-do list technique without forcing you to hustle around for the old files near your workstation or any other corner of your room.
6. Make Every Minute Count of Your Personal Life
Balancing both personal and corporate life with flying colors can be promisingly learned from the start-up guys. The reason is that they know really well when and how to snooze and awake themselves to work for longer hours without disturbing the peace of their lives. Moreover, they are active in planning their day out well by focusing on the things which matter the most in life. It is OK to feel lost, stressed, and many times underestimated due to an ample number of projects and the tasks associated but it is REALLY NOT OK to dig your grave near your workstation by skipping your hobbies and other special events of your life.
Once you learn how to handle anxiety and pressure without burning yourself out, it will let you realize how much easier it was to make every minute count. And after such a realization, you will stay sane for sure and detach yourself from the issues prevailing around through best ideas coming again & again in your minds. So, take run barefoot extra miles, meet your adventurous old friends, and bunk a few classes if your hearts say.
7. Don't Be Afraid to Collaborate with a Group of People
Collaborating with a group of people to achieve your goals or establishing some sort of healthy relationship will give you a sense of purpose. Examining what a sense of purpose is? It is a quality through which people around you recognize you as a person having some unique purpose of greater value or significance. Also, through the right collaboration, startups have been in a win-win situation from the business perspective because of the support of their valuable connections. If required, those connections can work with them on a priority to develop innovative products and services appreciated by their customers a lot.
Likewise, you must also feel flexible while collaborating with a group of people having skills and expertise for doing things in their own way. With those, you will not lag behind while competing with your competitors trying to achieve that goal already decided by you. And hence, you will be surprised to realize how valuably these relationships improve many aspects of your life – in-N-out of work.
8. Sharpen Your Strengths Rather Counting Weaknesses
Weaknesses are those soft skills that you find hard to quantify in real-life situations and they are present in every individual living on the planet earth. But those who cover them smartly with their strengths reach the pinnacle of success in a truly good way. This thing you can learn from startup geeks who instead of counting their weaknesses attentively use their strengths to perform the tasks and sharpen their strengths if the need arises. It will take some time to understand this fact but the sooner you learn it, the more you will be committed and flexible while achieving some concrete goals of your life already decided by you.
Feeling troubled asserting those weaknesses!! They are: –
procrastinating easily again and again.
being impatient at times you are receiving criticism from somebody you know very well.
considering yourself a PERFECTIONIST even after knowing that there are people better than you.
And the list goes on………!! So, instead of being responsive towards your own list of weaknesses, you better work on realizing your personal and professional strengths which will help you understand your exact potential for creating the best world for yourself.
9. Startups are not in Party Mode all the Time
A myth is prevalent in the current market that a majority of people working in startup companies are fantastically involved with the frat parties. You will ask what happens commonly in those frat parties? From tipsy conversations to Jell-O-shots, you will navigate through such incidents if you are attending a frat party. But the actual fact is that the majority of startups ARE NOT IN PARTY MODE all the time. Beer fridges near your workstations, spaces for ping-pong and table-tennis, traveling, and Friday-Night cheers will be there in many of the startups yet most of those perks go unused. The prime motive of keeping those is to showcase the feel of these perks and thereby, attracting their employees to work harder and achieve them.
In an early startup, you will notice no products, no customers, and hence, no revenue. It takes a long time to materialize the profit margin in the case of startups because the word-of-recommendations for their services synchronize slowly with quality in offerings in a period of say 4 to 5 years. Consequently, startup-geeks are ready to drag themselves for 80 hours a week by pausing their party-mode attitude for a good amount of time, let's say for 3 or more months. This is a key takeaway for us from the majority of startups and it is helping us a lot in increasing the scope of our workload for better growth and also, not forgetting parties when the time is right!!
10. Speak Up Your Idea and Defend the Good Part of It If Required
Speaking up and defending what is good about your idea is something you must add to your routine. In startups, important attention is given to every idea coming into the minds of their workers whether it is silly or worth implementing. The reason is crystal clear – They aren't hiring to fill just another vacant position or puffing out an ORG chart!! Instead, they have hired brains entertaining every type of idea, in-demand skills, and perhaps, Up-To-The-Mark Looks which will be contributing to their prosperity and brand recognition without caring about the chain-of-fights cropping up due to little fiefdoms.
Have a fresh and innovative idea full of endless possibilities of development!! Then, you should prepare yourself to speak it up in front of your family members, seniors, or other teammates. This, instead of limiting your expertise and potential of achieving something which is beyond boundaries, will increase the visibility of your presence thereby helping you to become a greater asset for any large or small organization primarily involved with developing products making their customers happy a lot!!
My Personal Notes
arrow_drop_up