10 Best Mozilla Firefox Extensions That You Can Consider
Time is quite an investable asset in today's era and everything helpful for saving your time is worth trying. And using extensions makes your working easier and faster a lot more than usual. Extensions are the tools to make your browser faster, safer, and more productive. There are lots of extensions out there for all web browsers such as Chrome, Firefox, Edge, etc. In this article, let's dive deep into some of the best productive extensions for Firefox.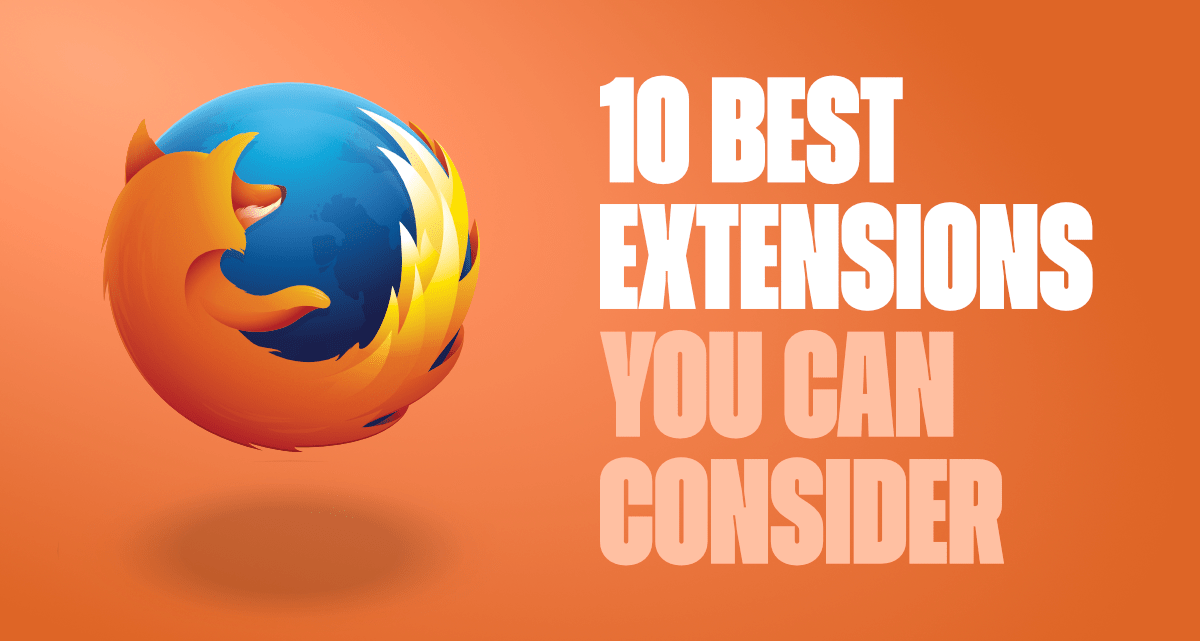 1. LastPass Password Manager
LastPass is the best password manager extension in which you can save your data such as passwords, passports, insurance cards, etc. Security is one of the main priorities in the internet world and this extension puts a lock to secure your sensitive data lying around all over the internet. You can also generate strong random secure passwords from LastPass and also customize your passwords according to their length, and the best thing about it is that the recommended passwords are always random. If you want to access your data you can directly access it from any computer or mobile device, all you need to do is, just remember your email and a master password. LastPass does not only keep your password saved and intact but it also provides the feature of improving your weak and senile password into a strong one.
2. Download All Images
Sometimes you want to download all of the images on a webpage in one go, so to do this efficiently, this extension can be a big help. With the help of this extension, you can download all images from any web page such as Google image, Bing Image, etc. It automatically detects all images which are on the current web page, and you can also filter images by file size, dimensions, image type, etc. Before downloading, it will display your image in a gallery form preview so that you have a decent idea about whatever you are going to download.
3. Easy YouTube Video Downloader Express
This is one of the oldest YouTube extensions that is present on Mozilla with a lot of good features and quick responses. It makes YouTube video downloading as easy as it can get which makes it one of the best "YouTube Video Downloaders" in the present time. If you want to quickly download your YouTube videos then this extension is for you. It provides easy YouTube downloads in different file formats such as FLV, 3GP, MP3, MP4, 720p, and 1080p. It works amazingly in the YouTube interface and also works very smoothly even with the new YouTube design.
4. Read Aloud: A Text to Speech Voice Reader
It is a Firefox extension that basically converts the text of a webpage to an audio format. It supports 40+ languages and this extension also supports PDF and EPUB file formats. You can also choose different male and female voices. It applies to a lot of sites such as blogging websites, fan fiction writing, book publication, institutional website, and many more. Its main aim is to help dyslexic people and people who do not like to read. The quality of the voice is quite high and you can even change the voice of the orator, speed of the reading, pitch of the voice, and can even enable highlighting of the text while it's being read.
5. Enhancer for Youtube
Enhancer for YouTube is a powerful extension that provides lots of features for the best user experience on YouTube. It comes with a lot of extraordinary characteristics that provide the user with astounding highly customizable functions. It can control the volume and video playback speed quite easily with the help of your mouse wheel. One of the best features about it is that it restricts ads from your YouTube video and also removes annotations (this can be done in default or even on-demand). It will also play your videos in high definition quality or 4K on its own or even maybe in any other preferred quality.
6. Dictionary Anywhere
Let's say that you are reading an article and there is a lot of jargon present in it, and it does not seem very feasible to keep on referring to the Google search engine for that. This extension is really helpful when you're reading an article because, with the help of this extension, you can easily find the definition of any word just by double-clicking on that word to view its definition. It supports multiple languages such as English, Spanish, German, French, etc. You can also download various words along with their meaning that you have searched for earlier so that you can practice them later and invest some new words in the pot of your vocabulary.
7. UBlock-Origin Adblocker
Ublock AdBlocker is the best extension for blocking ads on all web pages. Besides this, it blocks all types of ads including video ads, pop-ups, text ads, banner ads, etc. It also enables the protection of your system from third-party tracking systems, malicious malware, and also from phishing attacks. It not only blocks the ads on your webpage or YouTube but also blocks them on almost all the social media platforms. It is an open-source and nonprofit adblocker. Plus It's much less resource-consuming than other adblockers.
8. Grammarly for Firefox
Grammarly is a simple but very handy extension for fixing grammar, spelling, and punctuation issues. It is compatible with any of the websites and it automatically provides suggestions as you type any word. With the help of this extension, you can write your article, essays, business email, or any letter with ease and confidence because if Grammarly is your best friend you are confident in your writing. It is compatible with the interface of various websites like Gmail, Google Docs, LinkedIn, etc. You can also go for its premium version as it offers comprehended suggestions for your text fields and so that the high standards of your writing.
9. Honey
If you purchase things online and want some free best available coupon code for getting the best discount offers then honey is the extension you are looking for. During checkout, if you click on the honey button then it will automatically apply the best available coupon code for your product. You can apply its coupon codes for over ten thousand words. It also provides you with information about the best time you can purchase anything on famous e-commerce sites like amazon.
10. Dark Reader
Dark Reader extension helps you to turn your browser into dark mode. It provides different filters from which you can adjust your screen brightness, contrast, sepia, gray scale, etc. It is a very effective extension for your eyes as it suppresses most of the bright colors to make them more contrasted and as a result, it becomes really easy to read the text at the night.
My Personal Notes
arrow_drop_up