10 Best Microsoft Edge Extensions That You Can Consider
Microsoft Edge is a multiplatform web browser developed by Microsoft. It is one of the most popular browsers that are highly compatible with the modern web; further, it provides security, ease of accessibility, and privacy to users. Edge has made several transformations to enhance user experience; one of them is using extensions.
Microsoft Edge extensions are software that integrates with edge to provide a flawless browsing experience. They are an easy and effective way to incorporate features that are not already inbuilt. It helps you to create your personalized browsing and more productive browsing experience.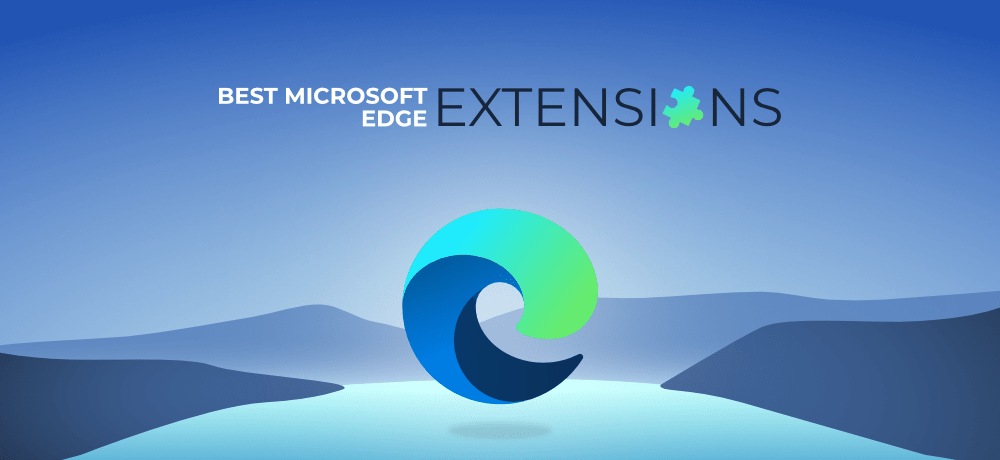 So far, Microsoft has incorporated some fantastic extensions for effortless browsing. In this blog, we will discuss the 10 best Microsoft Edge extensions. Let's get started.
1. Adblock Plus
It is an amazing extension if you want an ad-free browsing experience. It helps you to block unwanted video ads, banners, and popups. Some of its additional features are:
Block annoying ads and popups so you can focus on the content you want.
Allow useful ads to provide a user with necessary information.
Disable online activity tracking and browsing history to enhance your privacy.
It further blocks website tracking and unwanted downloads attached to them. It uses open-source code that can be modified as per your needs. This extension enhances your browsing security and experience.
2. Office online
This extension provides you with easy access to your office apps and documents. It enables users to use applications like PowerPoint, Excel, Word, etc. without installing them. Some other unique features are:
You can also create, edit, and view files in your browser.
Provides outstanding editing and layout options.
Convenient copy and paste.
Easy access to recently used documents and applications.
3. Honey
Honey is another interesting and worthwhile Microsoft Edge extension that makes your online shopping experience better than ever by saving you lots of money. In particular, what it does is find the coupon codes and apply them on the respective platform automatically when you're shopping online to provide you with the best deals. For example – if you're visiting the Amazon website to purchase an item or Pizza Hut to order a pizza, Honey can get you exciting deals or offers with just one click.
Do remember that you're required to click on the Honey button while doing checkout on the particular website to get benefitted from this extension.
4. Enhancer for YouTube
This extension enables you to enhance your YouTube experience. It is a clever app that provides you with a flawless binge-watching experience. In-stream ads and popups can be automatically blocked or skipped even if they are non-skippable at all.
It comes with surprising features like Ads management, playback speed control, disabling autoplay, customizing themes, and a lot more. Some other incredible features are:
Autoplay options
Volume controller and volume booster
Mini player and Popup player
Video format features
And a lot more.
5. Ghostery
This is a powerful Microsoft edge extension that enhances your privacy, blocks ads, and speeds up your browsing experience. In addition, you can see in real-time how many hackers are attempting to snoop into your system. Every time the request goes out, this extension matches it with the vast list of trackers, and if it matches, the request is blocked. It also offers multiple display features so you can only view the information that is relevant to you.
It is a fantastic privacy protection extension that combines AI-enriched anti-tracking technology and the best blocking mechanism. As a result, it speeds up pages and provides an enhanced browsing experience.
6. LastPass Password Manager
This password manager makes it easy for you to save your critical information in an extremely secure format. Save all your passwords, card details, email addresses, and a lot more in your secure vault and access it whenever and wherever you want. Some other fascinating features are:
Automatically fills saved username and passwords
Instant sync on other devices
Generate alerts if your information is at risk
Protect your account with two-factor authentication
If you still don't use this, you are tempting fate.
7. GetThemAll
We all love to download videos, and it is pretty convenient with the right tools. GTA is an entirely new dimension in download management software. GetThemAll is a simple yet amazing extension that scrolls through your current webpage and puts all download links in an easy-to-navigate window. It helps you to download videos, pdf files, HTML files and grab them for offline usage. It can also download content from popular social websites.
8. OneNote Web Clipper
OneNote web clipper makes your life easier by sorting crucial information. It enables you to sort, clip, edit and share information effortlessly. Some of its top features are:
It removes the clutter and clips only the necessary product information.
Easy access to your clipped web pages on any device, even without the internet.
Provides ease of saving and organizing information.
9. Grammarly
Adding Grammarly to your Microsoft extension enables you to write flawlessly. It helps you eliminate your writing errors, enhance your tone and get perfect words to express yourself. It further helps you fix grammatical errors, punctuation errors, revise spellings, concise tone, make the best impression of your writing.
10. MailTag
This extension will make your mail management very easy and efficient without any extra effort. It is a perfect extension that lets you track, schedule emails, and generate automated email follow-ups. Some of its best features are:
Free email signature generator
Works in real-time
Sleek and easy to use dashboard
Some of the other fantastic extensions that you can explore are :
Night Eye to access all the websites in dark mode.
TreeClicks make valuable purchases and, along with that, contribute to a good cause.
Loom is used to manage your business meetings without hassle.
Conclusion: Edge extensions provide a flawless working experience by incorporating enhanced features that are not present in browsers. It is an advanced way to manage, schedule, and sort tasks to improve users' productivity. We have mentioned just a few Microsoft edge extensions; there are a lot of extensions that can be helpful!
My Personal Notes
arrow_drop_up